Multiple Dates
BRAINIAC YN FYW! Academi Detectif | BRAINIAC LIVE! Detective Academy
BRANIAC YN FYW! | BRANIAC LIVE!
About this event
Dan Colman Creative yn cyflwyno: BRAINIAC YN FYW! Academi Ditectifs
Ymunwch â'r Brainiacs, ymdrochwch yn yr Academi Ditectifs a bod yn Dditectif Brainiac Dan Hyfforddiant!
Gwisgwch eich sbectol diogelwch! Brainiac yn Fyw! Academi Ditectif, mae'r tîm gwyddoniaeth mwyaf cyfnewidiol a gwych yn cyrraedd am y tro cyntaf yn Amgueddfa Genedlaethol y Glannau!
Wedi'u hadfywio ac yn barod i brofi eich sgiliau!
Cafwyd lladrad ym Mhencadlys Brainiac! Gwisgwch eich Bathodyn Ditectif Brainiac personol a helpwch y Brainiacs i ddatrys y drosedd a defnyddio pŵer gwyddoniaeth fforensig i geisio canfod pwy sy'n euog.
Mae'r profiad ymdrochol ymarferol 60 munud rhyngweithiol hwn, a arweinir gan y Brainiacs yn rhoi cyfle i dditectifs ifanc ddefnyddio dulliau fforensig go iawn i ddarganfod cliwiau a helpu i ddatrys dirgelwch.
Byddwch yn dysgu am y mathau gwahanol o olion bysedd a sut i'w canfod nhw mewn mannau lle cafwyd trosedd. Bydd y Ditectifs Dan Hyfforddiant hefyd yn ceisio dadansoddi'r inc a ddefnyddiwyd i ysgrifennu'r nodyn prynu ac ôl-troed a ddarganfuwyd i ganfod pwy sydd wedi troseddu.
Dewch i'n helpu i ddatrys y dirgelwch hwn a bod yn aelod swyddogol o Academi Brainiac!
Gwybodaeth Bwysig:
Addas i: 6+
Iaith: Saesneg
Rhaid archebu'r gweithdy hwn trwy swigen bwrdd. Archebwch le i bob unigolyn wrth eich bwrdd.
Lleoliad: Oriel y Warws
Sylwch y bydd angen i chi archebu tocyn ar gyfer plant ac oedolion ar gyfer y digwyddiad hwn
Mae'r tocyn digwyddiad hwn yn rhoi mynediad i'r Amgueddfa i chi yn awtomatig, heb yr angen i orfod archebu tocyn mynediad safle ychwanegol
Mae'r tâl ar gyfer y tocyn hwn yn ddielw, ac fe'i ychwanegwyd i sicrhau eich lle ar gyfer y digwyddiadau capasiti cyfyngedig hyn. Mae Gŵyl Wyddoniaeth Abertawe yn ddigwyddiad dielw, a bydd unrhyw incwm yn cael ei rannu rhwng Prifysgol Abertawe ac Amgueddfa Genedlaethol Cymru i ariannu ei ymchwil a'i raglenni cyhoeddus yn y dyfodol.
______________________________________________________________
Dan Colman Creative present: BRAINIAC LIVE! Detective Academy
Join the Brainiacs, immerse yourself in the Detective Academy and become a Trainee Brainiac Detective!
Strap on your safety goggles and join Brainiac Live! Detective Academy, science's greatest and most volatile team as they arrive for the very first time at the National Waterfront Museum with a vengeance!
Refreshed, re-charged and ready to test your skills!
There has been a robbery at Brainiac HQ! Put your personal Brainiac Detective Badge on and help the Brainiacs solve the crime and use the power of forensic science to try finding who is guilty.
This interactive 60-minute hands-on immersive experience, led by the Brainiacs provides your young detectives with an opportunity to use real forensic techniques to discover clues and help solve a mystery.
Learn about the different types of fingerprints and how to extract them from crime scenes. The Trainee Detectives will also try to analyse the ink used to write the ransom note and a footprint found at the crime scene to find who committed the crime.
Come help us solve this mystery and become an official member of the Brainiac Academy!
Important Information:
Suitable for: 6+
Language: English
This workshop will be bookable via table bubble. Please book a space for each individual at your table.
Location: Warehouse Gallery
Please note you will need to book a ticket for both children and adults for this event
This event ticket automatically gives you entry to the Museum, with no need to book an additional site entry ticket
Please note, this ticket charge is non-profit making, and has been added to secure your place for these limited capacity events. Swansea Science Festival is a non-profit making event, and any income will be split between Swansea University and National Museum Wales to fund its research and future public programmes.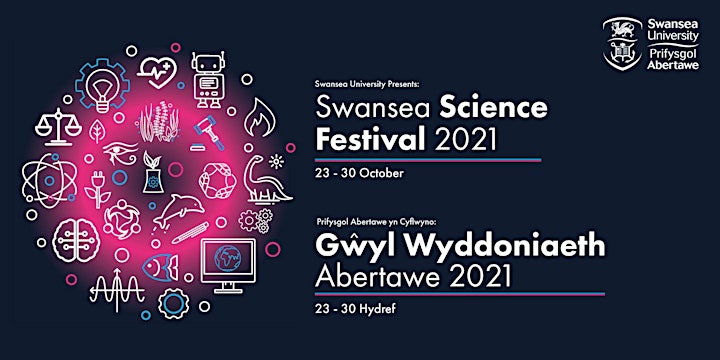 Organiser of BRAINIAC YN FYW! Academi Detectif | BRAINIAC LIVE! Detective Academy