What do we understand by branding, why is matters and how it works.
About this event
What will we cover?
We start by looking at what we understand by branding, carefully distinguishing it from visual identity. We then turn to the Wild West (!) to understand why branding matters, how it works, and the different components.
We then discuss how to build, or improve, your own brand. A good place to start is with the work of Simon Sinek and identifying your 'what', 'how', and 'why'. At this point, we contrast brand preference and brand relevance – arguing that the latter offers a more sustainable route for most SMEs.
It's then time for a deep dive, using a model proven to help growing firms revisit their brand. Some of us have more than one brand, of course, so we end by thinking about how these relate to each other and the pros and cons of linking them.
What will I learn?
what branding is and why it is far more fundamental than visual identity
the reasons why branding is so important to your business
how branding works and the best way to map touchpoints
the best way to manage a portfolio of brands in your business
the importance of discovering your why, how, and what
a proven method to build, or enhance, your brand
how to distinguish brand preference and brand relevance (and which is better).
You can join our trainers, Justin and Francesca, every Tuesday from 0900-1000 for a 'radio phone-in'. They'll be happy to answer your questions about business, as well as offer hints and tips from their experience working with hundreds of SMEs. It's a great way to start your day!
Phone in dates; 
18th May
25th May
1st June
8th June 
15th June
To join, please click here; https://live.digitalremit.com/semlep/index.html#phoneins 
Who should attend?
Any entrepreneur, director, or manager who needs to build, or enhance, their brand.
The course consists of pre-recorded material, which you can work through at your own pace, followed by a live two hour webinar to apply what you've learned to your own business.
---
This webinar will be held on Zoom. Information about joining the webinar will be sent through shortly after registration.
If you have any queries, please do not hesitate to contact samantha.hunter@semlep.com.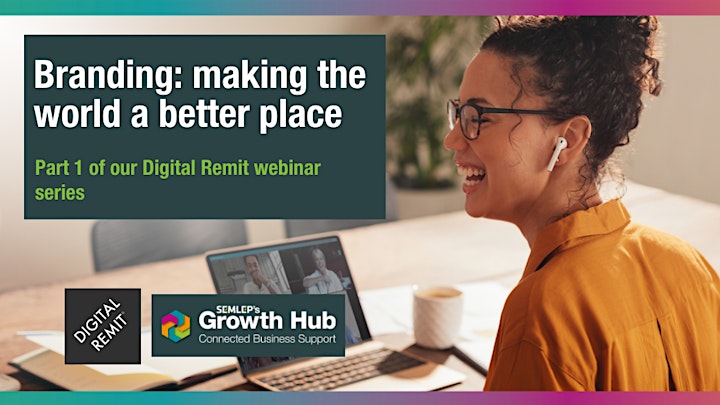 Organiser of Branding: making the world a better place
SEMLEP's Growth Hub is a one stop shop for businesses looking for support.
We provide you with free, independent and impartial information, advice and guidance and can connect you to specialist local, regional and national business support.
Call the Growth Hub Gateway team to talk about your business needs on 0300 01234 35
SEMLEP's Growth Hub supports small and medium sized businesses based in the South East Midlands area: Aylesbury Vale, Bedfordshire, Luton, Milton Keynes and Northamptonshire.
Please read our privacy policy: https://www.semlep.com/privacy-notice/