Description


Brandy
by MATTHEW DAVIES
One 'Favourite's' descent is another 'Favourite's' ascent.
It is the 18th century: Queen Anne lays old and sick in bed, she is drinking copious amounts of brandy as she fortifies herself in preparation for the meeting between herself and her childhood friend, confidante and adversary – Sarah Churchill, Duchess of Marlborough. 'Brandy' explores the characters of two powerful women, the interpersonal politics waged in the monarch's bedchamber, private backstairs and the corridors of court and the effect their friendship had on a nation.
Brandy was first performed at South London Theatre as part of their new writing programmed in 2010.
Creative Curve Theatre Company was set up in 2014. The first production was Brandy at St John's, Waterloo. In 2018 Creative Curve Theatre Company developed and performed The Blitz Herstory as part of the Waterloo heritage weekend. The ethos of the company is the retelling of history from the women's perspective.
Performance Dates and Venues:
Beckenham Theatre Centre, 46 Bromley Rd, Beckenham BR3 5JD
26th & 27th July 2019, 8 pm
The Canal Cafe Theatre, 13 Westbourne Terrance Rd, London W2 6NG
1st & 2nd August 2019, 7.30 pm
theSpace on North Bridge, 19 North Bridge, Edinburgh EH1 1SD (situated in the Hilton)
12th to 17th August 2019, 4.10 pm
Cast
Queen Anne (aka Mrs. Morley) Niki Mylonas
Sarah Churchill, Duchess of Marlborough (aka Mrs. Freeman) Zoe Teverson
Mary the Maid Laura Gamble
Anyone can attend performances at Beckenham Theatre but only members can take part onstage or backstage. Be first to find out more about this production – become a member of Beckenham Theatre for just £25 a year!
Tickets are £10.00 plus booking & transaction fee on Eventbrite. Please note that lower priced member tickets and concession discounts are only available by telephoning Box Office directly on 07500 908331.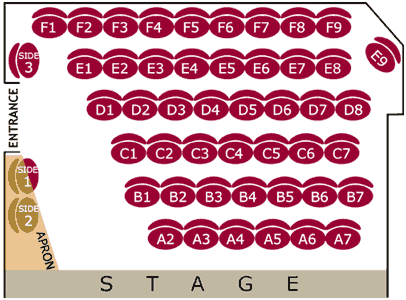 For 70 years, the smallest theatre in the UK has proudly served, involved and delighted the local community with drama, education and a wonderful night out. If you haven't visited us before, please come along to 'that funny old house on the corner of Bromley Road' and find out why everyone who walks in falls in love with the place!