Description
Manchester NIHR Biomedical Research Centre (BRC) Themed Discussion and Networking Event
Health Risk Prediction: Methodology and Applications
Audience: Staff and students engaged in or supporting all P4 medicine research affiliated with the BRC, CRF, The University of Manchester and/or Health Innovation Manchester.

The BRC Themed Discussion and Networking Events are designed to provide all staff and students with:
The opportunity to update their knowledge and skills on P4 Medicine (Predictive, Preventive, Personalised and Participatory)

The opportunity to raise awareness of the breadth of BRC activity and thereby instil a sense of identity, collegiality and a common purpose

This interactive workshop is an opportunity to learn more about the use of statistical and machine learning methods to predict health risks and outcomes.
Learning outcomes will include:
Approaches for analysing electronic health record data

Validation and reporting of clinical prediction models

Statistical and AI/machine learning models for risk and outcome prediction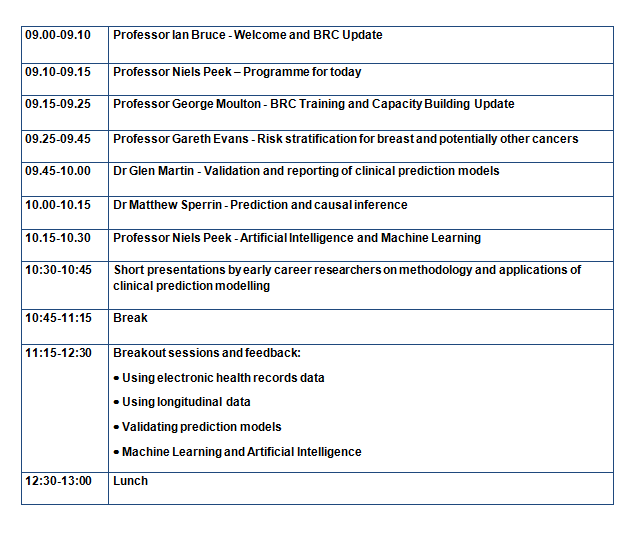 Accreditation

Royal College of Physicians CPD applied for.
Event contact: Jane Crosbie, MAHSC and BRC Education and Training Coordinator
Email: jane.crosbie@manchester.ac.uk
Telephone: +44 (0)161 275 5542
For more information visit https://www.manchesterbrc.nihr.ac.uk and follow @ManchesterBRC

#datasaveslives #BRCprediction19