Break the Barriers: Periods, taboos, education and poverty - what's happeni...
Description
Hosted by Plan UK, No More Taboo and Freedom4girls
In celebration of International Day of the Girl 2017, we are hosting a ground-breaking event. Plan UK, Freedom4Girls and No More Taboo have joined forces to start taking action on menstruation, we are heading back to Leeds where the 'Period Poverty' story began in the press to see what's happened since what needs to change and how we can work together to make those changes. We will look in detail at education around menstruation, society's attitudes and access to sanitary products. We hope you can join us!
Bringing together practitioners, charities, NGOs, educators, activists, politicians and local councillors to look at the issues that face young people around menstruation on both a local and global scale. This event aims to bring together a broader movement of campaigners and interested people who want to see an end to the stigma and taboos around menstruation.
When? Saturday 14th October, 10am-3.30pm.
Where? Leeds Civic Hall
Cost: This event is free but cancellation with less than 48 hours notice of the event or non-attendance will be charged at full cost of £50 per head to cover catering and administrative costs.
This event is ticketed only. People not holding a valid, pre-booked ticket will not be able to join the event.
Young people are encouraged to attend however young people under 18 years old must be accompanied by a chaperone. One adult chaperone to a maximum of four young people.
If you would like to bring a group please contact us at chloe@nomoretaboo.org before booking a group. Do not book groups here.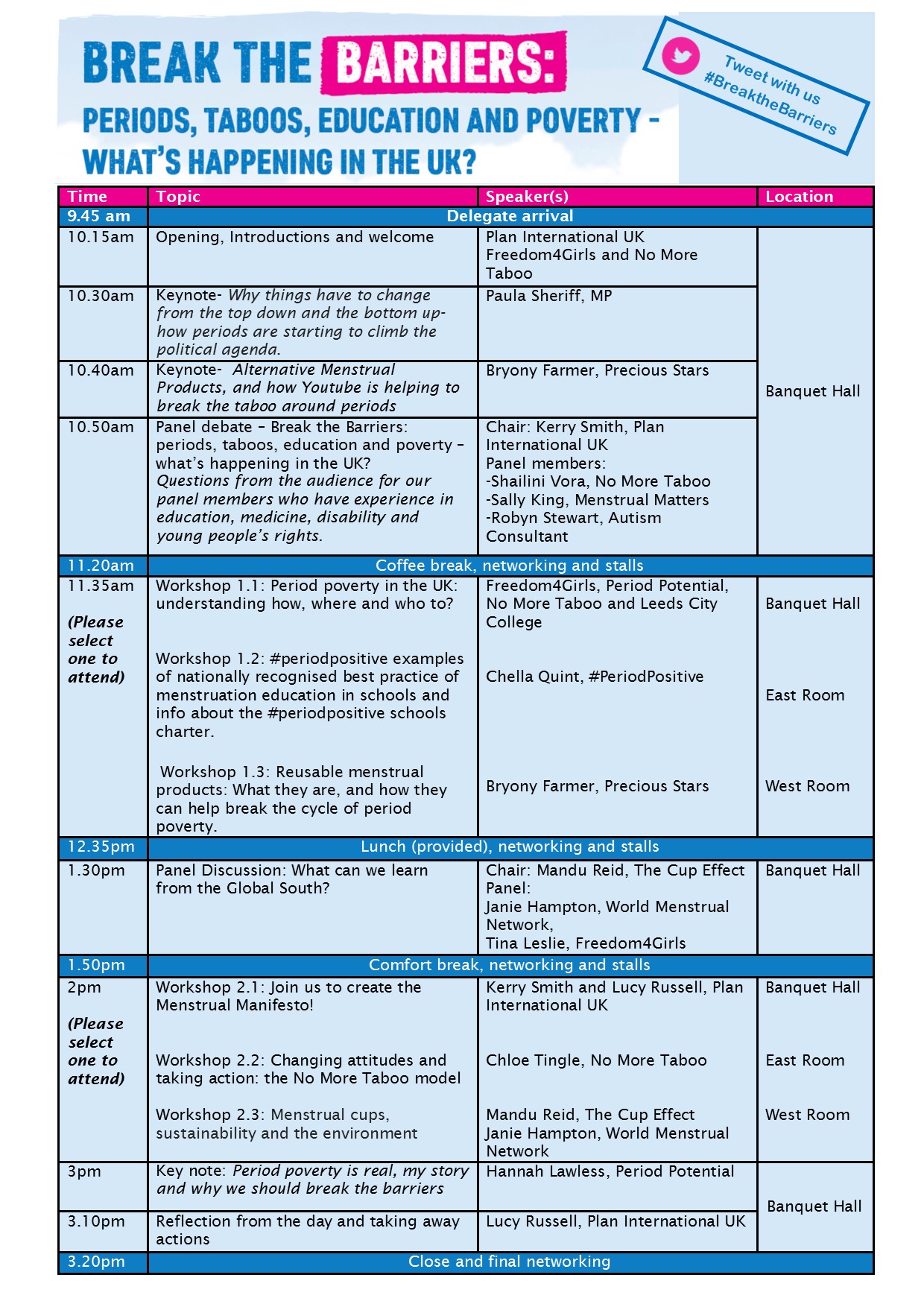 Speakers include:
Paula Sheriff MP
Bryony Farmer, Precious Stars

Lucy Russell and Kerry Smith, Plan International UK
Chloe Tingle and Shailini Vora, No More Taboo
Tina Leslie, Freedom4Girls
Mandu Reid, The Cup Effect
Janie Hampton, World Menstrual Network

Chella Quint, #PeriodPositive
Sally King, Menstrual Matters
Robyn Stewart, Autism Specialist
Hannah Lawless, Period Potential
Andrea Cowans and students, Leeds City College