This July Bojangles invites you to their cozy restaurant for some great eats in Chingford
About this event
Have you heard about the lockdown lifting yet? Well we have and Bojangles is open now and ready to satisfy all your cravings!
On Sunday the 4th of July, we welcome you to an exclusive dining experience in Chingford. Enjoy the best food in town at our restaurant from 11AM till 5PM.
Serving roast chicken, lamb or beef, Yorkshire puddings, vegetables and all the trimmings for only $12.95. ($15 with dessert.) Options available for vegetarians.
Bojangles is now open and ready to serve all walk-in customers.
We've missed seeing you in person, and can't wait to have you back. So this July with the lockdown lifting, enjoy your first Sundays out at Bojangles Restaurant in Chingford!
For table reservations call us on 0208 529 8181.
#breakfast #brunch #Sundays #pubs #restaurantsinchingford #dineinrestaurants #foodanddrink #food #drink #dinein #dining #bojangles #foodies #buffet #alacarte #courses #lockdownlifting #postlockdown #lockdownease #opennow #chicken #roast #pudding #vegetarianfriendly #walkin #cuisine #sitat #inperson #indoorseating #seating #music #alldaybreakfast #breakfastallday #morning #evening #lunch #chingford #london #opennow #dance #soul #ska #rnb #rhythm #blues #rhythmnblues #music #pubnight #pub #night #in #chingford
Are you tired of brunching at home? Excited to get out after the lockdown lifting? Well Bojangles is here to help you out! This July Bojangles invites you to their cozy restaurant for some great eats in Chingford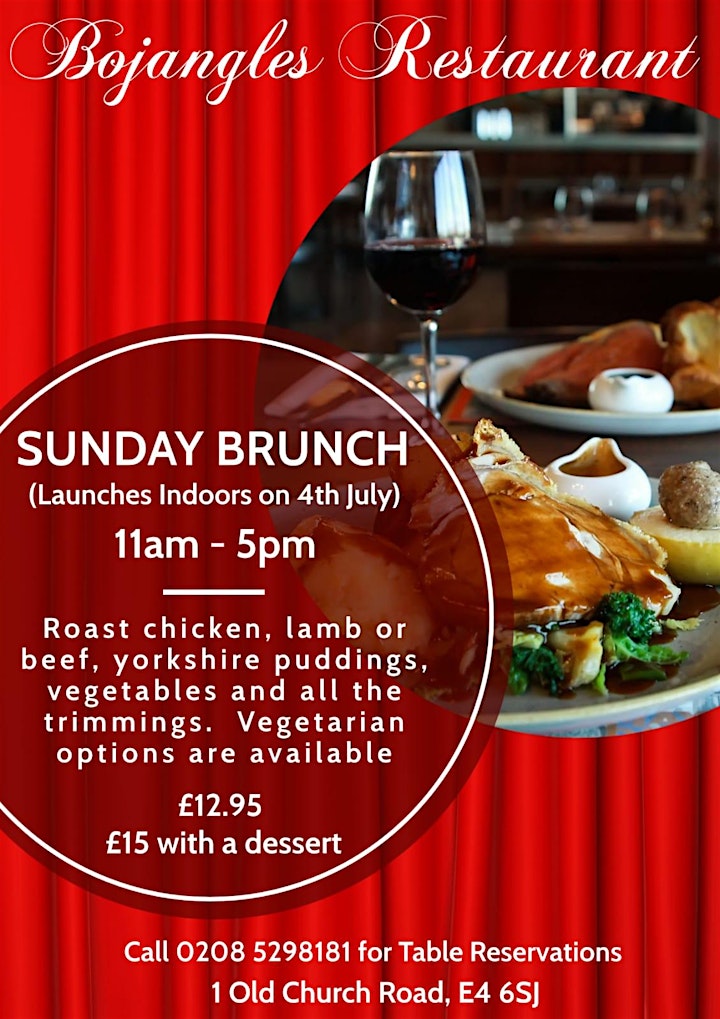 Organiser of Breakfast Brunch in Chingford – Dine in at Bojangles Restaurant this Sunday