Description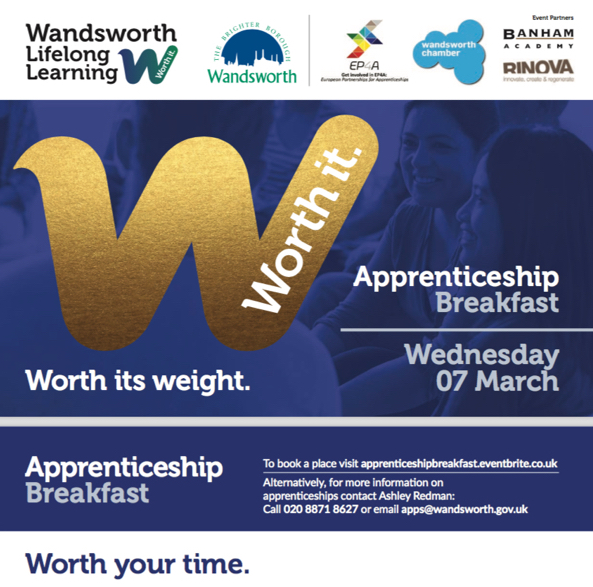 Businesses with a £3m+ wage bill are charged an Apprenticeship Levy - 80% of businesses do not know exactly what this is, how they can claim back the levy or who to partner with to make this happen.
Smaller businesses can learn about the value Apprentices can bring and about all the help and support that is available.
---
BUSINESS NETWORKING
There will be plenty of time for business networking
during this breakfast meeting

Wandsworth Chamber of Commerce and Wandsworth Council invite you to attend an 'Apprenticeships' breakfast event on Wednesday 7th March 2018 at the Banham Academy.
The event will focus on the value of apprenticeships and how investing in apprentices can boost your business. Taking place during National Apprenticeship Week and Wandsworth's Enterprise Week, apprenticeships will be the focus for all businesses across all sectors.
Guests will hear from relevant heads of training providers on how apprenticeships are structured, as well as the current funding available for businesses. This event will be particularly helpful to employers who are looking for guidance and support. There will also be an opportunity for questions through a Q&A session.
To further enhance your understanding of apprenticeships and how they can benefit your business:
Hear from local employers already involved in apprenticeships

Speak to experts who will be able to provide

customised advice for your business

Hear from the apprentices themselves

Network with other employers to develop your apprenticeship strategy

The money – how to make the most of your Apprenticeship Levy if you are a levy payer or maximising government incentives for Apprenticeships for non- levy payers.
Refreshments:
Tea, Coffee orange juice and breakfast rolls and pastries will be available from 8 am