Breakfast Session - Greater Manchester SMEs : Engage with Graphene
An exclusive morning event for Greater Manchester SMEs, to explore graphene and how it can benefit your business
About this event
Are you a Greater Manchester based SME who:
• wants to find out more about the 2D material graphene?
• wishes to explore the possibilities of a new innovative venture?
• is interested in exploring how graphene and 2D materials can be used in your processes and products?
Then you are invited to register your interest in a free place at our SME breakfast session at the Graphene Engineering Innovation Centre (GEIC) in Manchester, on Wednesday 1st May.
Manchester is the home of graphene, a 2D form of carbon that is many times stronger than steel yet incredibly lightweight and flexible, electrically and thermally conductive but also transparent, and one million times thinner than the diameter of a single human hair. Manchester is where this advanced material was first isolated and its diverse characteristics of interest identified.
The potential uses of graphene and 2D materials cover several sectors and can be implemented into a wide range of applications including composites, energy, inks, coatings, membranes, and production.
So what will I do at the GEIC?
The morning introductory breakfast event will cover -
• an introduction to Graphene@Manchester, and the 'Bridging the Gap' SME project and how it could benefit you
• exploring our state-of-the-art laboratories with our specialist teams
This run from 8am to 10.30am, and will of course include breakfast and refreshments.
Outcomes
You will have improved understanding of the wide ranging applications of graphene and its commercialisation, and you will have seen how you can interact with our facilities and expertise in graphene and 2D materials here at the GEIC.
If you are unable to attend this event but would like to find out more about how you can engage with graphene at the GEIC, please contact laura.alty@manchester.ac.uk.
Please note before you register
This event is funded by the European Regional Development Fund. It is delivered free of charge to participants; however, as it is fully-funded, it is classed as state aid to participating businesses and subject to state aid rules and the associated eligibility criteria:
• Greater Manchester SMEs only
• Annual turnover less than 50 million Euro, or balance sheet less than 43 million Euro
What if I need to cancel?
Although this event is free, it does have limited spaces so please do let us know if you wish to cancel so that we can open your space up to someone else. A cancellation must be sent in writing to laura.alty@manchester.ac.uk , or we will be expecting you .
We believe graphene's vast potential will only be realised by creating a critical mass of scientists, manufacturers, engineers, innovators and industrialists. Once completed, we will be able to take a graphene application from basic research to finished product. Manchester was the world's first modern industrial city; now we want to establish a Graphene City®.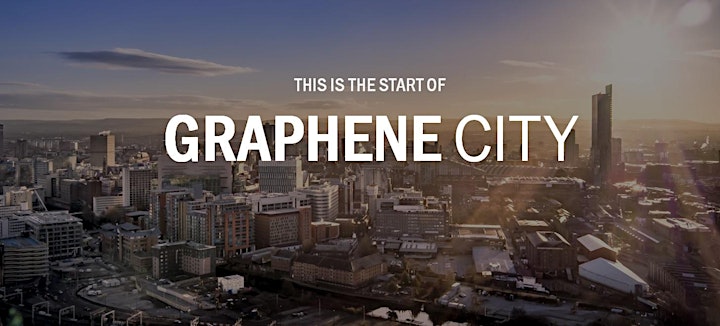 Organiser of Breakfast Session - Greater Manchester SMEs : Engage with Graphene
Manchesters University's world-class, multi-million pound centre will see industry-led development in graphene applications in partnership with academics. Opened in 2018, the £60m Graphene Engineering Innovation Centre (GEIC) will be an international research and technology facility.
Together, the National Graphene Institute (NGI) and GEIC will provide an unrivalled critical mass of graphene expertise. The two facilities will reinforce Manchester's position as a globally leading knowledge-base in graphene research and commercialisation.