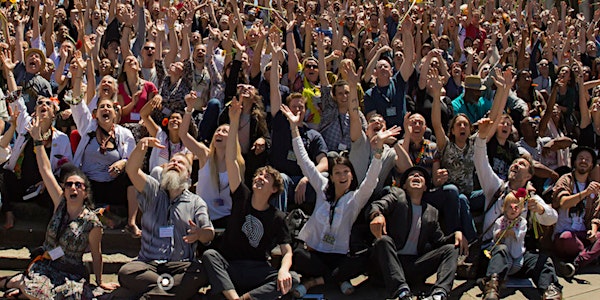 Breaking Convention 2019: The 5th International Conference on Psychedelic C...
Location
University of Greenwich
Park Row
London
SE10 9LS
United Kingdom
Description
BREAKING CONVENTION 2019
THIS EVENT HAS NOW SOLD OUT AS WE HAVE REACHED CAPACITY. We do not plan to release any more tickets. As you can imagine the organisers are extremely busy, so we ask politely to not message asking for tickets, as sold out really does mean sold out. Try again in 2021, and keep up to date with our evening lectures throughout the year by following us on social media. @breakingconvention_uk (insta) @breakingcon (twitter) Breaking Convention (facebook)
Please be wary of scammers if buying tickets from a third party, we do allow name changes to tickets already purchased.
5th INTERNATIONAL CONFERENCE ON PSYCHEDELIC CONSCIOUSNESS -


This summer (on the exact 50th anniversary of the Woodstock Festival), the largest psychedelic research conference in Europe returns to the University of Greenwich.
Hosting more than 150 interdisciplinary presentations over three days, across FIVE simultaneous academic tracks, Breaking Convention is one of the biggest psychedelic meetings in the world. The conference expands this year and features more than a dozen interactive workshops, a visionary art exhibition, installation gallery, psychedelic film festival, a comedy night, theatre and performance programme, evening banquet, and celebrations every night at the new SU bar within our Telesterion building!
At Breaking Convention there's something for everyone, with contributions from cutting-edge neuroscience, clinical psychology and psychiatry, pharmacology, sociology and criminology, policy analysis, anthropology, archaeology, ethnobotany, music, art, history, literature, theology, mysticism, indigenous perspectives, parapsychology, and much else besides.
Please see below for FAQs.

Confirmed speakers so far (many many more to come) include:
TORSTEN PASSIE, MD, PhD: Associate Professor of Clinical Psychiatry and Director of the Laboratory for Neurocognition and Consciousness, Hannover.
GAIL BRADBROOK, PhD: Molecular bio-physicist and co-found of Extinction Rebellion
ROBIN CARHART-HARRIS, PhD: Head of Psychedelic Research, Imperial College London.
JAY GRIFFITHS: Award winning author of Pip Pip: A Sideways Look at Time, and Wild: An Elemental Journey
NZAMBE DIVANGA: Bwiti practitioner, Gabon.
DAVID NUTT, MD, PhD: Professor of Neuropsychopharmacology, Imperial College, Ex-head of UK Govn. Adisory Council on the Misuse of Drugs.
MIKE JAY: Author of 12 books and curator of the Wellcome Collection exhibitions 'Bedlam & Beyond' and 'High Society'.
ROSALIND WATTS, ClinPsychD: Clinical Psychologist, clinical lead of the Imperial College psilocybin for depression study.
KILINDI IYI: Psilocybe mushroom technician.
CHRIS TIMMERMANN, MSc: Brain imaging DMT researcher, Imperial College.
BEN SESSA, MD: Psychiatrist and MDMA for addictions and PTSD research, University of Bristol
...plus some 140+ MORE TO BE ANNOUNCED
FEATURES
Five-room academic programme, featuring 150+ speakers.
Additional new adjacent building space - The Telesterion!
Visionary art gallery
Psychedelic film festival
Interactive workshops
Light shows, dance and theatre performances.
Evening parties & concerts
Installations, exhibitions & stalls
Psychedelic comedy night
Limited edition Breaking Convention bag, including the famous welcome pack stuffed with free books, conference material, and more.
LOCATION
Old Royal Naval College, University of Greenwich, London.
The Greenwich Campus is on a World Heritage Site on the banks of the River Thames. The campus is centred on three baroque buildings designed by Sir Christopher Wren at the end of the 17th century and has been described by The Independent as "more breathtaking than the Versailles of Louis XIV" and by UNESCO as one of the "finest and most dramatically sited architectural and landscape ensemble in the British Isles".
The grounds of the Old Royal Naval College, in which the Greenwich Campus is situated, also houses the tourist attractions of the Painted Hall and Chapel.
Greenwich is a bustling town with a great atmosphere fostered by markets, pubs, clubs and restaurants. Up the Creek, a comedy and cabaret club, offers up-and-coming names in stand-up and is a short walk from the campus.
The borough is steeped in history. East meets west on the Greenwich Meridian line, which divides the hemispheres and marks longitude zero. The line runs through the courtyard of the 17th-century Royal Observatory and indicates the spot from which Greenwich Mean Time is calculated. Greenwich is home to the Cutty Sark, a 19th-century clipper ship, and the National Maritime Museum, as well as one of London's finest Royal Parks.
REFUND POLICY: refunds will be issued up to 30 days before the event.

FAQs
Do I have to bring my printed ticket to the event?
No, you may bring the ticket on your mobile device. Have it ready before you reach the registration desk, please.
When is registration open?
You can register (get your conference pass etc) on Thursday evening, or at any time during the conference itself. Friday morning is our busiest time, so we recommend that if possible you come along on Thursday (times to be confirmed, likely to be 7-9pm).
Do you sell day tickets?
For logistical reasons, we do not sell day tickets.
Do you sell accommodation for just one or two nights?
The accommodation we offer, staying in the student halls with many of our speakers, is a block booking for three nights (plus the option of Sunday night). We cannot split this booking; you can only book for Thursday, Friday and Saturday nights combined. Rooms are en suite, with single beds.
See our website for local information, including travel!
Is my ticket transferable?
You may transfer your ticket. The attendee information on your ticket must match that of the new ticket holder; to edit this, go to the link on the ticket, where it says; "View and manage your order online". Make sure you alter ALL of the information, especially the full name and email.
If these do not match the person who arrives at the registration desk, the ticket will not be valid!
Be sure to tick the checkbox if you wish to send a confirmation email to the new ticket holder from Eventbrite. This should contain all the ticket details they will need (it may take a few minutes to process).
For added security, we recommend using resale services such as https://www.ticketswap.uk but, as with any method, caveat emptor!