Event Information
Location
The Groucho Club
45 Dean Street
London
W1D 4QB
United Kingdom
Discussions on invisible barriers blocking young professionals from underrepresented groups from entering property and built environments.
About this event
Built-ID is a fast-growing leader in the PropTech market whose purpose is to Build Trust and Better Places. Our award-winning community engagement platform, Give My View, allows communities to meaningfully engage with projects, whilst simultaneously making it easy for decision-makers to act on the data-driven insights provided.
Joined by industry experts and professionals, the Breaking Down Barriers event will be discussing the invisible barriers that stall career progression for BAME professionals within the built environment industry. The panel will be gleaning insights from the stories, experiences and the lessons panelists have learnt on their journey. We believe that there is power in representation and allyship, and opportunities to have real conversations will greatly encourage and inspire young professionals.
Location
The Groucho Club, 45 Dean Street, London, W1D 4QB (Gennaro Room)
Make sure to keep your tickets in hand for when you arrive at the venue.
Agenda:
Networking (12:30pm - 13:00pm)
Panel discussion (13:00pm - 14:30pm)
Networking (14:30pm - 15:00pm)
Dress Code: Smart casual
Presenter:
Oby Bamidele - Chief Operating Officer at Built-ID
Oby started out her career in finance and progressed into leading operations for tech startups focused on social impact and tech for good. She has over 10 years leadership experience where she has been instrumental in scaling businesses, building the internal capabilities and overseeing operations across finance, HR, legal, risk compliance and delivery. She is passionate about building diverse and inclusive organisational culture and giving a voice to underserved and underrepresented communities.
Oby has held key roles in leading organisations through strategic change, one of such examples was transitioning Mobile Communication & Learning Experience Platform (Story Share Learn) from a professional service consultancy to a high-performing SaaS/product - based company. She has supported leadership teams to successfully secure growth funding, series A and B investment.
Prior to Built-ID, Oby was Vice President of Operations and Finance at Endless OS Foundation, an Edtech organisation focused on democratising access to technology.
Oby is also a psychotherapist and the founder of BARE Life Class a mental health and well-being organisation focused on changing the narrative around mental health for Black women by providing resources that cater specifically to their needs.
Speakers:
Olaide Oboh - Director at Socius Development Limited
Olaide is a skilled strategic thinker and problem-solver with a 15-year record of successful delivery in public and private sector organisations. As Director, she is focused on establishing and nurturing relationships with partners and growing the company's pipeline in new and existing locations across the country.
A qualified project manager, Olaide's experience is varied ranging from managing communications at Marks and Spencer to working on large scale regeneration in Hackney and leading the external relations for East Village, the new neighbourhood on the Olympic Park. 
More recently, Olaide is delivering an arts and culture hub in Bristol to grow and support the local economy and enabling a tech-led offer at the heart of the Ox-Cam Arc in Milton Keynes.
Major projects:
East Village, Stratford
Edward Street Quarter, Brighton
Soapworks, Bristol
MK Gateway, Milton Keynes
Devonshire Gardens, Cambridge
Area of special interest
Community engagement
Partnerships
Social impact
Creative industries
Samuel Lawrence - Vice President of Europe, Middle-East & Africa at JLL Technologies
Samuel Lawrence is an award-winning Real Estate technology and innovation leader. Currently serving as the Vice President of Europe, Middle-East and Africa for JLL Technologies, Samuel is focussed and invested in the development of the next generation of leaders from under-privileged backgrounds which led to him releasing a podcast, "Promoted and Paid" and founding the 20:40 Mentorship Programme which focusses on identifying, educating and supporting them.
Rajesh Shah - Executive Commercial Director at Quintain Living
Rajesh has over 23 years of real estate experience spanning residential, commercial and retail sectors, He has set up new businesses, led business change projects, procured capital for development and operational businesses, and transacted on properties, portfolios and businesses.
He is currently Executive Commercial Director at Quintain. He joined the business in 2008 as the Transactions Director responsible for refinancing, acquisitions, disposals and joint ventures. In 2015 Rajesh established and scaled up Quintain Living, UK's leading Build to Rent (BtR) platform. He now leads the sourcing of new sites, products, services and technology to grow the business and enhance resident experience. He also leads on the design and pricing for future residential plots for Quintain Living both at Wembley and through new business initiatives.
Prior to Quintain, Rajesh spent 10 years at Land Securities, where he was Investment Strategy Director at its Trillium subsidiary. He led the pricing of Trillium's new business transactions as well as portfolio management of existing assets. Prior to this he worked at PwC as a management consultant.
Hanna Osundina - Development Director at Balfour Beatty Investments
Hanna Osundina is a Development Director for Balfour Beatty Investments seconded into East Wick and Sweetwater Ltd a joint venture with Places for People. In her role, she manages the feasibility, business planning, budget, design, programming and planning of the mixed-use regeneration project of over 1,800 homes on the Queen Elizabeth Olympic Park. Hanna is also the vice chair of the University of Greenwich's Construction, Property and Surveying Practices – Industry Advisory Board and is a member of Estates Gazette's Diversity & Inclusion Content Advisory Panel. Most notably, Hanna founded Black Women in Real Estate (BWRE) an organisation that brings together black women in property with the intent for them to connect.
Daniel May - Programme Manager, Regulatory at Legal & General Investment Management (LGIM)
Daniel is a Programme Manager at Legal & General Investment Management (LGIM) and part of the regulatory change team. He leads complex programmes to meet mandatory obligations across regimes (e.g. MiFID II, SFTR, EMIR).
Before joining LGIM, he provided advisory services for major global firms for 9 years across Financial Services (Asset Management, Insurance, Banking) and Public Sector industries. His expertise spans strategy, leadership, transformation, governance, analysis, problem-solving, and business change.
He is an active member of the Health & Wellbeing Committee which forms part of the Legal & General Inclusion Team (LEGIT), which aims to create a culture supporting LGIM through networks and events. Externally, he provides structured coaching and mentoring to support undergraduates from lower socio-economic backgrounds to access top graduate employment.
He holds a MA in Project Management from Northumbria University; MBA in Strategy & Leadership from Glyndwr University; and 15 professional qualifications.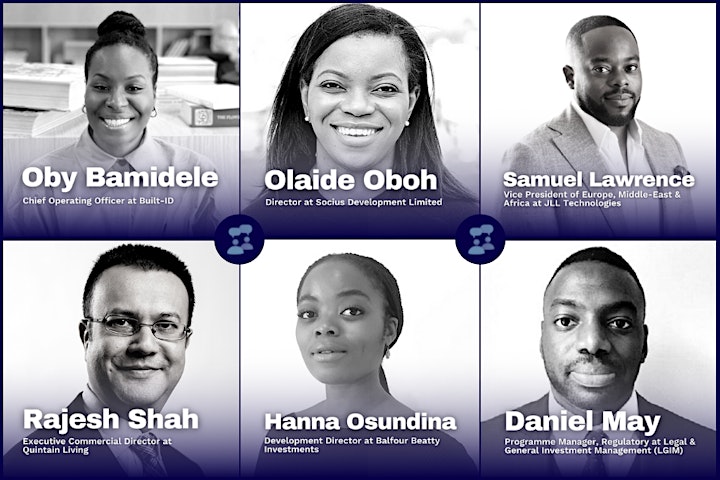 Date and time
Location
The Groucho Club
45 Dean Street
London
W1D 4QB
United Kingdom