Breaking Through: Moving on from Child Sexual Exploitation - Launch Event
Description
Background
Basis Yorkshire and The University of York look forward to welcoming you to the launch of Breaking Through, a new set of resources co-produced by young people with experience of child sexual exploitation (CSE) working with a researcher, an artist and a CSE support worker, using real stories of moving on from CSE.
Our animation and two age-appropriate booklets will be valuable to young people, parents, policy makers, practitioners and the general public. The event will be the first public screening of the animation, and a chance to hear about the realities of CSE as told by those who know it best, with discussion of what interventions and approaches can most effectively support a process of moving on from CSE. All are welcome!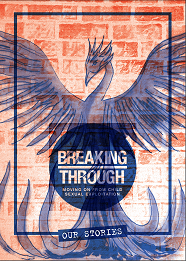 ---
Event details
3:00pm Refreshments: Tea, coffee and pizza
3.30pm Welcome: Dr Kate Brown, The University of York
3.45pm Reading: A life story of moving on from CSE
4:00pm Animation viewing: Introduced by young people and Basis Yorkshire staff
4.20pm Discussion panel, including:
Gemma Scire (CEO Basis Yorkshire)
Andy Pollard (Detective Sergeant, Leeds CSE and Human Trafficking Team, West Yorkshire Police)
Professor Maggie O'Neill (Researcher, University of York)
Sarah Langli (Team Manager, The Safe Project – Multi-Agency CSE Team, Leeds City Council)
Phil Ashford (CSE National Response Unit - Operational Lead)
5.10pm Discussion and close
5:30pm Ends
---
Getting there
The White Cloth Gallery is conveniently located in central Leeds, very close to the train station.
For more details about the White Cloth Gallery see: http://www.whiteclothgallery.com/
Parking is available closeby at the Train Station and on Whitehall Road, as well as at Trinity Shopping Centre and nearby. Council-run parking is available at Castle Street (9 minutes walk away), West Street or the International Pool (both 11 minutes walk away).



Spread the word
You can help spread the word about the new resources using #BreakingThrough on Twitter, or by liking our page @BasisYorkshire1 on Facebook
Any questions, special requirements, or to find out more
Please e-mail breakingthrough@york.ac.uk
Acknowledgments
The Breaking Through project is a collaboration between Basis Yorkshire and the University of York, funded by the Economic and Social Research Council (ESRC).