Description

*APPLICATIONS CLOSED*
Click HERE for upcoming Fuelling Ambition Workshops
---
Identify and overcome barriers to Scale Up
The journey to build, grow and sustain a business can be challenging. Companies may have a vision of where to take the business, but the pathway becomes unclear as ongoing set-backs begin to slow down progress.
At this interactive workshop, innovation expert, Nik Thompson and Newable's team of advisors will help you to identify the underlying roadblocks holding your business back from growth.


How does it work?
Gain clarity of the bigger picture for your business

Identify where the roadblocks are and what form they take
Work with our experts to identify the best solution and get critical feedback
Develop a clear strategy to take decisive action to resolve the issues
Identify future roadblocks and find out which direction to go with signposting


Overcome roadblocks in these key areas:
Accessing finance and funding
Aligning your products/services to the market
Protecting your intellectual property (IP)
Fixing weak links in the supply chain
Developing an effective business strategy
Marketing
Organisational change, development and performance
Achieving Internationalisation


Meet the speaker: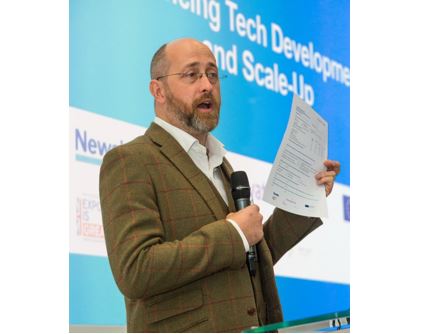 Nik Thompson - Innovation Strategy Adviser, Newable
Nik advises clients on new product introduction, from concept and development through finance and onto production and entry to market. Nik has considerable experience advising clients both large and small, public as well as private. He has experience in product and service design, business development, organisational change and communication design to implement new services and change. Nik is an Innovation adviser delivering the Innovate2Succeed programme, which provides fully-funded support for companies wishing to develop new, or improve existing, products and services.


Who should attend?
Innovative, London-based small and medium-sized enterprises (SMEs), who are looking to grow or scale up their business.


How do I apply?
This is an INVITATION ONLY event and strictly limited to 16 businesses. To apply, simply register your interest and complete the application questions by Monday, 22nd January 2018. You will be notified via email invitation if you have been accepted (within 5 days).
Cost
Tickets are COMPLIMENTARY for the qualifying businesses.
If you're looking to gain clarity of the bigger picture for your business, this workshop would be a great fit for you.



FUELLlING AMBITION - BREAKING BARRIERS
To view upcoming workshops in the Fuelling Ambition series, please visit www.newableevents.eventbrite.


The programme Innovate2Succeed is part-funded by the European Regional Development Fund (ERDF).