Breast Cancer Care - Zumba® and Afternoon Tea at Eastwood Park, Falfield -...
Description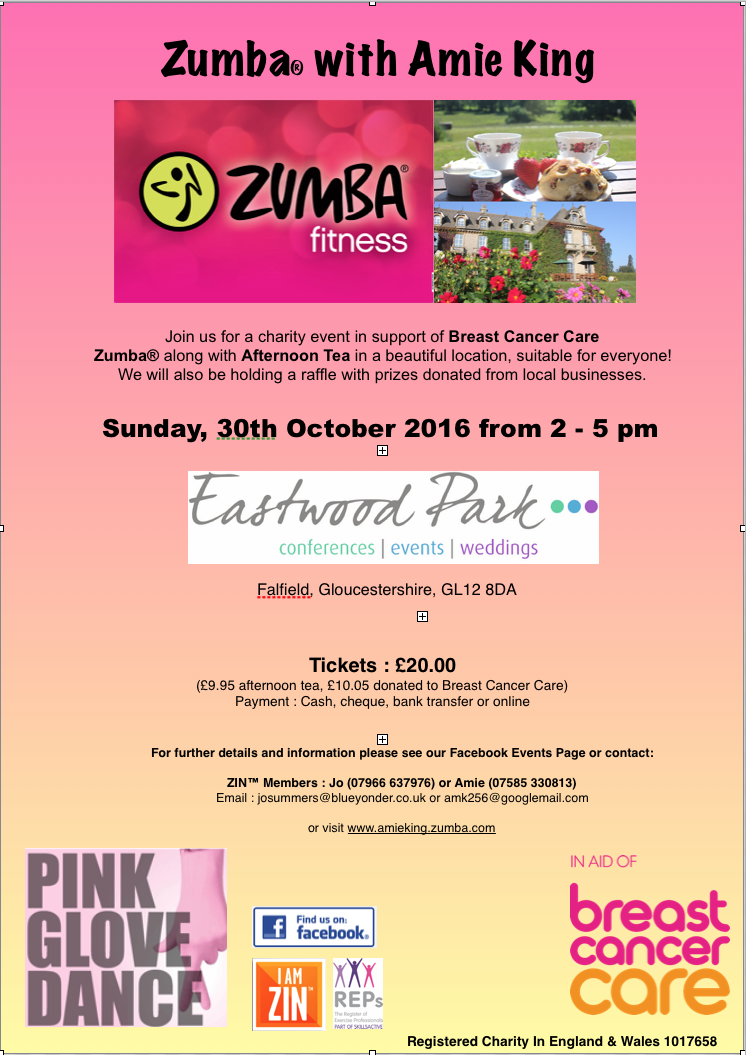 Join us at Eastwood Park in Falfield for Zumba® and Afternoon Tea in order to raise funds for Breast Cancer Care.
A note from your hosts:
At some time throughout our lives we will all be affected in some way by cancer, for some of us Breast Cancer, in particular. Please don't think that this is just women, men are also affected by this disease. We were deciding on a charity to support when one of our class participants happened to come across a video which showed a Pink Glove Event, this was a very moving video and it has inspired us to put our heads together and come up with a way in which we can raise funds for this charity.
A little bit of information about Breast Cancer Care:
Breast Cancer Care makes a real difference to the support and care available for people affected by breast cancer.
Breast Cancer Care was founded by Betty Westgate on Christmas Eve, 1973, five years after her own diagnosis of breast cancer in 1968. They focus their work on the unique experience of each individual affected by breast cancer involving people with breast cancer in all that they do. They use their understanding of the emotional and practical issues facing people affected by breast cancer alongside their clinical expertise.
They provide information and offer emotional and practical support, bringing people affected by breast cancer together. They also campaign for improvement in standards of support and care and promote the importance of early detection of breast cancer.
Please take a look at their website for further information, the link can be found below.
---
Event Timetable will be posted at a later date.
Everyone is welcome, whether you are a regular Zumba® class participant or if you have never tried it before, it is suitable for all.
Tickets are LIMITED so please do not delay if you are planning on joining us.
There will also be a raffle with prizes donated from local businesses in the area. Prizes will be confirmed at a later date.
Ticket price £20.00 (£9.95 for afternoon tea £10.05 donation to this worthy charity)
How to pay:
We want to ensure that our choosen charity receives as much as possible, which is why we are accepting payment in the following way.
Once we receive your registration for this event, you will receive a confirmation e-mail which will give you the payment options available to you. Payment can be made in cash or cheque at a class or you can send payment direct by bank transfer or by paypal (small processing fee of £0.85 will apply).
Once payment has been received you will receive an e-mail with a ticket and receipt of payment.
For those who do not have access to a computer, a ticket and receipt will be provided to you in class or by post.
YOUR TICKETS ARE NOT SECURE UNTIL FULL PAYMENT HAS BEEN RECEIVED.
---
Breast Cancer Care : www.breastcancercare.org.uk
Eastwood Park : www.eastwoodpark.co.uk
Facebook Event Page : TBC
---
Parking : There is free parking available on site.
Directions :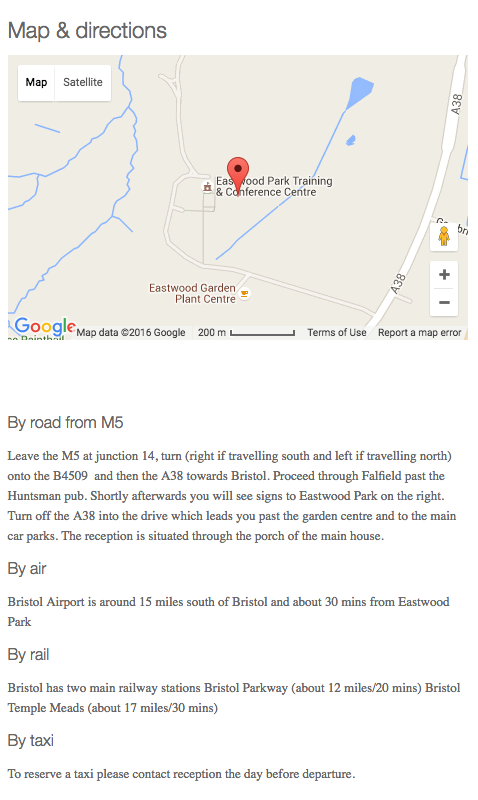 ---
What do I need to bring with me:
We suggest that you were comfortable clothing and shoes. Please bring a drink of water in a suitable container with you for the Zumba® part of this event. A sense of humour and a smile is the only other thing that you need!