About this Event
Our breath connects us to our body, to life and to the world around us. We are all connected to life and to one another through the air we breathe. Recent global events such as the pandemic and the death of George Floyd have highlighted the depth of racial injustice that exists in our world and the impact it has on all of us. Our commitment to justice for the earth can no longer exclude racial injustice - they are not separate things. We are all a part of the earth and we belong to the earth.
Step up and forward and join Buddhist Teachers Amaragita (UK) and Larry Ward (USA) who will share their wisdom and insights with us - inspiring us towards healing racial injustice in our practice and in our world. We cannot care for the Earth without caring for all her creations.
Our evening will include meditation and an opportunity to undertake personal reflection & personal actions . 
Donations to teachers and their charities will be welcomed. Please use the link to donate in advance: paypal.me/BaTDANA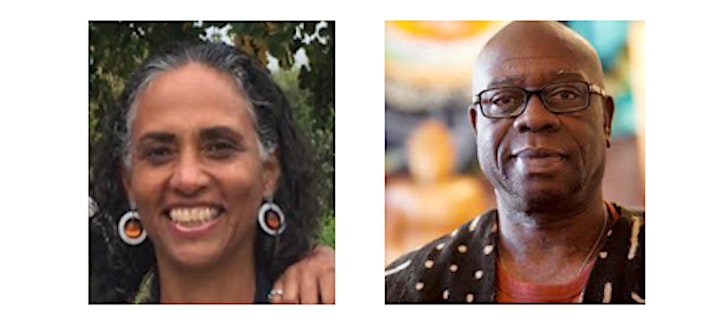 Amaragita is an Ordained member of the Triatna Buddhist Community and Chair of Buddhafield. She has decades of experience as a trainer and coach. She was a co-founder of Youth At Risk the charity now known as GRIT. Recently she has worked with Extinction Rebellion to support the development of their Self Organising System. She is interested in the interface that allows the wisdom teachings of the Buddha to meet contemporary issues in a crucible of inquiry and transformation.
Dr. Larry Ward (He/Him) is Ordained as a Dharma Teacher in Thich Nhat Hanh's Plum Village tradition . He holds a PhD in Religious Studies and serves as director of the Lotus institute. He's been featured in Lion's Roar, Tricycle, and Krista Tippet's Speaking of Faith. After his Christian Ordination in 1972, Larry Ward lived and worked for the next 25 years in more than 20 countries, specializing in organizational change and local community renewal. His introduction to Buddhist practice began in Calcutta, India, in 1977, but it was when he met Zen Master Thich Nhat Hanh in 1991 that the practice became truly central to his life. He has accompanied Thich Nhat Hanh on peace-building missions internationally, as well as throughout the United States.