Breathing into Self-Love - Bioenergetics, Breathwork & Aerial Relaxation Po...
Description
Breathing into Self-Love - Spring Session
Bioenergetics, Breathwork and Aerial Relaxation Pods
A Self-Love Breathwork Journey with Seth Newman
Including: Bioenergetic Alchemy exercises for grounding and stress release Plus* our gorgeous Aerial Relaxation Pods
Befriending yourself by tapping into the unlimited love springing from Deep within you.
Discover Self Love and Self Acceptance as the foundation for a healthy, happy and fulfilling life.
What is it all about?
♥ Do you long to give and receive more love?
♥ Do you want clear guidance from your heart?
♥ Are you ready for life-changing insights and breakthroughs?
If yes, join us at the Skylight centre on May 17th, 2018 for Breathing into Self Love
Bioenergetics, Breathwork and Aerial Relaxation Pods
Learn the foundations of circular, connected breath as a way to peel back the layers of the self, connect to essence, and embrace every part of yourself. By expanding your capacity to hold space for yourself, you gain the ability to hold space for others.
Be inspired and supported in the full flowering of your heart as you embrace the things you would rather push away and hide. Open to transformation and miracles. Expand your ability to feel more alive, by welcoming the full spectrum of your humanity so you can enjoy more pleasure being alive.
Be supported by our Aerial Relaxation Hammocks while you dive deep into the Self-Love Breathwork Journey. A very unique experience!
• Connect to the Earth, Sky and all of nature as an infinite source of energy.
• Open your heart with powerful, body-based practices.
• Pause and rest so you can feel everything that is really here.
• Welcome what you are uncomfortable with into the warmth of your heart.
• Expand your ability to be understanding, present and aware.
• Be a part of an inspiring cocreated self-love journey in a nurturing sanctuary for your soul.
• Cultivate an overflowing wellspring of love, so you have something real to share with others.
• Develop inner resilience, boost security and sustainably integrate.
♥ Teacher: Seth Newman
♥ Adress: The Skylight Centre
♥ Prices: £35 earlybird / £40 normal price
♥ Payment: Please book via eventbrite

Breathe Deeply...
A magical evening session combining powerful methods inviting you into a deep experience of yourself, and your life energy.
We'll be exploring:
1) Bioenergetic Alchemy™ exercises for grounding & centring our attention. This work is also very good for releasing stress from the nervous system.
2) Bioenergetic Breathwork - deep connected breathing (Read more below)
3) Aerial Relaxation Pods with live ambient music. With Vocals, Gongs and Crystal Singing bowls
"A truly unique, uplifting and beautiful experience!"
Our Bioenergetics & Breathwork sessions are a wonderful invitation to both energise and deeply relax. Awakening and rejuvenating your body, your mind and your entire nervous system.
It is also a safe and healthy way to reach altered states of consciousness, allowing a participant to access their Higher Self and some of their earliest and innermost memories. Doing so offers one the opportunity to release holding patterns and blockages, resulting in improved physical, mental, emotional and spiritual well-being.
"Words are inadequate to express the uniquely nurturing experience I had during your Aerial Breathwork class... and the music was amazing! The feeling of being securely wrapped in a silk hammock from head to toe, suspended in the air, slowly rocking, with the breathwork, the crystal bowls and the ambient music created a sublime and profound atmosphere. It was as if I was in a cocoon of total support, allowing peace to flow into my entire being." - Alison
Our Aerial Relaxation Pods video: https://www.youtube.com/watch?v=yxlR9u44llw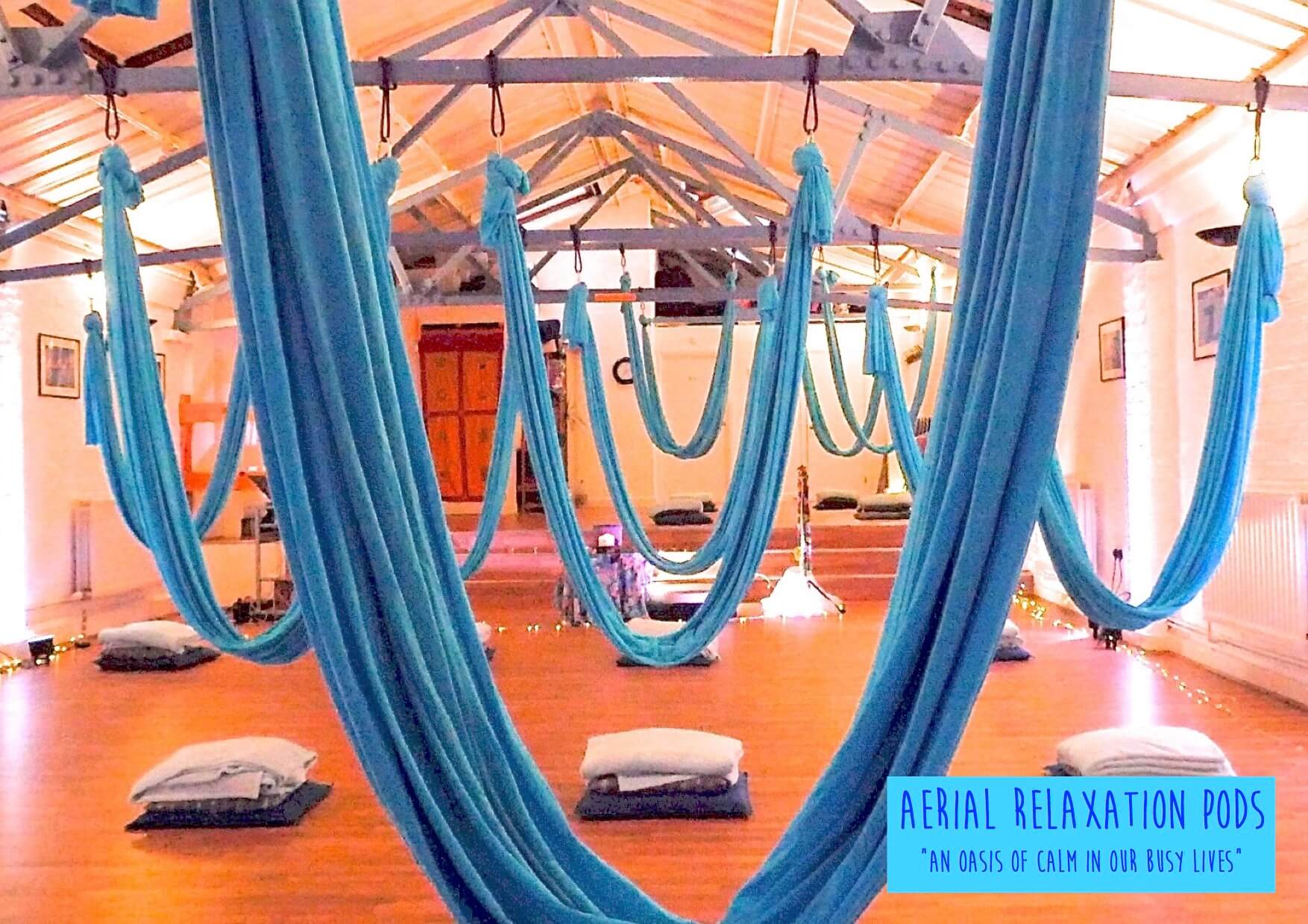 Through the use of Bioenergetics grounding exercises, tapping and conscious, connected diaphragmatic breathing, each individual is the leader of their own journey.
Our facilitation includes space-holding, sound healing, affirmations, aromatherapy and guided meditation to assist in this personal process. At the very least, the experience will be relaxing and detoxifying… and at most, it will be cathartically life-changing!
If you feel ready to treat yourself to this simple yet extraordinary work, I invite you to join us. If you have any questions please feel free to email me directly info@urubu.com
Limitless Benefits:
Breathwork has profound benefits and is an on-going practice.
Practicing Aerial Breathwork™ enables you to......
1) Oxygenate 2) Restore 3) Detox 4) Gain Clarity 6) Express suppressed emotions
7) Release old tensions 8) Amplify Energy 9) Expand awareness 10) Remove negative blocks
11) Forgive past occurrences 12) Feel empowered 13) Cultivate inspiration14) Settle into a deep relaxed state 15) Tap into your truest you
16) To take a moment, and really, just really breathe.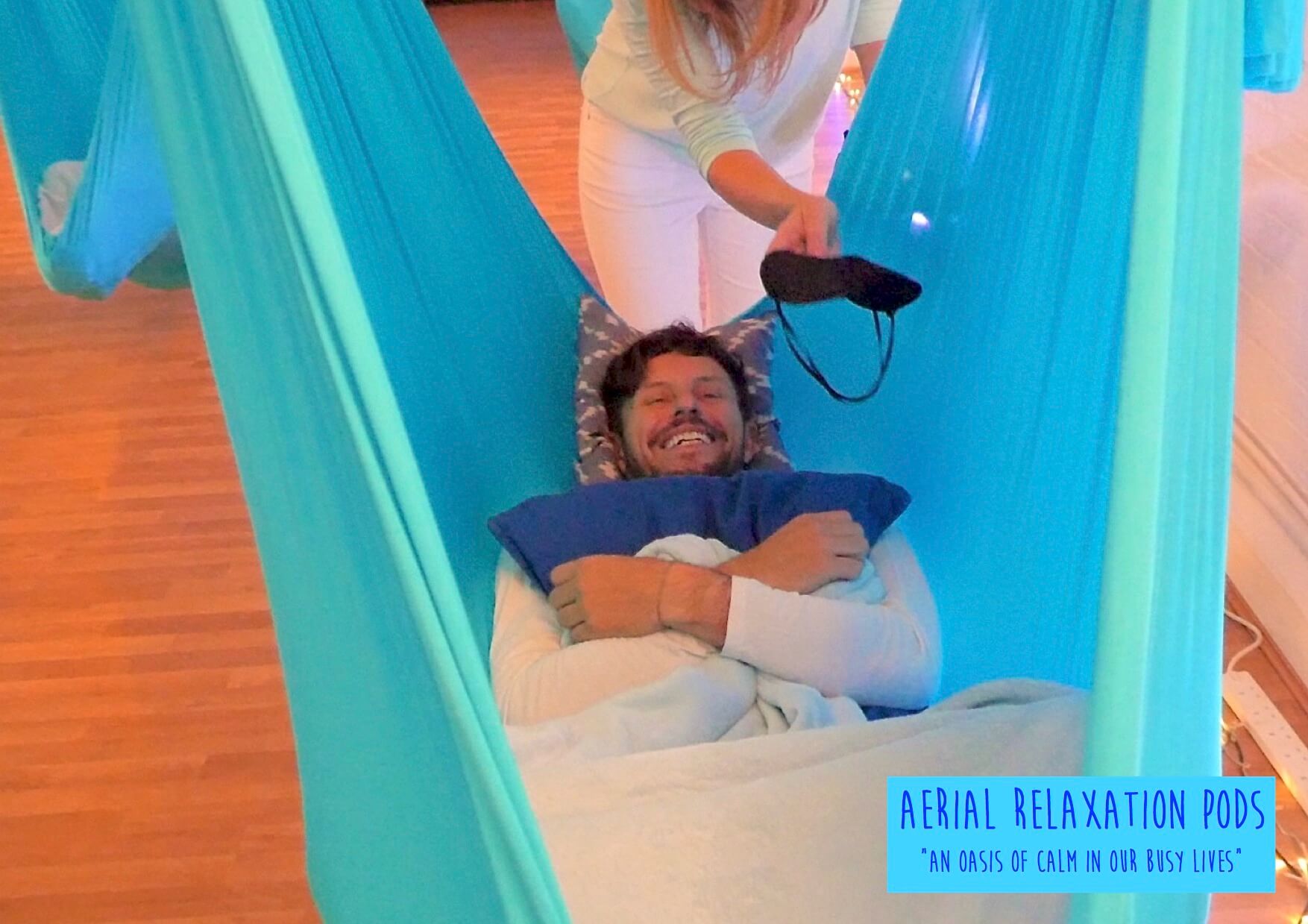 Technical Aspects of Aerial Breathwork™:
There are a few key parts to the breathing pattern:
1. It is conscious, so you are very aware of the fact you are breathing
2. It is connected; so that the natural pause between the inhale and exhale is merged, creating a continuous loop of breath.
3. It is relaxed, meaning the exhale is relaxed, and there is an emphasis on the inhale.
4. It is open, meaning it is performed with a wide open mouth.
5. It is deep, meaning you are breathing fully into the lower belly, and all the way up into the chest.
What a typical session looks like:
We will do an open discussion as to where you are at in your current journey. We will do some Bioenergetic warm-ups, grounding and stress release exercises. You will lie in an Aerial Relaxation Pod and breathe for about an hour, and in this time We will offer positive affirmations, as well as Reiki. We may also use vocal toning sounds to enhance more energetic movement. We will end with a final relaxation, with further sound healing and energetic clearing. We will then end with a final discussion on your experience to help you process.
You will walk away with a new found refreshed perspective on life, feeling like you truly enabled yourself to integrate and release that which no longer serves you.
Walking away with a feeling of lightness, vitality, and love...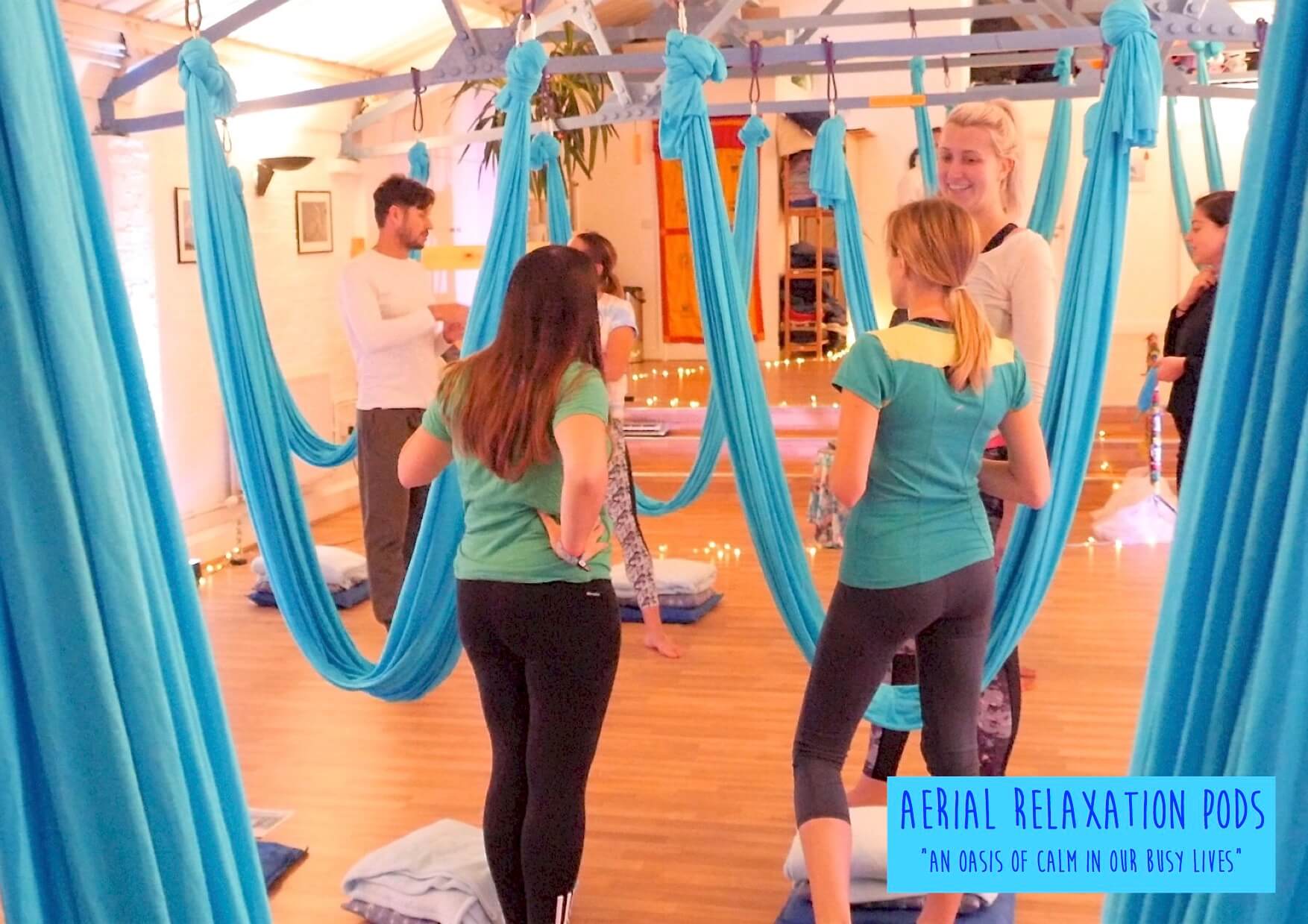 Background:
Due to the traumas and stresses in our lives, we often forget to invoke one of the most crucial parts of our existence: breathing. When we feel stressed, we get too involved with what's going, and we forget to breathe deeply. If you look at infant sleeping, they have the most beautiful wave of breath moving through their body: their little lower belly rises fully, and breath moves into their chest with ease. It is a flawless undulation. However, as we grow older, and take on more of the world, we start to encounter obstacles. When we face stress in our life, instead of actively breathing through it, we instead have acquired the habit to internalise it and allow it to accumulate in our body. We have accepted on a social level, to proclaim, "everything is okay," and not fully face what is coming up in our lives. By doing this, and not properly discharging this stress we create blockages, which ultimately inhibits breath to move fully freely in the body. On a molecular level, this causes great strain because we are not properly getting ample amount of oxygen to our cells. This can result in toxicity in the body, and ultimately unwanted ailments. On an emotional level, it creates accumulations of varied stagnancy in our being, thus resulting in emotional instability. On a spiritual level, it disconnects us from our divine primary energy source.
Moving Forward:
Knowing now that many of us have a disconnect from breathing, only means we can now choose to make a shift and create space for change. By shifting your attention, you can now set yourself up for moving forward. By experiencing Aerial Breathwork we enable ourselves to become more conscious of our breathing, and we can use it as a powerful tool to activate our own innate ability to heal ourselves. Aerial breathwork enables us to encourage our unconscious patterns and blockages to come to the conscious surface, so we can fully inhabit them, and then reintegrate them. Once we reintegrate them, we no longer have a profound emotional attachment to the stories we have created around those traumas, but rather, we send them compassion and then we can actually move forward. Once we do this.......all the endless most magical possibilities are completely tangible, because nothing is holding us back! And then once we truly and freely breathe into our body, we empower ourselves to fully feel our body. When we are completely in our bodies, we are able to lead a more present, conscious and fulfilling Life.
Sessions:
Seth is based out of London, and runs workshops and retreats in the UK and Europe. He is always open to new breath adventures!
One to One:
One to one sessions are done with just you and Seth. Typically sessions last about 2 hours, with an hour or so spent breathing, and the rest in dialogue, or guided meditation.
One to one sessions are an amazing way to get full support, more devoted attention, as well as a more hands-on adjustments and positive affirmations. They are great if you are not comfortable with working with a group. I am here for you!
Workshop and Group Session Details:
Workshops and group sessions are performed with two or more people. Sessions will typically last 2.5-3 hours for allowing space for: an hour or so of breathing, guided meditation, dialogue and group sharing. Feel free to gather a group of friends, family members, co-workers, studio clients and or neighbours, and invite us into your space for a session.
Rates: Usually, group sessions or workshops are £30-£50 per person. If you are interested in hosting a group session or a workshop and wish to discuss other numbers, please do not hesitate to contact me. info@urubu.com
Group sessions are an amazing way to share energy and space with others, create stronger connections amongst each other, and enable us to feel empowered and vulnerable enough to express our feelings with others. I am here for all of you!
Feedback from our events:
"A wonderful session, very recommended! Seth and Dee create a calm, magical space where you receive natural healing energy of relaxation and music. Flowing gently in the light hammock helps to recreate the atmosphere in the womb or in early childhood when you are loved, safe and protected. This experience will bring you healing on several levels: physical, emotional, mental, relaxation, connection to your inner self and your angels. Many thanks for organising such a unique and absolutely fulfilling experience. I will definitely come again." Maria Zhuravleva
"Thank you so much Seth and Dee - I felt so comfortable in the hammocks, I was worried that I might be claustrophobic as it looks tighter in the picture but not at all, the material feels great and you can breathe freely. The music and singing were great and brought up emotions & different states: somewhere I actually forgot where I was. Also had some physical trembling in my body and movement of energy, which surprised me. I left the session feeling relaxed and expanded and very present! Woke up feeling good in my body and very rested. A lovely experience." Alexandra
"Being someone who is always on the move and finds it very difficult to relax, I found this session to be really valuable 'me time!' Initially, I found it difficult to let go and unwind where the muscles in my arms and legs were contracting. After a few minutes, I started to drift away into a soft slumber which was deeply relaxing. Despite this my senses were heightened and I became very conscious of the sounds that seemed to travel through my ears, vibrating all the way into my body. The gentle movements of the hammock with the music in the background made me feel like a young infant being rocked to sleep. A wonderfully calming and soothing experience, with the added bonus of not having to put in any physical effort. Great! I look forward to more of this." - Navpreet
"Words are inadequate to express the uniquely nurturing experience I had during your Aerial Relaxation Pod class... and the music was amazing! The feeling of being securely wrapped in a silk hammock from head to toe, suspended in the air, slowly rocking, with the crystal bowls and ambient music created a sublime and profound atmosphere. It was as if I was in a cocoon of total support, allowing peace to flow into my entire being."