Breathwork and shamanic journey with drumming online class for held by senior breathwork facilitator and psychologist Elif Clarke.
About this Event
【Breathwork and Shamanic Journey Online Class for Deep Relaxation and Restoration】
On Alternate Wednesday evenings from 7.30 to 8.45 pm
Donate as you feel
This class is suitable for anyone who would like to experience the combination of breathwork and shamanic journey with drum beats. People with or without experience of shamanic journeying are all welcomed.
In this class you will
Learn a number of easy breathing techniques to calm and ground yourself.
Experience a body based therapy--Shamanic Journey with drum beats
Be guided to overcome challenging feelings and experiences hold in your body
Improve your physical and mental well-being
Release your emotional baggage without talking about them
This is an online class that runs on every other Wednesday evening.
You're very welcome to join us on a regular basis, to improve your mental wellbeing by practicing breathwork.
We're running Yoga Nidra/Shamanic Journey breathwork online classes alternatively on every Wednesday evening.
Check our yoga nidra breathwork class at: https://yoga-nidra-elif.eventbrite.co.uk/
【What you'll learn at the class】
During the session, you will be guided into simple, and yet powerful breathwork followed shamanic journey with live drumming and meditation.
With your intention and my guidance, we will use the slow repetitive beats of the drum to help you to shift your awareness, and enter into sacred time and space for you to find answers, information, healing, wisdom and knowledge coming from your intuition and wise part of you.
Then, you will complete the session with breathwork to move through energetic blockages, so that it frees up more space for personal freedom, self-empowerment and to integrate anything came up during the shamanic journeying.
【What is Shamanic Journey?】
Basically, shamanic journeying is a way of communicating with your inner or spirit self and retrieving information. Your inner self is in constant communication with all aspects of your environment, seen and unseen. You need only journey within to find answers for your questions.
Some questions and intents are as follows:
1 - I am going to journey to connect with my power animal
2 - I am going to journey to get some advice about...
3 - I am going to journey to find root cause of my, for example depression, anxiety, self-sabotage...
4 - I am going to journey to find out what I need to let go to achieve...
5 - I am going to journey to find out my safe place
【How will it happen?】
I will drum while you are guided into the underworld to find a safe space in where you can explore your intent or your questions. You will establish the way you can go to the underworld, it could be through a tree, door, tunnel and many other your chosen ways. You will repeat your intention three times at the beginning of the drumming sound. At the end, the way I drum will tell you to come back from the same way you went to the underworld. If you have a spirit animal you can ask help from it.
The rhythm of the drum puts you in the state of Journey. The drum beat used is very close to the frequency that is measured from the earth, and has proved effective for the majority of people.
Everybody's experience is unique.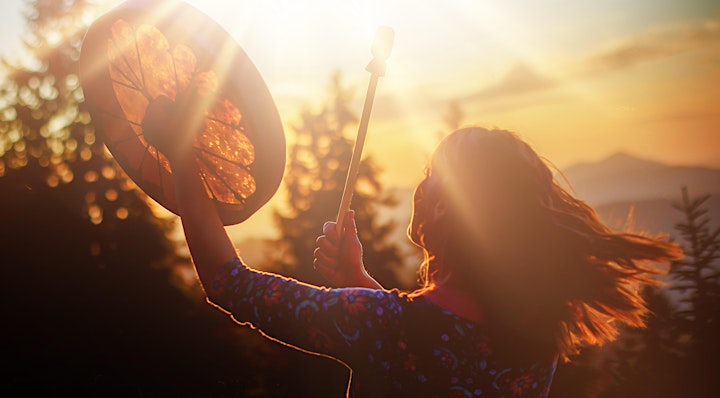 【Breathwork for Deep Relaxation and Restoration】
Breathwork is a tool to trigger to parasympathetic nervous system- rest and digest, so that your body will be able to release feel good hormones of oxytocin and endorphins to release tension from your body, calm your mind and feel connected to your body and the present moment.
Breathe with our diaphragm throughout whole respiratory system, from abdomen to the chest with soft silent inhale and exhale, you'll have more energy, better sleep, being able to cope better with stress, feel more present and connected to the body.
When your body and mind in a calm state, you may access to an altered state of consciousness, which leads to deep awareness and access spiritual guidance. You can become aware of part of which has split off, push down into your unconscious, and comes up unexpected times and takes control over your relationships.
【The class instructor】
I'm Elif Clarke, a trainer and facilitator in Transformational Breath®. I have had 20 years experience of working as Psychologist and BABCP registered Cognitive Behavioural Therapist in National Health Service.
If you want to know more about me, you're very welcome to follow my Facebook page: Elif Clarke-Breathe to Heal , my Instagram page: @elifclarke_breathe_to_heal
or visit my personal website https://elifclarke.com.
【What do you need to prepare for the class】
-A bed/sofa/comfy chair or a yoga mat
- A quiet place, where you can be alone and uninterrupted.
- A computer/laptop or a phone ( you need to download a free Zoom app in your devices).
-A stable internet connection.
-A set of headphones is recommended
【Payment】
Donate as you feel when you book the ticket.
【Notice】
Please be aware that you are taking responsibility for your health and well being.
Seek medical advice as to whether breathwork is safe if you have serous physical and emotional and mental health conditions.
If you have any question, please feel free to contact me at +44 (0)7944 532456 or message me at http://m.me/elifclarkejustbreath
Looking forward to meeting you.
Elif Clarke