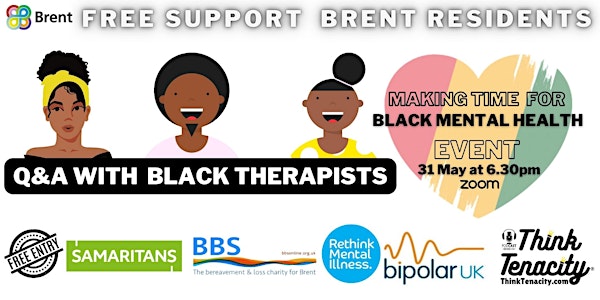 Brent residents FREE Black mental health therapy and bereavement support
Panel of three Black therapists. This event is also open to non-BAME communities to raise your cultural surrounding Black Mental health
About this event
Funding by London Borough of Brent, you are invited to a FREE non-judgemental Q&A Zoom panel of Black therapists who can relate to your issues of race, religion, culture and generational trauma.
This event is also open all residents and businesses from non-BAME communities to understand the issues facing the Black community relating to accessing mental health treatment. This event will enable you to raise your cultural awareness and give insight on how to approach discussions around mental health within the Black community. Black people are at a higher risk of developing mental health conditions than white people (source Metro Newspaper).
Get ALL your questions answered on 31st May at 6.30pm:
What is depression
When you're feeling lonely how to overcome loneliness
What is Anxiety Disorders
What is Trauma/PTSD
Bereavement
This free workshop open to everyone!
Brent residents
Brent Business Owners/employers/employees
Brent School/College
Why should you attend ?
Members of the Black community need access to Black therapists who look like them.
Brent has a higher than average level of prevalence of severe mental illnesses. Levels of severe and enduring mental illness, such as schizophrenia and bipolar disorder, are higher in Brent.
29% of Black women experienced a common mental disorder in the week prior to being surveyed compared to 21% of White women
24% of Black people keep mental health issues to themselves because they don't know anyone that would understand
Black men 10x times more likely to have experienced a psychotic disorder in the last year than White men
Charity partners & sponsors:
For daily inspiration FOLLOW OUR SOCIALS:
Instagram | Facebook | Twitter | Self-Care Podcast
Tues 31 May at 6.30pm-8.30pm | This is an online event via ZOOM link: https://bit.ly/3JtFG4k Making Time for Black Mental Health Event is created by a Black woman for Black People - Featured in The Voice Newspaper & Stylist.
Contact us:
Support@BellaRareworldBipolar.com
WhatsApp/call/text +44(0)7486 031 285