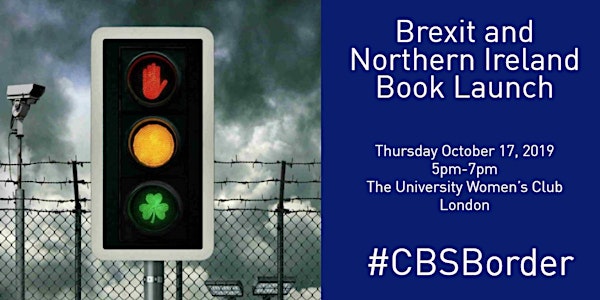 Brexit and Northern Ireland: London Book Launch
Location
University Women's Club
2 Audley Square
London
W1K 1DB
United Kingdom
Join us at the launch of our new book 'Brexit and Northern Ireland: Bordering on Confusion?' in central London in October 2019
About this event
Brought to you by the Centre for Brexit Studies at Birmingham City University together with Bite-Size Books, this event will aim to discuss Brexit and Northern Ireland and what topics readers can enjoy in our new book 'Brexit and Northern Ireland: Bordering on Confusion?'
Solving the issue of the border between Northern Ireland and the Republic of Ireland has proved intractable in the Brexit process. The issue of the Irish border and backstop could potentially derail an agreed Brexit creating significant economic damage to both parts of the island as well as undermining the peace achieved by the 1998 Good Friday Agreement.
Join us on Thursday 17th October, 5pm-7pm, for an insightful and interesting discussion with our panel members to discuss the new book, giving you the chance to learn more about the ongoing Border issue, and what this means for you and your industry. A number of book contributors will be at the event, sharing their views and ideas.
Edited by ex-BBC journalist John Mair and Dr Steven McCabe from the Centre for Brexit Studies at Birmingham City University, as well as Leslie Budd from the Open University and Neil Fowler, the book includes a foreword from long-standing Northern Ireland commentator Malachi O'Doherty and an afterword by Daily Mail journalist Peter Oborne.
The book examines the range of questions about Brexit and Northern Ireland from a wide variety of perspectives and is a major contribution to the debate about the issues.
Panel Members:
Hosted by Paul Davies - Director at Bite-Sized Books.
Dr Steven McCabe - Senior Fellow at the Centre for Brexit Studies at Birmingham City University.
Peter Oborne - Journalist and Political Columnist for the Daily Mail and Middle East Eye.
Dr Graham Gudgin - Honorary Research Associate at the Centre For Business Research (CBR) in the Judge Business School at the University of Cambridge and Chief Economic Advisor at Policy Exchange in London. Graham also co-edits 'BriefingsforBrexit', a pro-Brexit academic website.
This event is FREE to attend but registration is needed. Refreshments will be provided.
To share your thoughts on social media, use the hashtag: #CBSBorder
Brexit and Northern Ireland: Bordering on Confusion? Brings together distinguished writers and academics from the United Kingdom and the Republic of Ireland. They include Roy Bassett, John Bradley, Graham Brownlow, Leslie Budd, Edmund Curran, Mary Dobbs, Walter Ellis, Tom Felle, John Wilson Foster, Michael Gilson, Roy Greenslade, Graham Gudgin, Richard Halleron, Colin Harvey, Katy Hayward, David Hearne, Roisin McAuley, Ian McBride, Steve McCabe, Edgar Morgenroth, Dr Steven McCabe, Liz O'Donnell, Damien O'Reilly, Brian Rowan, Raymond Snoddy and Michael Wilson.