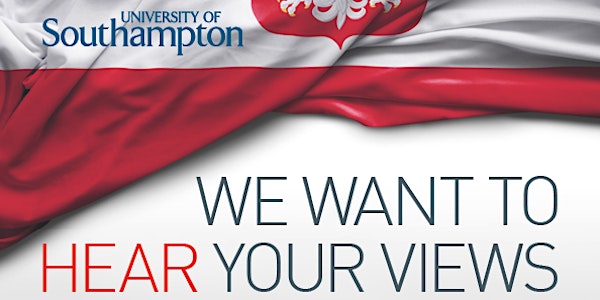 Brexit and Polish Nationals in Southampton: Sharing Experiences
Location
Hartley Suite (within Building 38)
Highfield Campus
University of Southampton
Southampton
SO171BJ
United Kingdom
Description
Background:
Since the late 1990s, populist discourse based on anti-immigration sentiments has been on the rise in the UK, with such feelings being increasingly expressed even among the elites and the political establishment (McLaren and Johnson 2004). Some have argued that this phenomenon reached a peak during the In/Out Referendum Campaign ('RC') and shortly thereafter, and the Brexit vote has been linked to the upsurge in racially and religiously aggravated offences recorded in July 2016 (Home Office 2016). NGOs and academics have also warned that the Brexit vote has normalized racism and has led to an increase in daily micro-aggressions (Cohen and Page 2018). Evidence suggests that one of the key drivers of the Brexit vote and its racist aftermath has been a politicization of Englishness (Virdee and McGeever 2018). The manifestation of racism post-Brexit has taken many shapes, from hate crime incidents to direct physical violence (ONS 2016; Women's Committee HoC 2018), and has been directed, among others, towards Polish nationals, who constitute the largest group of EU nationals living in the UK.
The project:
This event follows from a pilot project (Oct. 2017-Jul. 2018), which focused on Polish nationals in Southampton. This empirical project sought to gather qualitative and quantitative evidence on the extent to which the Brexit campaign and vote have impacted on the perceived discrimination experienced by Poles in the UK and their sense of integration (e.g. whether they 'feel welcome' in the UK).
The pilot project gathered data on how Polish nationals living in Southampton felt before (2014-15) and after (2016-17) the Brexit Referendum. The data are showing a higher degree of objective vulnerability (e.g. incidents of discrimination, harassment, derogatory comments) and a higher degree of subjective vulnerability (e.g. respondents feeling "less welcome" and more insecure about their legal/immigration status).
The event:
This event seeks to raise awareness about the project findings and gather feedback from key stakeholders on potential policy recommendations. It will therefore be a forum to exchange ideas, experiences and information between researchers/academics and organisations/end-users, which will be achieved through an innovative feedback-engagement approach.
Schedule for the day:
Following the presentation of the pilot project results and a keynote speech by Prof. Charlotte O'Brien (University of York), the audience will have the opportunity to discuss policy solutions/recommendations linked to project findings, which they will then present in a plenary to all the attendees. These discussions will be used to consider how the project findings could feed into the implementation of relevant socio-legal policies at local level and into how the project could be expanded (both geographically and demographically).
11.30-12.00: Arrival and Registration
12.00-13.00: Presentations by Project Coordinators and by Prof. Charlotte O'Brien
13.00-13.45: Lunch
14.00-14.45: Discussion
15.00-15.45 Plenary
16.00-16.15: Conclusion
For further information, contact the project coordinators:
Dr Ingi Iusmen (i.iusmen@soton.ac.uk), or
Dr Sara Benedi Lahuerta (s.benedi-lahuerta@soton.ac.uk)