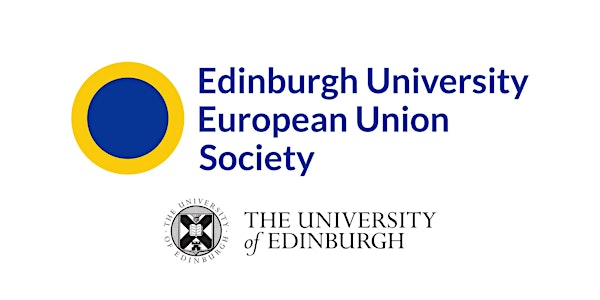 Brexit Countdown: The Deal, the Politics and the Future
Event Information
Location
The University of Edinburgh
Playfair Library Hall
Old College
Edinburgh
EH8 9YL
United Kingdom
Description
The Edinburgh University European Union Society is pleased to invite you to its upcoming event:
Brexit Countdown: The Deal, the Politics and the Future
Doors open from 5.30pm
Event begins at 6pm
PANEL
Anthony Salamone
President Emeritus · European Union Society
Georgie Harris
Vice President Community · Edinburgh University Students' Association
Mure Dickie
Scotland Correspondent · Financial Times
Dr Emmanuel Mourlon-Druol
Senior Lecturer in International Business and Enterprise · University of Glasgow
Robert Jacek Włodarski | Chair
President · European Union Society

BACKGROUND
The Brexit countdown has begun. The UK and the EU have provisionally concluded the withdrawal agreement, providing for the UK's departure from the Union, and the political declaration, setting out objectives for the future relationship. While the deal must pass both the European Parliament and the UK Parliament, its ultimate fate in the House of Commons in particular remains very much in doubt. If the Commons rejects the Brexit deal, it is possible that a general election or a further EU referendum might be an eventual outcome. Moreover, the EU27 would have to decide how to respond, including whether they would unanimously vote to extend the Article 50 process. Providing a deal is passed in time, attention will focus squarely on the future EU-UK relationship, which may take years to negotiate. In Scotland, Brexit brings significant implications for the debates on devolution and independence. During this time of acute unpredictability, join us as we consider the state of Brexit as the countdown to March continues.
ABOUT THE SPEAKERS
Anthony Salamone is President Emeritus of the European Union Society, PhD Candidate in British and European Politics at the University of Edinburgh, and Research Fellow and Strategic Advisor at the Scottish Centre on European Relations. His research interests focus on EU politics and institutions, Brexit, Scottish politics and British politics.
Georgie Harris is Vice President Community at the Edinburgh University Students' Association, one of the five sabbatical officers working full-time for students. Having graduated from the University in July, her degree was in Spanish and Politics and she studied in Madrid for a year.

Mure Dickie is Scotland Correspondent for the Financial Times, in which role he has extensively covered Brexit and Scottish politics. He was Tokyo Bureau Chief for the paper from 2008 to 2012, and previously correspondent in Beijing and in Taipei. Before joining the FT, he worked for Reuters in Beijing and Tokyo. He speaks Mandarin and Japanese.
Dr Emmanuel Mourlon-Druol is Senior Lecturer in International Business and Enterprise at the University of Glasgow and Non-Resident Fellow at Bruegel, the Brussels think tank. He is an international economic historian and his interests include European monetary cooperation and integration and European economic governance.
This event is free. Registration in advance required. All are welcome
Contact address for queries: eusocietyedinburgh@gmail.com
####
European Parliament Elections 2019 – #thistimeimvoting

The next European Parliament elections will be held across 23-26 May 2019. EU27 citizens living in Scotland can vote through their country of nationality, subject to national election laws. Find out more: thistimeimvoting.eu

Date and time
Location
The University of Edinburgh
Playfair Library Hall
Old College
Edinburgh
EH8 9YL
United Kingdom