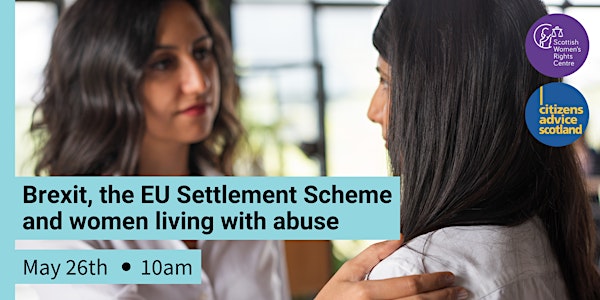 Brexit, the EU Settlement Scheme and women living with abuse–a free webinar
A free webinar for Violence Against Women services and organisations focusing on Brexit and the rights of women experiencing abuse.
About this event
After Brexit, the UK government introduced new immigration rules for European Union citizens and their non-EU family members. These rules affect both people who arrived in the UK before and after January 2021, and they will have particular implications for women experiencing abuse.
We know that some Violence against Women services and support workers may have questions about how the new immigration rules will affect the migrant women they support.
The Scottish Women's Rights Centre (SWRC) and Citizens' Advice Scotland have come together to deliver a free webinar that will look at the rights of women after Brexit.
This first webinar will have a particular focus on women who are eligible to apply for settled status under the EU Settlement Scheme before the end of June 2021. A further webinar will explore the situation for women who are not eligible for this scheme.
The event will therefore give an overview of the EU Settlement Scheme and what it means for EU and non-EU women seeking support, including:
• Who must apply
• The rights of women who apply to the scheme
• Barriers to making an application and how to address these
• Government support that can be accessed
• Leaving an abusive partner who is an EU citizen.
Speakers
The event will feature inputs from:
• Kirsty Thomson, Legal Director at SWRC and an experienced immigration lawyer.
• Pascale Crozier and Shaina Gabi, EU Settlement Scheme Advisers at Citizens' Advice Scotland.
Accessibility
The session will take place virtually on Zoom. If you have any accessibility requirements, please email kellie.marshall@scottishwomensrightscentre.org.uk.
Can't attend?
This webinar will be recorded and shared with organisations and workers that are not able to attend. To request a copy of the recording, please email: kellie.marshall@scottishwomensrightscentre.org.uk