This is an informal drop-in session for anyone who may refer people into the Bridge Northumberland programme to find out more.
About this event
Do you support people in Northumberland who are out of work and face barriers to returning?
Bridge Northumberland offers a free programme of one-to-one support and welcome referrals in from anyone who has contact with people out of work.
This drop-in session is for those who may refer people in to Bridge Northumberland and is a chance to find out more about the programme, meet a Bridge Worker and ask questions.
We help people find their potential and enable them to move into education, training or work. We do this by giving one to support through a dedicated Bridge worker to help people improve their confidence and develop their skills.
Our support is free and fully funded by the European Social Fund and the National Lottery Community Fund. We've successfully supported over 1,000 Northumberland residents get a positive outcome.
We welcome referrals to our programme from partners from the voluntary sector, local Facebook community groups and support agencies across Northumberland, and this session is an introduction to what we offer.
Find out more about Bridge Northumberland:
Agenda
Introductions
About the programme - Clair Parker, Beneficiary Engagement and Recruitment Officer
Meet a Bridge Worker - Sheena Craig
How to make a referral - Carrie Brookes
Questions and discussion time
Who should attend
This session is recommended for the following to attend:
Staff and volunteers from charities and community groups
Volunteers from COVID-19 Mutual Aid groups
Admins from local Facebook community and resident groups
Staff from statutory agencies, including new staff who aren't yet aware of our programme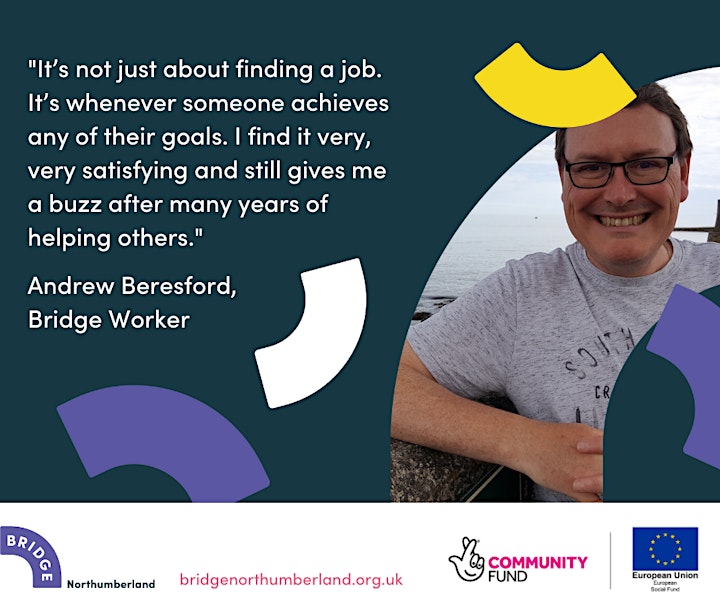 How we help
Once referred to us, a dedicated Bridge Worker will be their one point of contact throughout their time with us. They'll create with them a bespoke support programme of interventions such as mental health counselling and coaching, a financial MOT, digital skills training, advice and job search help.
Our partnership
Bridge Northumberland is a partnership programme, bringing together 5 voluntary and community organisations and led by Northumberland County Council, with a wealth of experience and knowledge in supporting the hardest to reach in Northumberland.
Each partner brings unique interventions to support people to overcome barriers and achieve positive, life-changing outcomes.
Our partners are:
Northumberland Community & Voluntary Action (NCVA)
Citizens Advice Northumberland
Community Action Northumberland
Cygnus Support
Northern Learning Trust
Northumberland County Council
Contact
For any queries about this session please contact: Carrie Brookes, Communications Officer for Bridge Northumberland carrie.brookes@northumberlandcva.org.uk