Sales Have Ended
Registrations are closed
BOOKING FOR THIS EVENT IS NOW CLOSED. IF YOU WISH TO BOOK A PLACE, OR HAVE ANY ISSUES WITH YOUR BOOKING, PLEASE NOW CONTACT PAMELA JIKIEMI - p.jikiemi-pearson0720181@arts.ac.uk
Sales Have Ended
Registrations are closed
BOOKING FOR THIS EVENT IS NOW CLOSED. IF YOU WISH TO BOOK A PLACE, OR HAVE ANY ISSUES WITH YOUR BOOKING, PLEASE NOW CONTACT PAMELA JIKIEMI - p.jikiemi-pearson0720181@arts.ac.uk
A symposium reflecting on Bridgerton (2020) and the concept of decolonising the British film and Screen Industry as a social performance.
About this event
-The symposium will be an online Webinar panel discussion followed by a Q&A session.
Bridgerton (2020), Netflix's period drama set in Regency England during the reign of George III has been seen as a disruptor to the ideological tradition of on-screen portrayals of period history, race and class. Images and myths that have been taken for granted in the traditional British screen portrayal of period drama often have deep historical roots and perpetuate evocative powerful, persuasive, ideological traditions.
Such alternative historical representations will inevitably have an impact on British actor training, and this is happening at a time when the arts are positioned in a moment of great potential. Industry, training conservatoires and academic leaders are being held accountable to create more 'inclusive' training centres, artistic programmes, opportunities and mediums. Black and Global Majority presence, participation and contribution in Great Britain has been put centre stage by a work of fiction that touches on bigger truths. It has exposed big questions and yawning gaps in the screen acting, storytelling landscape, a tremendous chasm between desired outcomes and practical reality. 
There are many key moments in British history that have been effectively whitewashed – for example
William Davidson was born in Jamaica and came to England at the age of 14. He came to study law, not to lobby for his freedom. Davidson befriended radicals connected to the Peterloo Massacre and became an integral part of the Cato Street Conspiracy - a group of young men who were arrested for plotting to assassinate key members of the British government in1820 – Davidson's presence was omitted/colourised out from the visual and literal historical landscape.
Netflix, the burgeoning global streaming platform, placed racial representation full screen. Bridgerton (2020) subverted the period drama genre by creating an explosion of real debate around British history, representation, race, class and the white male/female gaze, a very different way of seeing it has proven to be. But what is being seen…
In Bridgerton: Regency, Race and Representation; the panel event seeks an examination of the aesthetics of British history, to subject the on-screen myths of that history to critical analysis and to interrogate whether actor training and the film/screen industry major players in Britain can move beyond the moral conceptual limitations of their established mythic traditions?
It will bring together artists and industry with expertise in diversity discourses on screen to discuss race and its social positioning from different perspectives of the performance industry. Comprising, actors, writers, producers and actor trainers who represent racial counter-narratives,
Bridgerton: Regency, Race and Representation will explore the concept of decolonising the British film and screen industry as a social performance on screen.
Shortly before the symposium date, those who have registered will receive a Zoom link to the Webinar.
Led by Pamela Jikiemi MA PgCertAP FHEA (RADA)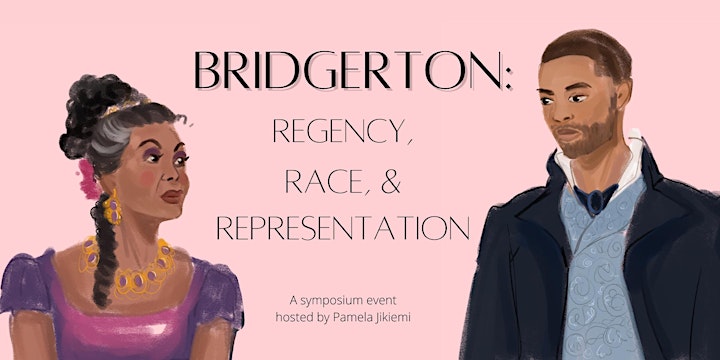 Artwork by Esmie Jikiemi-Pearson