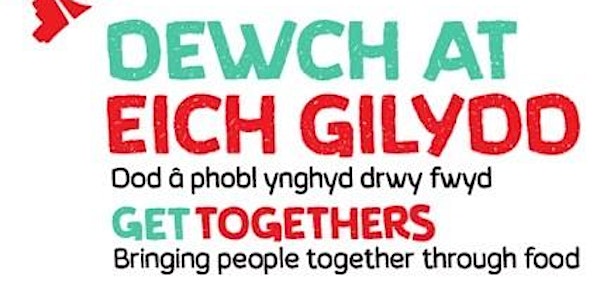 Bridging the Distance: Re-connecting our communities through good food
Share best practice and challenges around communities connecting through good food across Cardiff and Vale.
About this event
This online networking event offers organisations and groups across Cardiff and Vale the opportunity to come together, discuss challenges and share ideas and potential solutions to continue to engage communities through food as we move beyond lockdown and into a new "normal". Right now, it's more important than ever to stay connected.
• Hear from ACE and South Riverside Community Development Centre, our regional local partners for Get Togethers, sharing their experience of adapting food-based activities around Covid-19
• Spark conversations about how people of different ages and backgrounds can and are connecting through good food during this challenging time
• Learn how organisations and groups have adapted their activities and share our experiences of developing solutions for maintaining connection
• Hear how Food for Life Get Togethers can support you in bringing people together through good food in your community
This event will be online through Microsoft Teams Joining instructions will be sent prior to the event. Please email louise.shute@wales.nhs.uk if you have any questions.
Mae'r digwyddiad rhwydweithio ar-lein hwn yn cynnig cyfle i sefydliadau a grwpiau ledled Caerdydd a'r Fro ddod at ei gilydd, trafod heriau a rhannu syniadau ac atebion posibl er mwyn parhau i ymgysylltu â chymunedau trwy fwyd wrth i ni symud y tu hwnt i'r cyfnod cloi a thuag at "normal" newydd. Ar hyn o bryd, mae'n bwysicach nag erioed cadw mewn cysylltiad, felly dewch i ymuno â ni i wneud y canlynol:
• Clywed gan ACE a Chanolfan Datblygu Cymunedol De Glan yr Afon, ein partneriaid lleol rhanbarthol ar gyfer digwyddiadau Dewch at eich Gilydd Bwyd am Oes, wrth iddynt rannu eu profiad o addasu gweithgareddau sy'n seiliedig ar fwyd o amgylch Covid-19
• Sbarduno sgyrsiau am sut y gall a sut y mae pobl o wahanol oedrannau a chefndiroedd yn cysylltu trwy fwyd da yn ystod y cyfnod heriol hwn
• Dysgu sut mae sefydliadau a grwpiau wedi addasu eu gweithgareddau a rhannu ein profiadau o ddatblygu atebion i gadw mewn cysylltiad
• Clywed sut y gall digwyddiadau Dewch at eich Gilydd Bwyd am Oes eich cefnogi chi i ddod â phobl ynghyd trwy fwyd da yn eich cymuned