Welcome to Brighton Data Forum! We are a socialising, networking, and skill-sharing meetup, bringing together local people in data.
About this Event
Who's Speaking?
This month's speaker is Chloe Russell-Sharp, data scientist at Brandwatch. Chloe's talk is in two parts. In her words:
"The first section of my talk will cover my journey into Data Science, without having a background in Computer Science. Relatedly, I will also discuss my work in championing gender diversity in the technology sector."
"The second part will demo a tool I have built using Dash - a Python framework for building web applications. In Data Science, a crucial part of model development is model evaluation and data exploration; which is often fiddly and time consuming to repeat between experiments. My tool provides a solution to this, allowing for quick and sleek analysis of uploaded labelled data. I will discuss the tool itself, some fun Dash tricks I learned along the way and finally, the tool's deployment."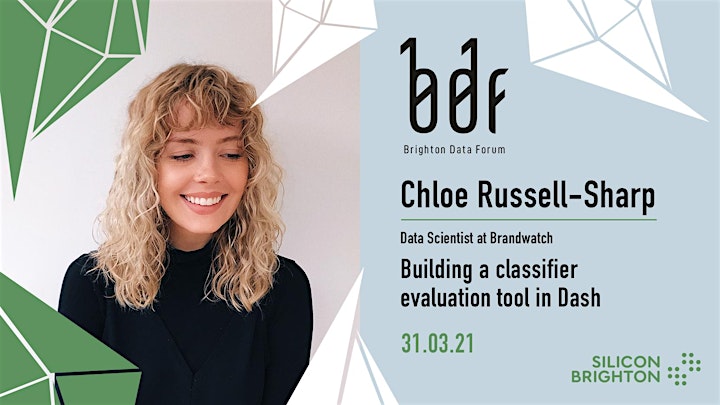 Brighton Data Forum
From students to thought leaders, we have a range of amazing local talent and organisations doing exciting projects with data. Our goal is to foster a community around all of this activity and encourage productive conversation within it.
The forum covers all topics of data professions, including: analytics, data science, governance, warehousing, privacy & ethics, management, integration, visualisation, etc. We offer a blend of (semi) formal presentations as well as friendly chatter and networking opportunities. Now and for the foreseeable future, this meeting will be conducted remotely via zoom.
We close the meeting with open discussions from the membership. Please ensure you have zoom installed and running on your computer or device in advance. Then at the time, make yourself comfortable, optionally with a drink and a snack at hand, and click the link coordinates.