Brighton Earth Day 2020 - Becoming Carbon Neutral By 2030
About this Event
The next 10 years are critical in our fight against climate change.
We strongly believe that everyone has a part to play in reducing carbon emissions and that by working cooperatively we can achieve more than by working alone.
With this in mind, Brighton & Hove Energy Services Co-op (BHESCo) are marking Earth Day 2020 by inviting people from our Brighton and Hove community to share ideas, plan how we can work together and empower each other to take action towards this important goal. Everyone is welcome - individuals or those representing businesses, community groups, public sector and academic institutions.
The agenda for the event is:
Introductions and MC: Mick Taylor, co-founder of GoodMoney CIC and lecturer of Maths at the University of Sussex
Sustainable Transport: Tom Druitt, Founder and MD of The Big Lemon bus company with Damien Tow, Brighton Energy Coop
Sustainable Food: Ruth Anslow, co-founder of HiSbe supermarket
Sustainable Housing: Alex Hunt, founding partner at Bright Green Homes with Duncan Baker-Brown of BBM Architects & Brighton University
Sustainable Finance: Peter Newell, academic, researcher and member of Rapid Transition Alliance
Sustainable Waste: Cat Fletcher, co-founder of Freegle UK
Sustainable Energy: Kayla Ente, Founder and CEO of BHESCo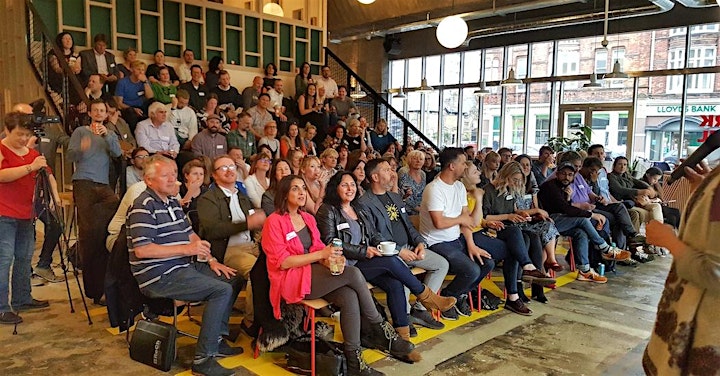 You'll have an opportunity to ask these experts those environmental questions you've been longing to have answered and we're sure you'll leave with a clearer idea of how you can play your part in our community.
Our venue has a café and bar so there'll be ample opportunity for drinks and networking after the event.
We'll also be entertained by a group of young rappers from Audio Active – a Brighton based music organization - who'll provide their take on environmental issues, performing original material they've written themselves.