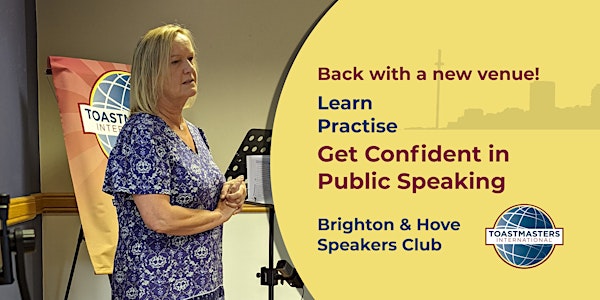 Brighton & Hove Speakers - Learn and Practise Public Speaking (FREE)
Location
Jurys Inn Brighton
101 Stroudley Road
Brighton
BN1 4DJ
United Kingdom
Get Confident in Public Speaking by learning and practising in a supportive environment
About this event
Join us as a guest for FREE at this in-person and online event hosted by Brighton & Hove Speakers Club: the Toastmasters public speaking club for the seaside city.
Our meetings provide members and guests with the opportunity to develop and practice speaking and leadership skills.
We meet every 2nd and 4th Wednesday of the month from 7.30 pm until 9.30 pm.
What Happens in Our Meetings
We devote the first half of the meeting to prepared speeches. Members sign up in advance to write and rehearse a short speech before delivering it to the audience.
The second half of the meeting begins with a series of evaluations. Every prepared speaker in the first half receives constructive feedback and advice on improving their speeches from other members.
We then have a go at delivering impromptu speeches in a section called Table Topics. Guests will get a taste of public speaking by joining us in Table Topics. This is a fun and popular segment that challenges you to think on your feet and get used to speaking off-the-cuff to an audience. We will invite attendees to take part by talking about a given topic for up to two minutes.
Impromptu speaking can be scary for newcomers, but it's something you'll want to keep coming back to time and time again!
Agenda Highlights
Warm-up introductions for guests and members
Speeches or workshops delivered by our members
Feedback on speeches from evaluators
Table Topics for guests and members
Post-meeting social chat
Everyone is Welcome
Our meetings have people coming from all walks of life, with a range of backgrounds and levels of experience.
If you are looking for a way to nail that future job interview, deliver a talk for your own business, make YouTube videos, give a wedding speech or just want to pick up some useful tips and techniques, then we can help.
Find Out More
Visit us online at https://brightonandhovespeakersclub.com.
We are part of Toastmasters International, a non-profit educational organisation and a world leader in communication and leadership development with a network of over 364,000 members and 16,200 clubs, spread over 145 countries worldwide.