About this Event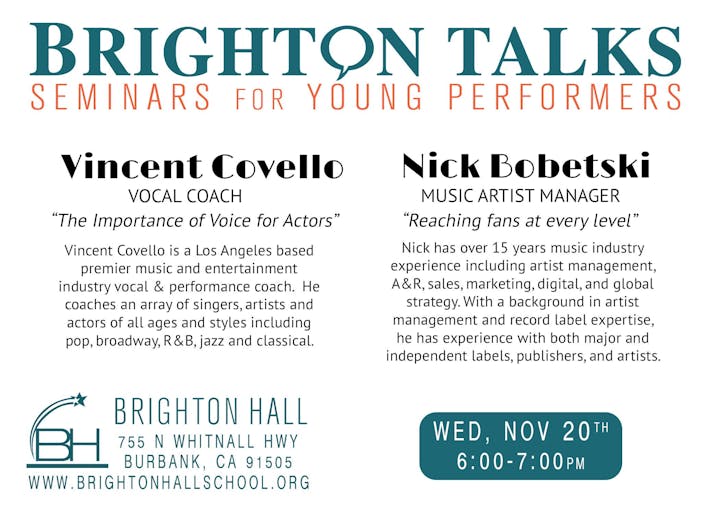 Vincent Covello is a Los Angeles based premier music and entertainment industry vocal & performance coach. He works with companies including Nickelodeon, Disney, MTV, Hasbro Entertainment, The Jim Henson Company, and Sony. He will talk about treating your voice like an instrument and the importance of actors developing their singing skills.
Brighton Hall is proud to host this monthly series for the families of young performers. These free entertainment industry seminars provide guidance, resources, and community. All of our speakers have expertise in helping aspiring young talent to advance their careers.
Nick Bobetski has over 15 years music industry experience including artist management, A&R, sales, marketing, digital, and global strategy. With a background in artist management and record label expertise, he has experience with both major and independent labels, publishers, and artists. He has built careers for a wide variety of musicians with a consistent focus on quality music and longterm artist career strategies. Nick currently works as an artists manager at Rebel One in Los Angeles.
Find out more at www.BrightonTalks.com
Brighton Hall is a unique private college preparatory school designed for young professionals in the entertainment industry. We are dedicated to ensuring that our students achieve a strong academic education, while enabling them to meet their professional goals.
80% of Brighton Hall's students are actively working as actors, singers, musicians, dancers and athletes. Due to the flexibility of class schedules and our open enrollment policy, these students can benefit from individually-tailored academics without sacrificing the social benefits of a traditional schooling experience.