Description
Description
Bring 'the life changing magic of tidying' to your home.
Wednesday 12th June 2019, 7pm-9pm


Attend an informal masterclass in a beautiful setting & learn how to bring more calm & magic to your home.
Your home should soothe & delight you & be a sanctuary from the outside world.
The leading Professional Home Organiser, Declutter Expert & founder of A Tidy Mind, is hosting an evening of 'self-care for your home'. If your home feels more chaotic than calm, then this workshop will give you simple tricks & tips to make it more functional, beautiful & most importantly the peaceful retreat you deserve.
The event includes:
Introduction to A Tidy Mind & the story

Why a relaxing home is important

Step by step guide to get started on your decluttering journey

How to apply the principles to other areas of your life (finances, relationships, family, career)

Habits to adopt to maintain success
You will also be able to browse the stunning Arlo & Jacob showroom PLUS refreshments & a goody bag is included in your ticket.
The Venue
Arlo & Jacob |
25 - 26 W Park, Harrogate HG1 1BJ
Located on a pretty shopping street opposite a lovely green park, the Harrogate showroom is surrounded by quaint tearooms & is brimming with traditionally manufactured sofas, armchairs, footstools and scatter cushions in a diverse range of fabrics.
Parking is located at the back of the building.
Your Host
Kate Ibbotson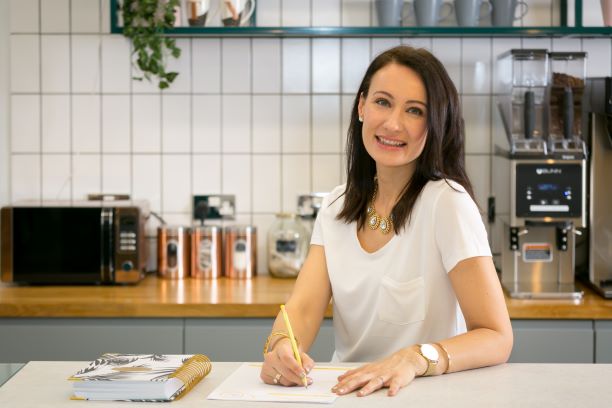 "I'm in my element everyday as the owner of A Tidy Mind . I help people simplify their lives and create order in their homes, in order to achieve the end goal of a calm, functional home and a relaxed, focused energised mind. I've always believed that the home is our baseline. It's where we should be able to fully relax. It reflects what is unique and important about us and can be a representation of the best version of ourselves. A disordered home can cause much emotional turmoil but tackling it is a powerful tool to improve every aspect of life. A tidy home means lower stress levels, increased contentment, enhanced mindfulness, health and weight management, improved relationships, financial freedom and greater productivity!
I had a light bulb moment six years ago when I found out professional organising was really 'a thing'. Finally, I could combine my background in psychology and social work with the pure joy I get from tidying out a garage! People sometimes worry that I'll judge them or be shocked but nearly 250 clients later, I never have been. The truth is, I'm in my absolute element when I get into the nitty gritty of the inner workings of a home"