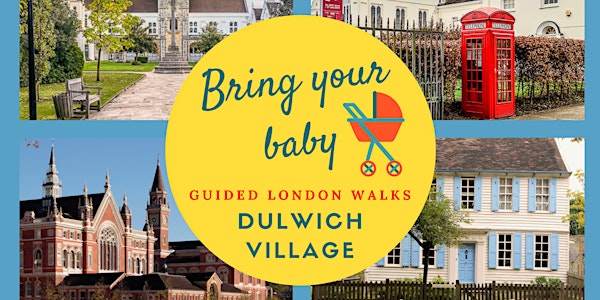 BRING YOUR BABY GUIDED LONDON WALK: "Dulwich Village History"
Location
North Dulwich Train Station - Southern Railway
Red Post Hill
London
SE24 7BX
United Kingdom
Refund policy
Refunds up to 1 day before event
Eventbrite's fee is nonrefundable.
Bring Your Baby Guided London Walks are sensitively devised to suit parents and carers of even the tiniest babies to enjoy London's history.
About this event
Walk starts: Outside North Dulwich Station
Walk ends: West Dulwich Station
With stop at The Crown & Greyhound for lunch, feeding and changing halfway, although you are welcome to stop any time you need to. It's what 'Bring Your Baby' is all about. You do not need to feel pressured to buy lunch at the pub. If you just want to bring a sandwich and buy a drink that's fine!
'Bring Your Baby' Guided London Walks are sensitively devised to suit parents and carers of even the tiniest babies to enjoy London's history. We can stop whenever you like to feed and change - without the stress of feeling you are holding up the group. Because every participant brings their baby, patience and baby's needs are at the forefront of each walk.
You are welcome to bring friends and family who do not also have a baby (every adult needs a ticket).
About this walk:
Dulwich Village is a collegiate village, which has remained distinct and more exclusive than its surrounding neighbourhoods. This is almost entirely due to the role of Dulwich College, founded in 1619 by the actor Edward Alleyn as the College of God's Gift, which consisted of almshouses and a school for underprivileged boys.
From the mid-1760s, the college allowed wealthy Londoners – often the parents of pupils – to build substantial houses that would maintain their value, and that of the estate. A number of these properties remain – which you will pass on this walk, as well as numerous stunning cottages.
You'll also see and learn about…
- The original College of God's Gift, founded by the most successful Elizabethan actor Edward Alleyn - he was also Joint Master of the Royal Bears, Bulls and Mastiff Dogs, a post which made him an extremely wealthy man.
- The Sir Charles Barry (Houses of Parliament) designed Old Grammar School, set up by the College in 1842.
- Sir John Soane's Dulwich Picture Gallery, the oldest in London.
- Dulwich Park, formed in 1890 from the fields of Dulwich Court Farm and its neighbours.
- The Crown and Greyhound inn, which replaced two 18th-century inns as the focal point of the village.
- Edward Alleyn's almshouses.
- St Barnabas Church and its burial ground dating back to 1616 - final resting place of plague victims, the Queen of the Norwood Gypsies and the Dulwich hermit who was murdered in 1802.
- The village's original cottage shops.
- James Allen's School, an institution that grew out of a 'reading school' for poor girls and boys in the 18th century.
- Pond Cottages and the Mill Pond: once home to a tile kiln.
- Grand mansion-scale houses, weatherboarded cottages and the finest Georgian house in the village, which dates from 1767.
- The last - and still operating - tollgate in London.
- Belair Mansion, built in 1765 for a Whitechapel corn merchant.
- Dulwich Common.
If I feel unwell, I will cancel the tour. And if you or anyone in your household is unwell in the days or hours before the tour, it is imperative that you should not join us.
Every walk follows the usual health and safety guidelines, such as crossing at traffic lights where possible and having hazards pointed out to you at the start and along the route.
If on the day of the walk we are forecast to have very bad weather, I may have to postpone the walk. If it's a bit of light rain we will cope!
There may be times we have to stand in direct sunlight (although I will always choose shade where possible). Please bring all the necessary sun protection for yourself and your child.
It is recommended you bring appropriate drinks and snacks for the duration of the walk.
I will contact you with booking confirmation after you book. I will supply my mobile number in case of emergencies or in case you are running late. I will also ask you to provide me with a mobile number so you can be contacted before, during or after the walk. Please note that if you are more than a few minutes late I may ask you to catch up with us.
If you like the look of any of my walks, but would prefer to book me privately, please make enquiries at Lucy@bringyourbaby.org. This may particularly be the case if you have people interested who do not have babies.
Refunds must be requested at least 24 hours in advance.