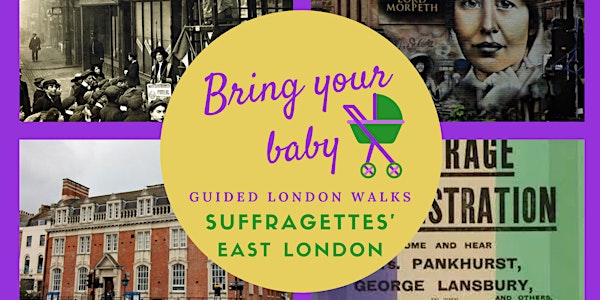 BRING YOUR BABY GUIDED LONDON WALK: 'Suffragettes' East London'
Location
Bow Road
Bow Road
London
E3
United Kingdom
Refund policy
Refunds up to 1 day before event
Eventbrite's fee is nonrefundable.
Bring Your Baby Guided London Walks are sensitively devised to suit parents and carers of even the tiniest babies to enjoy London's history.
About this event
Stop for brunch / coffee and baby change at The Nunnery cafe about 1 hour into the walk (11.30am). The cafe do great toasties and cake!
Walk starts: Outside Bow Road underground station, E3 4DH
Walk ends: Outside The Lord Morpeth pub, 402 Old Ford Road, E3 5NR
'Bring Your Baby' Guided London Walks are sensitively devised to suit parents and carers of even the tiniest babies to enjoy London's history. We can stop whenever you like to feed and change - without the stress of feeling you are holding up the group. Because every participant brings their baby, patience and baby's needs are at the forefront of each walk.
You are welcome to bring friends and family who do not also have a baby.
Introduction:
Bow was the headquarters of the East London Federation of the Suffragettes (ELFS), led by Sylvia Pankhurst, daughter of Emmeline and sister of Christobel, also both prominent suffragette leaders. The ELFS was an offshoot of the 'Women's Social and Political Union', but Sylvia's work in Bow - which you shall visit - campaigned for much more than just the vote. She opened a nursery, a cost-price restaurant and a co-operative toy factory - all to try and improve the conditions of the women of the East End - and you'll see their locations on this walk.Sylvia also published a newspaper, 'The Woman's Dreadnought', and spoke out at venues across the East End, often ending in violence. We shall visit not only the locations of the newspaper production and sales, but also the scenes where Sylvia battled the authorities and threw bricks into windows while trying to have her say.
Between 1913 and 1914 Sylvia Pankhurst was arrested eight times. On each occasion she would be forcibly fed, a brutal practice that left her physically shattered. It took her a long time to recover, which I'll tell you about and show you the friend's home at which she convalesced.
What you'll see on this walk:
- Bow Road Police Station, where Sylvia Pankhurst was arrested and held for smashing windows in February 1913.
- Bromley-by-Bow Public Hall, where Sylvia spoke - and hid waiting for rescue after evading police.
- The site where Sylvia broke windows with bricks in 1913.
- The former 'Bryant & May' factory, famous for the matchgirls' strike of 1888.
- Site of the East London branch of the Women's Social and Political Union (WSPU), where Sylvia took over a disused baker's shop and above the windows painted in gold letters, 'Votes for Women'.
- The site of the second 'Women's Social & Political Union' (WSPU).- Roman Road Market, where Sylvia's newspaper, 'The Women's Dreadnought', was sold.
- Site of the public baths and meeting rooms where impassioned suffragette meetings were broken up by the police, using such violence that many of the women were hospitalised. Also the venue for the launch of Sylvia's 'People's Army' in November 1913.
- Site of the home of 'Mrs Hughes', one of six suffragettes selected for the ELFS visit to Downing Street to speak to Prime Minister Asquith in 1914.
- The home of Jessie Payne, where Sylvia recuperated after a hunger and thirst strike in 1913.
- The site where Sylvia established 'The Mothers Arms' as a creche, milk depot and infant welfare centre for local mothers.
- The East London park where the suffragette marches of 1913 and 1914 took place, both were broken up by the police.
- The ELFS headquarters where in 1914 Sylvia also opened a 'Women's Hall', with a cost-price restaurant, milk depot and Russian information bureau.
- The shop which once printed Sylvia's newspaper, 'The Women's Dreadnought'.
- The nursery and toy factory established by Sylvia in 1914 where women could earn a living wage making good-quality toys, later stocked by Selfridges after daring escapade by Sylvia herself.
- The 'Minnie Lansbury clock' - a memorial to the suffragette, and Labour politician George Lansbury's daughter-in-law who died of pneumonia after being imprisoned in Holloway.
- And more...
If on the day of the walk we are forecast to have very bad weather, I may have to postpone the walk. If it's a bit of light rain we will cope!
Every walk follows the usual health and safety guidelines, such as crossing at traffic lights where possible and having hazards pointed out to you at the start and along the route.
There may be times we have to stand in direct sunlight (although I will always choose shade where possible). Please bring all the necessary sun protection for yourself and your child.
It is recommended you bring appropriate drinks and snacks for the duration of the walk.
I will contact you with booking confirmation after you book. I will supply my mobile number in case of emergencies or in case you are running late. I will also ask you to provide me with a mobile number so you can be contacted before, during or after the walk, but this is *not for marketing purposes*. In case of lateness, walk postponement, cancellation or separation. Please note that if you are more than a few minutes late I may ask you to catch up with us.
If you like the look of any of my walks, but would prefer to book me privately, please make enquiries at Lucy@bringyourbaby.org. This may particularly be the case if you have people interested who do not have babies.
Important notes about booking:
Please feel free to invite baby-free friends.
Customer refunds must be requested at least 24 hours before an event starts. We cannot guarantee you can move your ticket to the next month but you are welcome to enquire at Lucy@bringyourbaby.org
If for any reason Bring Your Baby Ltd are forced to cancel or postpone an event (for example in the case of illness or extreme weather conditions), you are within your rights to request a refund, though we will always suggest an alternative date for you to attend.