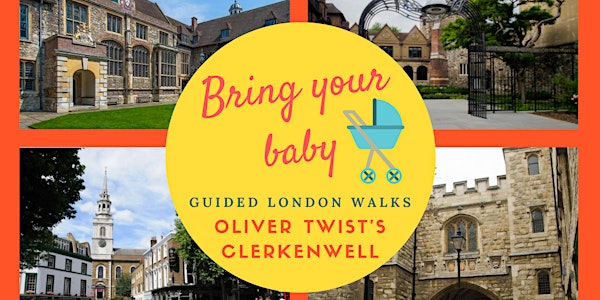 BRING YOUR BABY GUIDED WALK: Charles Dickens & Oliver Twist's Clerkenwell
Location
Outside The Charterhouse
Charterhouse Square
London
EC1M 6AN
United Kingdom
Refund policy
Refunds up to 1 day before event
Eventbrite's fee is nonrefundable.
Bring Your Baby Guided London Walks are sensitively devised to suit parents and carers of even the tiniest babies to enjoy London's history.
About this event
We will stop at The Crown Tavern on Clerkenwell Green for light bites, coffee and baby change. Please bring your own sandwich if you prefer.
Walk starts: Outside 'The Charterhouse', Charterhouse Square, EC1M 6AN - Barbican station and numerous bus routes nearby.
Walk ends: Outside 'The Betsey Trotwood' pub, 56 Farringdon Rd, EC1R 3BL - Farringdon station and numerous bus routes nearby.
'Bring Your Baby' Guided London Walks are sensitively devised to suit parents and carers of even the tiniest babies to enjoy London's history. We can stop whenever you like to feed and change - without the stress of feeling you are holding up the group. Patience and baby's needs are at the forefront of each walk.
You are welcome to bring friends and family who do not also have a baby (every adult needs a ticket).
CHARLES DICKENS' LONDON: OLIVER TWIST'S CLERKENWELL
What you'll see on this walk:
- The often unknown-about former Carthusian Monastery of The Charterhouse, dating from 1348, and later used for other purposes after the dissolution of the monasteries by Henry VIII.
- The then-filthy and dangerous market Oliver Twist visits with Bill Sikes. Also described by Pip from 'Great Expectations'.
- The street once home to Fagin's den in a former rookery.
- The long, dark alleyway once known as 'Pissing Alley'.
- The court from which the Artful Dodger, Oliver Twist and Charley Bates emerge onto to pickpocket people on the - still stunning - Clerkenwell Green, and where Oliver is accused of pickpocketing Mr Brownlow outside a bookstall.
- The 1504 gatehouse into the priory of the Priory of St John of Jerusalem for the Knights Hospitaller, dissolved under Henry VIII then used as a newspaper office by Samuel Johnson, writer of the first dictionary, and later known to Dickens as The Old Jerusalem Tavern.
- The tranquil churchyard of the Priory Church, which was destroyed by bombs in 1941.
- The Sessions House attended by unpleasant workhouse manager Mr Bumble.
- The site of 'Little Hell': one of the worst slums, or rookeries in London. It boasted the capital's highest murder rates.
- The actual 'Clerk's Well', after which Clerkenwell is named, and now visible though the window of an office block.
- The exterior of 'Dans Le Noir', the 'eat-in-the-dark' restaurant featured in the Richard Curtis movie, 'About Time'.
- The building where Lenin worked while in exile in 1902 and 1903, and the pub practically next door, where Lenin first met Stalin.
- The site of Oliver Cromwell's house, where he is said to have signed Charles I's death warrant.
- St. James' Church, where Pocahontas and John Rolfe's son was married in 1632, where Dick Turpin's accomplice was buried, and where you can see the sad memorial to Ellen Steinberg and her four young children who were stabbed to death by her husband in 1834.
- The entrance to the dreaded Clerkenwell House of Detention – opened in 1847, a place of dread, for Oliver and his contemporaries.
- Hugh Grant's apartment from 'About A Boy'!
- Peabody flats set up by American philanthropist George Peabody.
- And more...
If on the day of the walk we are forecast to have very bad weather, I may have to postpone the walk. If it's a bit of light rain we will cope!
Every walk follows the usual health and safety guidelines, such as crossing at traffic lights where possible and having hazards pointed out to you at the start and along the route.
There may be times we have to stand in direct sunlight (although I will always choose shade where possible). Please bring all the necessary sun protection for yourself and your child.
It is recommended you bring appropriate drinks and snacks for the duration of the walk, especially if the walk takes place at lunchtime.
I will contact you with booking confirmation after you book. I will supply my mobile number in case of emergencies or in case you are running late. I will also ask you to provide me with a mobile number so you can be contacted for the purposes of the walk, but this is *not for marketing purposes*. Please note that if you are more than a few minutes late I may ask you to catch up with us.
If you like the look of any of my walks, but would prefer to book me privately, please make enquiries at Lucy@bringyourbaby.org. This may particularly be the case if you have people interested who do not have babies.
Important notes about booking:
Please feel free to invite baby-free friends.
Customer refunds must be requested at least 24 hours before an event starts. We cannot guarantee you can move your ticket to the next month but you are welcome to enquire at Lucy@bringyourbaby.org
If for any reason Bring Your Baby Ltd are forced to cancel or postpone an event (for example in the case of illness or extreme weather conditions), you are within your rights to request a refund, though we will always suggest an alternative date for you to attend.