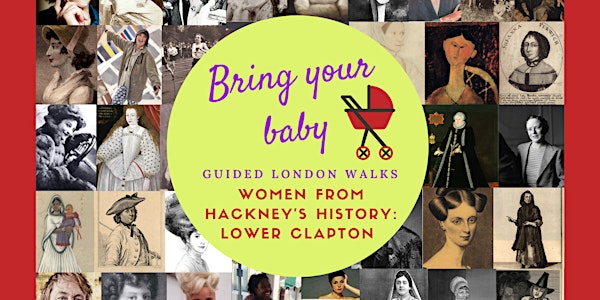 'BRING YOUR BABY' GUIDED WALK: Women from Hackney's History - LOWER CLAPTON
Location
Dalston Junction
Dalston Junction Station
Dalston Lane
London
E8 3DE
United Kingdom
Refund policy
Refunds up to 1 day before event
Eventbrite's fee is nonrefundable.
Bring Your Baby Guided London Walks are sensitively devised to suit parents and carers of even the tiniest babies to enjoy London's history.
About this event
Walk starts: Outside the Clapton Hart pub, 231 Lower Clapton Road, E5 8EG. Nearest station: Clapton.
Walk ends: Clapton Square. Nearest station: Hackney Central.
Stop at Clapton Table for refreshment, feeding and changing halfway, although you are welcome to stop any time you need to. It's what 'Bring Your Baby' is all about.
For this particular walk it will be easier to bring a sling so that we can fit into the cafe more easily, but I completely understand some people will need to bring prams.
'Bring Your Baby' Guided London Walks are sensitively devised to suit parents and carers of even the tiniest babies to enjoy London's history. We can stop whenever you like to feed and change - without the stress of feeling you are holding up the group. Because every participant brings their baby, patience and baby's needs are at the forefront of each walk.
You are welcome to bring friends and family who do not also have a baby (every adult needs a ticket).
In March 2021 'Women from Hackney's History' was published, a book for which I wrote 23 of the entries about notable women who have lived and worked in the London Borough of Hackney. I have adapted the stories of many of these women into guided walks, including tangible locations where possible. The book has just been reprinted and can be purchased from 'The Hackney Society' or in many Hackney bookshops.
This walk explores the Lower Clapton area of Hackney. We discover the locations where several women lived and worked around Hackney. We start by locating the site of Brooke House (also once known as King's Place and Lennox House) once home to numerous high-status Tudors and Stuarts, and once owned by Henry VIII himself. We have historical evidence that Mary I, Elizabeth I and Jane Seymour all visited the house, but our women who lived at the house here are:
- Margaret Douglas, Countess of Lennox, niece of Henry VIII, grandmother of James I and subject of stories of intrigue and plotting against Elizabeth I.
- Elizabeth De Vere, Countess of Oxford, maid of honour to Elizabeth I for at least 10 years.
- Lady Arbella Stuart, granddaughter Margaret Douglas, Countess of Lennox, and considered a possible successor to Elizabeth I, a fact that blighted her life before she was executed at The Tower of London.
- Martha Denny, aunt of Elizabeth I's spymaster Francis Walsingham.
- Anne Vaux, involved in Guy Fawkes' gunpowder plot.
- Sara Williams, a servant girl who was 'exorcised' at the house in 1586.
We then properly commence our Women from Hackney's History walk, discovering the locations where several women lived and worked around Lower Clapton and Hackney, including:
- Catherine Booth and her daughters, Salvation Army founders.
- Barbara Windsor, acting legend.
- Maie Ash, music hall and pantomime star.
- Elizabeth Chivers, a 30-year-old servant who was hanged for murder after drowning her baby at Clapton Pond.
- Phoebe Radley of the Radley boatyard dynasty, who pioneered competitive rowing for women.
- Doll Hainsby, Hackney tailoress, who discovered the man she'd married during WW2 was a bigamist.
- Mary Howitt, prolific author, poet and translator who created more than 100 works, wrote 'The Spider & the Fly' and translated several Hans Christian Anderson tales.
- Elsie Hooper, a pioneering pharmacist, active suffragist, businesswoman and lecturer.
- Fenella Fielding, actress who starred in notable 'Carry On' movies.
- Women who attended Mrs Salmon's Lower Clapton Girls' School in the 17th century, including English composer Mary Dering, and writer of female erotic poems, Katherine Phillips, otherwise known as 'The Matchless Orinda'.
- The Mothers Hospital, which cared for women during childbirth until the 1980s, and was the workplace of one of the most eminent female paediatricians of the 20th century, Dr Helen Mackay.
- Louisa Courtauld, silversmith and member of the famous Courtauld dynasty.
Important notes about booking:
Please feel free to invite baby-free friends.
If on the day of the walk we are forecast to have very bad weather, I may have to postpone the walk. If it's a bit of light rain we will cope!
Every walk follows the usual health and safety guidelines, such as crossing at traffic lights where possible and having hazards pointed out to you at the start and along the route.
There may be times we have to stand in direct sunlight (although I will always choose shade where possible). Please bring all the necessary sun protection for yourself and your child.
It is recommended you bring appropriate drinks and snacks for the duration of the walk.
I will contact you with booking confirmation after you book. I will supply my mobile number in case of emergencies or in case you are running late. I will also ask you to provide me with a mobile number so you can be contacted before, during or after the walk, but this is *not for marketing purposes*.
If you like the look of any of my walks, but would prefer to book me privately, please make enquiries at Lucy@bringyourbaby.org. This may particularly be the case if you have people interested who do not have babies.
Customer refunds must be requested at least 24 hours before an event starts. We cannot guarantee you can move your ticket to the next month but you are welcome to enquire at Lucy@bringyourbaby.org
If for any reason Bring Your Baby Ltd are forced to cancel or postpone an event (for example in the case of illness or extreme weather conditions), you are within your rights to request a refund, though we will always suggest an alternative date for you to attend.