GUSH presents: Bring Your Own Crush! An evening hosted by artist Rosie Dowd-Smyth.
About this event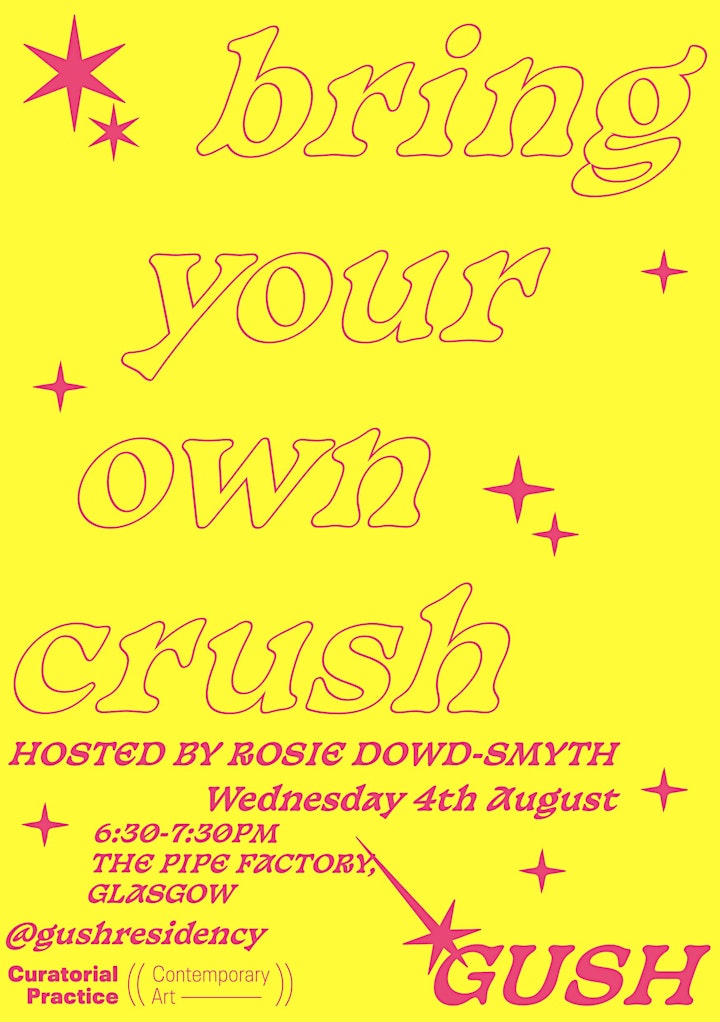 Bring Your Own Crush!
An evening with artist Rosie Dowd-Smyth, exploring fan love and hot crushes.
Who is your crush? Is it your partner? An artist? A writer? A book? A Song? Your favourite meal?
We want to know!
Bring along your most crushable person/object/thing and join us for a night exploring love and fan practices.
We will begin the evening with a show and tell, then discuss fan studies in relation to art making, followed by collectively writing a love letter to our favourite things.
6:30-7:30 at The Pipe Factory, Glasgow.
ROSIE DOWD-SMYTH
Rosie Dowd-Smyth lives and works In Glasgow, and is currently studying for her MFA at Glasgow School of Art with the Hope Scott scholarship award. After graduating from Goldsmiths University of London in 2017, she was awarded a year-long residency in Hamburg, Germany. Following this, a residency at Can Serrat in Barcelona in 2019. Dowd-Smyth has exhibited extensively in Germany and the UK, including: Air Gallery Altrincham, Boecho Gallery London, ASA Studios Hamburg, Galerie Der HFBK Hamburg and Harts Lane Gallery London. Rosie Dowd-Smyth was an Associate Lecturer at Warwickshire College in BA Fine Art and Foundation Art & Design, a guest Lecturer in Surrealist Environments at Wayne State University in Detroit, and runs many workshops.
Dowd-Smyth's work is playful, earnest and absurd. She advocates for the DIY, with the act of making prior to theory.
https://www.rosiedowdsmyth.co.uk
@rosiedowdsmyth
GUSH
GUSH is a newly developed residency programme located in Glasgow, Scotland. This programme takes fandom, and the figure of the fan, as a starting point for work and research.
Being a fan is often considered obsessive, with too much love, too much longing, hot crushing and passionate attachments. GUSH advocates for these feelings, and seeks to work with creators to develop projects that love loudly and delight in the pink-cheeked embarrassment of desire. GUSH sets out to care, carelessly, and tracks the intimate relationships that artists in residence have to pre-existing materials that they are fans of. Fandom can be a very one-sided affair, in which the desire to get high on a person or on ideas, is the common bottom line. GUSH makes these thoughts and feelings public.
Working closely with artists, writers, curators and makers, this residency encourages participants to examine how fandom influences their practice. Working with GUSH for one-month periods, participants on the programme will create works embracing citations, references, fan love for and obsession with muses in their life.
https://gush.squarespace.com
@gushresidency