Bringing Curiosity & Analysis to Community Nursing: Lisbeth Hockey, her Legacy
About this event
ICCHNR are delighted to invite you to the free inaugural Lisbeth Hockey memorial lecture that will be delivered by Professor Dame Anne Marie Rafferty on Tuesday 1st of December 17.00 - 18.30 (GMT)
This online event will be hosted by the University of Edinburgh in partnership with the Queens Nursing Institute, Scotland.
Registration is free and you will be invited to view and participate via ZOOM.
Dr Lisbeth Hockey was a role model and inspiration for all current and future generations of community nursing researchers, her life and works have been archived by the Royal College of Nursing/Queens Nursing Institute.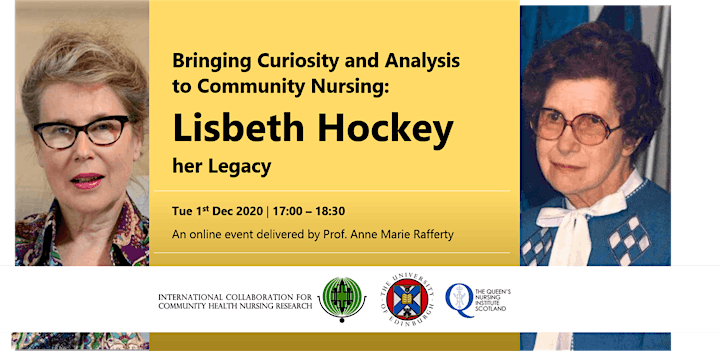 Organiser of Bringing Curiosity & Analysis to Community Nursing - Lisbeth Hockey
ICCHNR was registered as a charity in 1995 to achieve the following aims:
To demonstrate the value of community health care nursing research for improv-ing the quality of health care.
To advance and share knowledge of community health care nursing practice through research.
To increase personal commitment by community nurses to evidence based prac-tice.
To encourage the appropriate use of research for community nursing.
To promote awareness of the contribution of community health care nursing to healthy public policies and alliances.