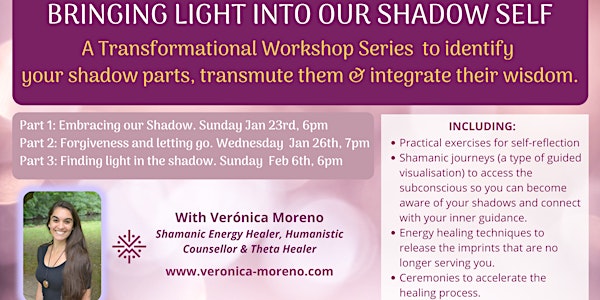 Bringing Light to the Shadow Self - FREE series of 3 Online Workshops
Join me in this 3-part workshop on SHADOW WORK. You will learn to identify your shadow parts, transmute them and integrate their wisdom.
About this event
Join me in this FREE 3-part workshop focused on SHADOW WORK, where you will learn to identify your shadow parts, transmute them and integrate their wisdom.
The workshops will include explanations, practical exercises, shamanic journeys (a type ofguided visualisation) and ceremonies to help you embrace your shadow parts and turn them into light.
Part 1: Embraicng Our Shadow. Watch replay here: https://youtu.be/9HzVtqF2T0A
Part 2: Forgiveness and letting go. Watch replay here: https://youtu.be/dBxXdzy66WQ
Part 3: Finding the light in the shadow. Sunday 6th of February 6pm UK time (NOTE PART 3 HAS BEEN CHANGED TO FEB THE 6th!)
The workshops will be recorded so you will be able to do the visualisations any time you need. If you can't make the live sessions, you can do them at your own pace.
You can join each session without having done the previous one, but it will be WAY MORE POWERFUL if you do it as a 3-part process.
What you will get:
Our 'shadow parts' is a very common term for the old stories we hold onto, negative experiences we didn't heal or process properly, karmic imprints...
They manifest as negative patterns, self-sabotage, limiting beliefs and behaviours that stop us from reaching our highest potential and enjoying a joyful and fulfilling life.
Shadow work means becoming aware of those imprints, releasing them so they no longer affect us and integrating the wisdom that comes from them.
In this 3-part workshop, I'm bringing my experience as a Counsellor and Energy healer to guide you in a process of self-discovery, healing and growth.
I will share with you:
- Practical exercises for self-reflection
- Shamanic journeys (a type of guided visualisation) to access the subconscious so you can become aware of your shadows and connect with your inner guidance.
- Energy healing techniques to release the imprints that are no longer serving you.
- Ceremonies to accelerate the healing process.
What you will need:
- One hour of you time for each workshop.
- Pen, paper and a candle.
- Your beautiful soul and the desire to grow!
Everyone is welcome and if you can't attend live, you will receive the recording the day after.
You can have your camera on and ask questions or you can attend on listener mode only if you're feeling shy, you decide!
In these workshops we will go DEEP, so make sure you will be in a quiet space where you won't be disturbed. You might want to save the rest of the evening to meditate, have a cleansing bath or just be with yourself to integrate the experience.
About me:
My name is Verónica Moreno and I am a Shamanic Energy Healer, Theta Healer and Humanistic Integrative Therapist, combining knowledge in various psychological models, healing modalities and esoteric traditions.
I have a friendly and empowering approach and my mission is to give you simple yet powerful tools that will get you deep and long-lasting results.
In these times of chaos, crisis and despair, I see a huge opportunity for deep healing, personal transformation and soul evolution.
If there were ever a time to do the inner work, it is NOW!
If we want to raise our vibration and be aligned with a harmonious and joyful experience on earth, we need to heal, release the blocks and reconnect with our true self.
This is exactly what we are going to do in the series of workshops, so join me in this magical and empowering journey!
This is what other attendees are saying about my events...
"Wow! I really loved this workshop! It is just what I needed. I have been through a lot of trauma in my life whilst growing up and this workshop and especially the fire ceremony, really helped on my healing path to let things go which no longer serve me. It has helped to heal my inner child and give the love she deserves. I learnt so much and i loved the energy and guided meditations too.
Veronica is fantastic at what she does, has so much knowledge and experience. She is a beautiful energy to work with and makes you feel comfortable, at ease and safe. I enjoyed it so much, the 2 hours just flew by. Thank you so much for your help. Highly recommend to anyone. 10/10"
"Veronica's workshops provide a valuable opportunity to dive deep into those parts of ourselves usually buried beneath the surface and bring back to the light parts that are ready to be healed. She makes this potentially tricky process so natural with her presence and the use of simple but powerful tools like the flame of a candle. I've found myself opening up and transmuting parts of myself that I would never have the courage or ability to do alone. With other healers this can sometimes be a draining and challenging process, but with Veronica it seems so effortless yet the effects run deep .I'm not sure if it's her unique energy or the tools she uses that are so linked to the fundamentals of nature, I suppose it's a bit of both, but either way, I love it and am very grateful for the opportunity."
"For any woman looking to understand and reconnect to her body and personal power, I definitely recommend Verónica's workshop! Her good vibes are contagious and made it a safe environment to share our aspirations.
Veronica shares very valuable information on our cycle and helps you get clarity on the life you want to live. I loved it!"
"Verónica's workshops are incredibly powerful and thought-provoking. I always leave her workshops feeling rejuvenated, empowered and focused. I would recommend her courses to everyone!"
"Another insightful and interesting workshop from Veronica, all about the impact uncertainty and stress have on our lives and with plenty of techniques to help minimise these! Veronica really knows her stuff, yet delivers the content in a really collaborative and 'human' way, so you feel like you're learning together. Her energy and positivity are infectious!"
Don't tell me you're gonna miss it!
The world needs less fear and more awaken people to spread love and light. Let's gather together to empower each other and keep our frequency as high as possible!
You will receive a link to Zoom when you register, if you don't please check the spam folder or email me at hello@veronica-moreno.com.
With love and light,
Verónica
Watch the replay from Part 1 and Part 2: