Coming in Hot from NYC! We are proud to present Brisket King London showcasing the very best in BBQ, Pastrami, Tacos, Chilli or Ramen bowls!
About this Event
It is with much regret that we have had to finally make the decision to postpone Brisket King London 2020.
This might not come as a huge surprise, given the ongoing public health crisis, but we wanted to formally let you know that there is no way such an event could be held in the current circumstances.
Guests and organisational partners from the US are unable to travel, the build up to the event has been one where the hospitality industry has effectively been on shut down and the very proposition of a crowded public event cannot even be considered.
We would like to thank you for your interest in this event and we cannot wait to host the 2021 rescheduled event which we know will have an even more celebratory feel!
BRISKET KING LONDON is coming to town!!!!
The event will see the whole NYC event format arrive here for a fantastic evening in central London in July 2021 featuring inventive, succulent sample dishes from Chefs across the UK, craft beers, a great celebrity Judging panel including Jay Rayner, Sam & Shauna from Hangfire, Will Horowitz from New York & Richard Turner of Meatopia & Hawksmoor Fame, and we are also bringing some of the best US BBQ cooks to set the pace, meet, greet and eat!
Public tickets will allow guests to enjoy a one off opportunity to sample a 'tasting menu' of up to 20 amazing dishes (that could be 2.5lb of meat!!) from the top brisket cooks in the Country, mingle with the cooks and the celebrity Judging panel, enjoy full bar facilities as well as VIP options and then watch the crowning of the first ever Brisket King of London!
Judges Choice Brisket King wins a trip to take part in BrisketKingNYC and, best of all, a chance to showcase their establishment as THE premier Brisket destination, plus of course bragging rights for the Year!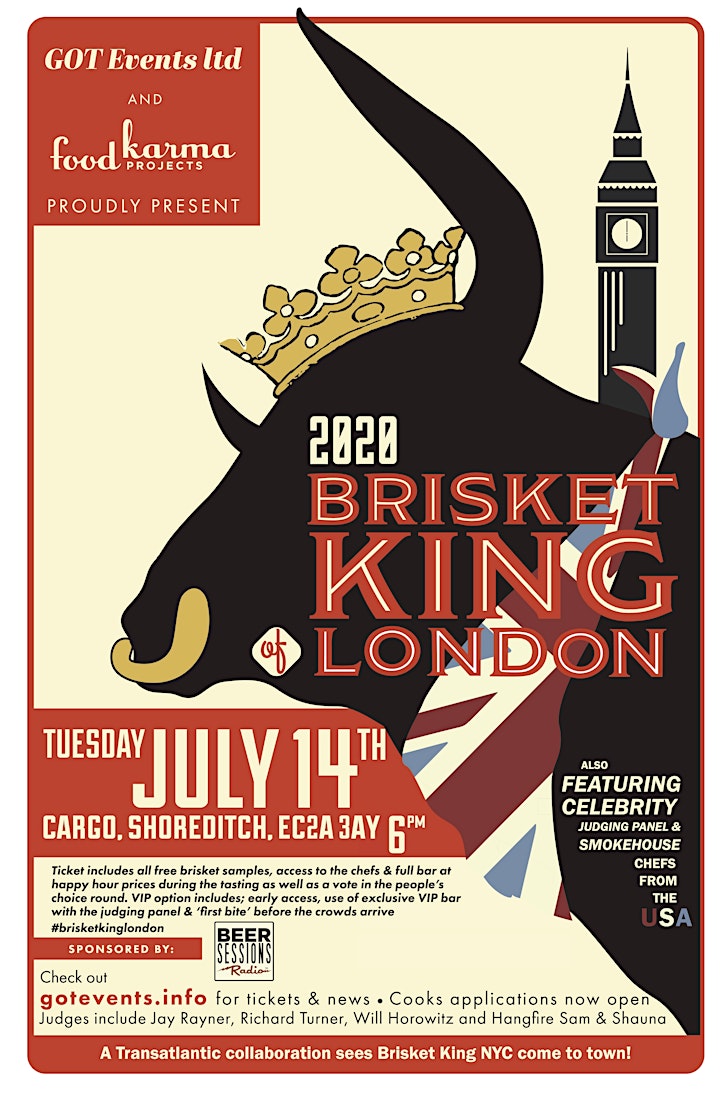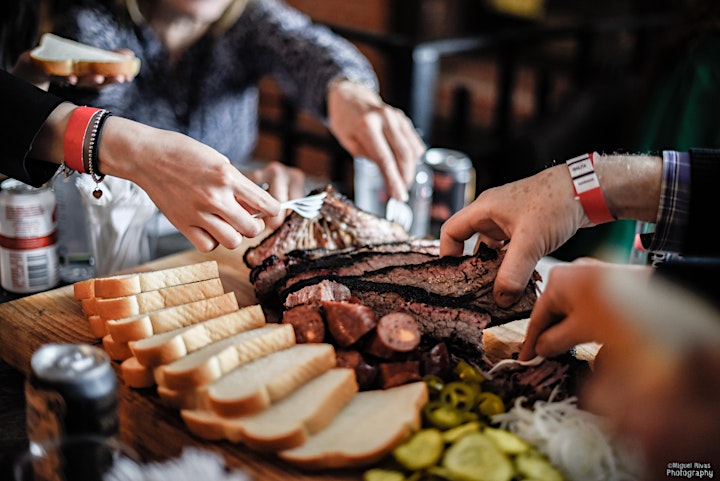 Entry tickets purchased are non refundable but may be transferrable in certain circumstances, subject to organisers approval.