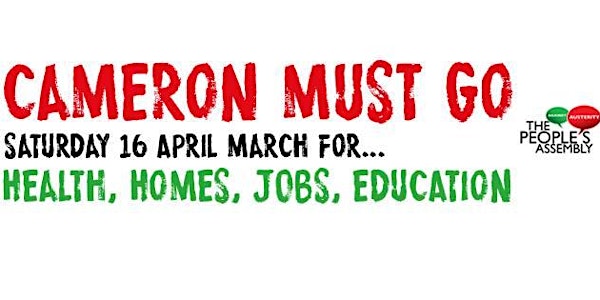 Bristol Coaches: #CameronMustGo NATIONAL DEMO for Health, Homes, Jobs, Educ...
Location
At-Bristol
Anchor Rd
Harbourside
BS1 5DB
United Kingdom
Description
Join us on these coaches from Bristol to the biggie: The People's Assembly National Demo in London to say #CameronMustGo #ToriesOut and demand a government to stand up for Health, Homes, Jobs & Education...
Last summer we got 9 coaches down from Bristol for the June 20th #EndAusterityNow demo - let's aim to match that or beat it - and push on the huge wave of resistance forming against this government.
But let's get big, bold & vibrant Bristol Bloc down - tell your colleagues, friends, family - bring 'em all! We need to up the ante on this vicious, corrupt government and get them out of power asap - a spring of huge protest will be crucial in building the mass public opposition to this end.
If you cannot afford a ticket but would still like to come then e-mail us bristolpeoplesassemble@gmail.com and we will help to arrange that. We are seeking funding from our affiliated organisations (trade union branches and other campaigns) to subsidise these costs.
Coaches return from London departing 4.45pm from PALL MALL (SW1).
MORE (official) INFO ON THE DEMO:
Assemble: 1pm, Gower Street / Euston Road, London (Stations: Euston, Warren St, Kings Cross)
Organised by the People's Assembly Against Austerity | www.thepeoplesassembly.org.uk
The Tories are facing their biggest crisis yet. David Cameron's stake in his father's off shore tax haven, prove that this is a government for the privileged few, not for the majority. This shows beyond all doubt that Cameron is divorced from the life of any working person.
The government's failure to deal with the steel crisis could leave thousands without a job. They've attacked junior doctors and student nurses while privatising the NHS. They plan to force all schools to become academies and teachers are now balloting to strike over pay and conditions. They've done nothing to address the growing housing crisis. Iain Duncan Smith's resignation shows a government falling apart.
This is a situation, which is unrecoverable for the Tories if we mobilise, demonstrate and unite everyone together against austerity.
***
HEALTH: - Fully funded and publicly owned NHS - end privatisation - Invest in health workers - end the staffing crisis - No cuts or closures

...

HOMES: - Hands off social housing - Secure homes for all - Control rents

JOBS: - Scrap the Trade Union Reform Bill - Stop insecure contracts - End the pay freeze, living wage for all
EDUCATION: - Scrap Tuition Fees - Invest in our futures - stop cuts to education - End the marketisation of education

We face a vicious government who prioritise only the richest in society, big business and the corporations. With the potential of 4 more years of a government who will continue dismantling the NHS, furthering the housing crisis, taking away workers rights, and attacking our education system - it's time to get back on the streets and to demonstrate the majority won't take it.
The Tories aren't going to back down easily so it's up to each and every one of us to get out and march for our Health, Homes, Jobs and Education.

Last year saw massive political shifts. After the devastating general election result, where the Tories gained a tiny majority, it became clear that the result did not reflect the views of the Country.
Immediately after the election, protests, meetings, rallies and demonstrations took place up and down the country culminating in one of the biggests demonstrations in Britain for years with 250,000 people bringing London to a stand still on the End Austerity Now Demonstration organised by the People's Assembly.

Since then, the surge in support for anti austerity politics, being put forward by Jeremy Corbyn, is yet another indication that people are fed up with policies that only represent those at the top.

Austerity is a choice not a necessity.

See you in London on April 16. Let's make this the biggest demonstration possible. Transport will be arranged from across the country. full details inc. route and speakers will be announced soon.
The People's Assembly
See More