A day of inspiring talks and networking with those involved in developing Global Emergency Care.
About this event
BRISTOL GLOBAL EMERGENCY MEDICINE CONFERENCE
Are you interested in Global Emergency Care? Interested or involved in Global EM Fellowships? Want to find out more and develop your own career in Global EM?
Join us for a new exciting national conference on Global Emergency Medicine featuring inspirational speakers including
Professor Tony Redmond OBE - Founder of UK-MED/UK-EMT
Laura Hucks - Director of Kings Global Health Partnerships
Clair Mills - Medical Director of Médecins Sans Frontières'
Dr Christine Ngaruiya - Assistant Professor EM at Yale University
Lt Col Simon Horne OBE - UK Military Humanitarian Support
Lt Col Paul Reavley - Paediatric Blast Injury Partnership
And many more.
This is open to all Medics, Nurses, ACPs, Allied health professionals and students. It is a one day event taking place in the heart of Bristol.
Inviting Global EM poster submissions - details to follow.
Lunch will be provided and the Watershed has an on site bar. An evening option to join others for a dinner will likely take place.
Follow us at @EDBRIGlobal
Please note: This is planned as an in-person conference but if national restictions are enforced other options will be explored.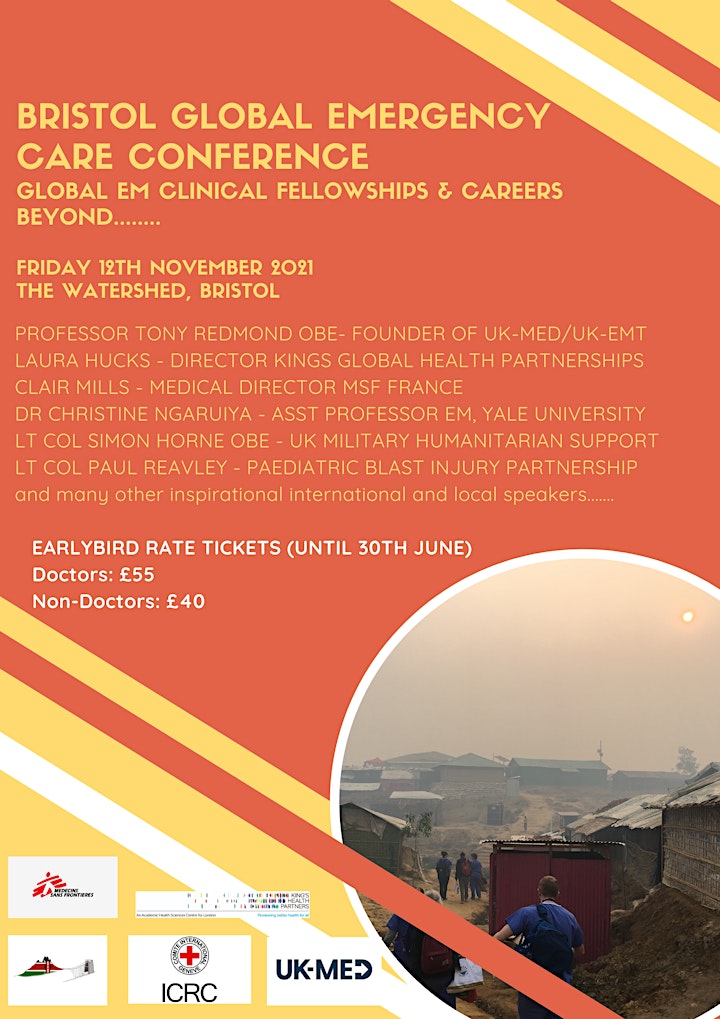 Organiser of Bristol Global Emergency Medicine Care Conference