Bristol Illustrious Visiting Professorship: Professor Mamokgethi Phakeng
Join us for the launch of the inaugural Bristol Illustrious Visiting Professorship: Professor Mamokgethi Phakeng
About this event
*Please note that you will receive notification of the webinar link on Tuesday 19th October. The link should not be forwarded on and only registered attendees will be allowed to attend.*
The University of Bristol are delighted to announce that Professor Mamokgethi Phakeng, Vice-Chancellor of the University of Cape Town (UCT), will be joining the University of Bristol as the first ever Bristol Illustrious Visiting Professor (BIVP). Through this scheme we bring eminent global research leaders to the University to engage with our academic community and executive leadership team over the course of a year-long appointment to identify and develop opportunities for collaborative research, strategic partnerships, and mutual learning.
By hosting Professor Phakeng we hope to learn from and be inspired by her knowledge, approaches, and ethos. We will work together to build on and enhance our research endeavours in mathematics education in particular, as well as developing our institutional partnership with UCT more broadly.
Staff and students from the University of Bristol and University of Cape Town (UCT) are invited to join us at our virtual launch event for this Professorship to hear from Professor Phakeng alongside members of the University of Bristol's Executive Leadership Team about this exciting partnership and what it means for both universities:
• Professor Hugh Brady, Vice Chancellor and President, University of Bristol
• Professor Judith Squires, Deputy Vice-Chancellor and Provost, University of Bristol
Attendance at the main event is limited to members of the two Universities; however, we will be live-streaming the event and this will be open to everyone around the world. Please select the appropriate ticket type when registering.
During the registration process members of the University of Bristol and UCT will have the opportunity to submit a question about the Professorship to the panel. For example, you may want to ask about how you can engage with Professor Phakeng during her Professorship, how the visit will impact on the two universities, and how this will enhance the relationships and opportunities for collaborations between our Institutions and their individual researchers going forward. You may also be interested to learn more about Professor Phakeng and her background. This could include, for example, her pioneering work in mathematics education in post-apartheid South Africa, her inspirational leadership style and ability to break new ground as a female leader, or her experience of civic engagement. You may also submit your question(s) via email to irp-admin@bristol.ac.uk. If time allows there may also be an opportunity to submit further questions during the live discussion via the Zoom Webinars platform. Please note that we may not use all questions. The event will be recorded and made available to the public. By registering you are consenting to being recorded, and to any questions you submit being included in the recorded discussion.
Please note that the main event is for staff and students from the University of Bristol and University of Cape Town only; you will be required to provide an institutional email address from one of these two Universities in order to register. If you register for the main event but do not provide an appropriate email address you will be removed from the attendee list. If you would like to watch the event but are not a member of either university, please register for the live-streaming instead.
Professor Mamokgethi Phakeng
Professor Phakeng began her term of office as Vice-Chancellor of UCT in July 2018. She has won numerous awards for her research and community work, including the Order of the Baobab (Silver) conferred on her by the President of South Africa in April 2016. In August 2014 CEO magazine named her the most influential woman academic in Africa; in August 2016 she was awarded the prestigious Businesswoman of the Year Award in the education category; and in 2020 she was included in Forbes' inaugural list of the 50 Most Powerful Women in Africa.
Throughout her illustrious career she has broken new ground as the first woman in a range of prestigious positions, including being elected as the first woman President of the Convocation of the University of the Witwatersrand, leading the Association for Mathematics Education of South Africa (AMESA) as its first woman National President, and being the first black South African researcher to be appointed to co-chair a study commissioned by the International Commission on Mathematical Instruction. Professor Phakeng's full biography can be viewed on our website.
Professor Phakeng will be the first award holder under the Bristol Illustrious Visiting Professorship scheme, a new initiative building on the University of Bristol's proud legacy of bringing world-leading scholars into our institution from all over the world, hosted by our own prestigious academics. Due to the ongoing global pandemic we anticipate that the majority of this Visiting Professorship will take place virtually; however, we are looking forward to welcoming Professor Phakeng to Bristol as soon as it is safe and practical to do so.
This scheme sits within the International Research Partnerships portfolio, which has a variety of schemes on offer for visiting researchers designed to support international collaboration at a range of scales. For more information about Professor Phakeng's appointment as the first ever Bristol Illustrious Visiting Professor please visit our webpages.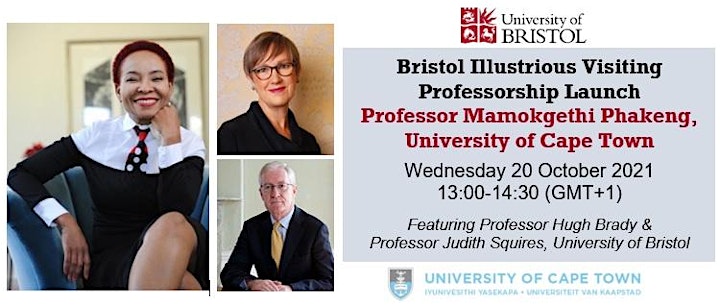 Organiser of Bristol Illustrious Visiting Professorship: Professor Mamokgethi Phakeng