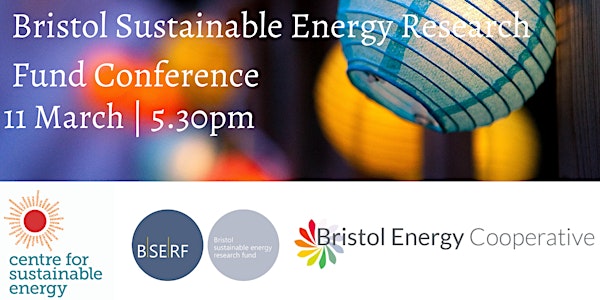 Bristol Sustainable Energy Research Fund Conference
Presentation of findings from the second round of the Bristol Sustainable Energy Research Fund.
About this event
Bristol Sustainable Energy Research Fund
It has been increasingly recognised that the process of transforming the UK energy system will require increased public engagement and involvement to realise the fundamental changes that are needed in the way society produces and consumes energy.
So what does collective public participation in the energy system look like? What forms does this participation take? How can disadvantaged groups be given a voice, and a stake in their energy futures?
The Bristol Sustainable Energy Research Fund supports research projects which contribute to the development of a more sustainable, equitable and democratically accountable energy system in the South West of England.
Research from the second project round has now been completed, and we would be delighted to welcome interested stakeholders to this online event. This will allow us to share outcomes, and explore future pertinent research topics collectively.
Exploring perspectives on how democratic processes can engage with City Leap
This research investigated possible forms of democratic participation in Bristol City Council's City Leap initiative. City Leap is a series of energy and infrastructure investment opportunities - in energy efficiency, smart technologies, low carbon heat generation and delivery, and low/zero emission transport infrastructure - designed to accelerate the transition towards a greener Bristol.
The outputs from this research will contribute to academic understanding of multi-stakeholder governance in a modern urban context, and give practical grounding to ideas for Energy Democracy, through creating concrete proposals in relation to a specific large city infrastructure project.
Findings from the second round research project will be presented by Dr Emilia Melville who has been involved in the community energy sector in Bristol since 2011, and was one of the founding directors of Bristol Energy Co-operative. She is currently the co-ordinator at Bristol Energy Network, and a director of Zero West, which works to accelerate zero carbon transition at the West of England level.
Dr Jack Nicholls will be presenting alongside Emilia and has worked as a researcher in and outside of academia with a focus on renewable energy for over 10 years. Jack has completed a PhD at the University of Bristol titled Owning the Sun: Energy Democracy and Public Participation in Solar Farm Developments in England. He is currently a research associate at the University of Bristol working on the Civic University agenda.
Jack and Emilia have recently published a study of what Bristol residents want on climate change, and are working with the Cabot Institute to host a Mock COP for state schools in Bristol in the lead up to COP26.
Agenda
17.30 – 17.40: Welcome and introductions, Simon Roberts, CSE, Chris Speller, Bristol Energy Coop
17.40 - 18.25: Presentation of findings, Dr Emilia Melville, Dr Jack Nichols
18.25 – 18.55: Panel Discussion, Q&A
18.55 – 19.00: Closing remarks