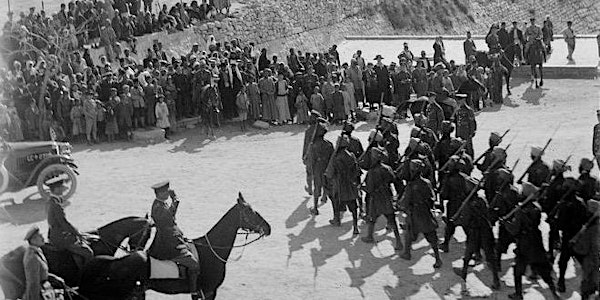 Britain in Palestine 1917-1948' - Britain's role - short film /Q&A /ONLINE
This is a story of movement: of the British army moving to defeat the Ottoman rulers of Arabia. Short Film and Talk with Q&A
About this event
Picture above: Britain captures Palestine: British troops parade through Jerusalem in December 1917 (Courtesy of the Matson Collection, Library of Congress)
This event is an online webinar a Zoom link will be sent to you on the day via email.
After the First World War, Britain and France divided the Middle East between them. The League of Nations (forerunner to the UN) gave Britain the mandate to govern Palestine; Britain's ensuing interactions with Arabs and Jews did much to set in motion the future impasse in Israel/Palestine.
This is a story of movement: of the British army moving to defeat the Ottoman rulers of Arabia; of Jews seeking refuge from pogroms in Eastern Europe; of Palestinians suffering domination and being made refugees. It is a story of people abusing others or being abused. The purpose of this short film is to acknowledge Britain's role and responsibility for what has happened since.
Dr Mary Embleton studied History at Cambridge and wrote her DPhil at Oxford University on Britain's administration of Egypt, 1911-36. She has lived in different parts of Africa, and in the USA where she taught middle school History. Returning to the UK, she turned her historical studies to the British Mandate period in Palestine; she was a consultant for the Balfour Project 'Britain in Palestine 1917-1948' film, and wrote an accompanying Study Guide. (Pictured below)
Peter Riddell, Convenor, Agenda for Reconciliation programme, Initiatives of Change UK; a founding trustee and former Secretary of The Balfour Project; designer and facilitator of the 'Qualities and Strategies of Peacemakers' course. Lives in Oxford. (Pictured below)
When you sign up: When registering with Eventbrite to book tickets please read Eventbrite's T&Cs and privacy policy carefully about whether or not to subscribe to any additional Eventbrite marketing. Please be aware that they are an external company and their privacy policy will be different to Oxford Brookes University. If you are under 18yrs you must get a parent or guardian to register and attend with you.