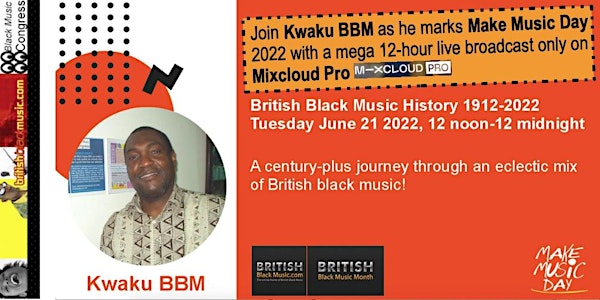 British Black Music History 1912-2022 Make Music Day DJ Livestream
BBM/BMC celebrates Make Music Day & British Black Music Month with a Kwaku BBM 12-hour online DJ set featuring varied British black music
About this event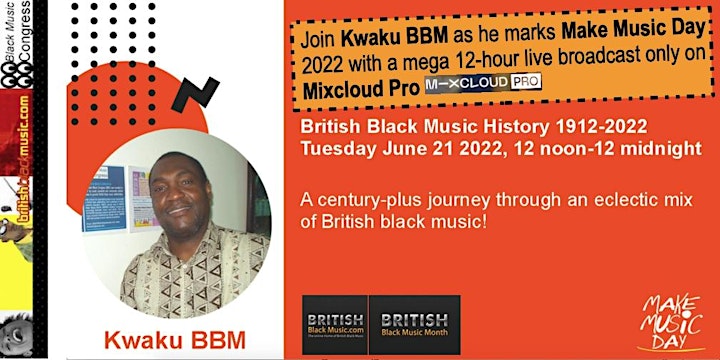 On Tuesday June 21, 12noon-midnight (BST/GMT +1) BBM/BMC (BritishBlackMusic.com/Blak Music Congress) will mark Make Music Day and British Black Music Month (BBMM) programming with British Black Music History 1912-2022 – an ambitious12-hour DJ set by Kwaku BBM, which will display the depth and breadth of British black music, spanning over one hundred years, from Samuel Coleridge-Taylor's compositions to today's Afrobeats hits, and much more in between covering many different genres.
To get the link to the livestream on Mixcloud, register: bit.ly/BBMMMMDUK2022 and engage using the Mixcloud chat function, including sending requests!
Watch out for 10 minute segments on the Make Music Day UK's Youtube channel on June 21 2022, 2.45pm and 7.20pm.
Expect Kwaku BBM to cover a number of third party playlists and charts, whilst taking you on his own journey of musical discovery. It's probably going to be the most eclectic black music show you'll ever hear !!!
Also, watch out as Kwaku attempts to get a few guests on air by randomly phoning artists and industryites!!!
So join him on his musical quest – catch the live stream on Tuesday June 21 *12noon-midnight (BST/ GMT+1) on Mixcloud Pro - link will be provided within 2 days of the event to those who book on this page.
British Black Music Month is an initiative started in 2006 by BritishBlackMusic.com/Black Music Congress (BBM/BMC) to highlight domestic black music, create forums for black music practitioners and fans to meet, network, dialogue, and improve their music industry knowledge and contacts.
*If you're a fan of, or knowledgeable about, British black music, you are welcome to get in touch regarding presently a show on the BBM/BMC-curated weekly British Black Music Set show starting on Mixcloud Live from June. You can either be an up and coming or seasoned broadcaster or DJ. And if you have no experience of the Mixcloud platform, online training sessions will be provided, along with the opportunity to win some Mixcloud Pro subscriptions!!! Let's hear from you: bbmbmc@gmail.com.