British Black Music Month (BBMM) 2018 Launch/'Britain's Contribution To The...
Description
We launch British Black Music Month (BBMM) 2018 with the premiere of the full version of the 'Britain's Contribution To The Development Of Reggae' vox pops documentary - 5 years in the making, it was initially started to mark Jamaica's 50th anniversary.
Organised by BritishBlackMusic.com/Black Music Congress
STOP PRESS: Quiz includes The Bob Marley & The Walers/Island Records Quiz. This consists of 10 questions. 3 correct answers earns a copy of the Universal-Island limited edition version of Chris Salewicz's sumtously illustrated 'Keep on Running: The Story of Island Records' book published in 2010 to mark the 50th anniversary of the founding of Island Records. This is being sold online for as much as £365. 5 correct ansers earns a copy of Bob Marley & The Wailers' limited edition of 'Africa Unite: The Singles Box'*, which consists of 6 x 7" vinyl singles with a total of 12 tracks in individually numbered two-piece picture box. It's being offered online for as much as £149. Any of these unclaimed prizes will be offered at the International Reggae Day London event on JulyOne.
UPDATE: Calypsonian Alexander De Great will be providing live, topical ditties, accompanied by his trusty acoustic guitar!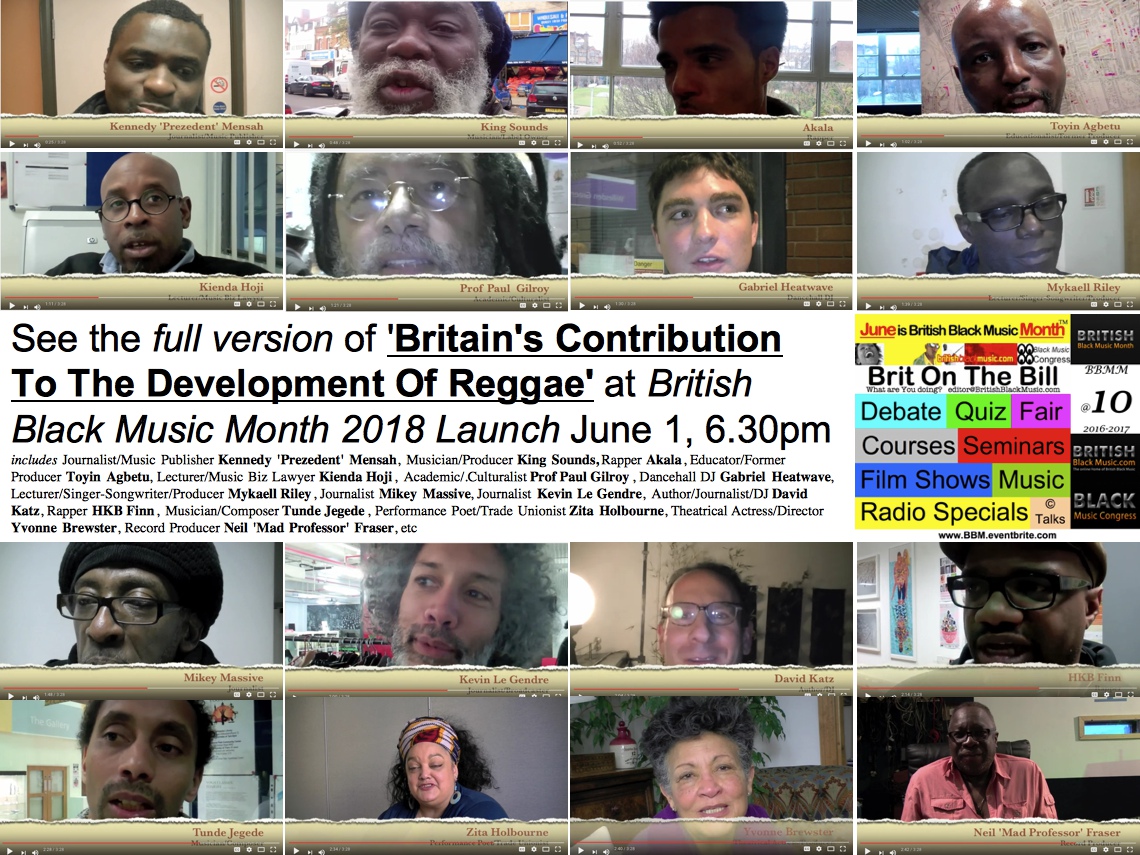 It's poignant that we start British Black Music Month (BBMM) 2018 by marking Reggae @ 50 with probably the only time that the full version of 'Britain's Contribution To The Development Of Reggae' will receive a public screening. The documentary has contributions from dozens of contributors* drawn randomly - it includes artists, producers, journalists, DJs, broadcasters, lecturers, and music fans.
Event takes place at University College London near Euston Square (full address upon booking - there's a £5 refunable charge); wheel chair accessible.
This family-friendly event includes an introduction to the BBMM2018 programme, a short Windrush @ 70-inspired presentation on Britain and Reggae in the last 50 years entitled 'Reggae Could Not Hve Become An International Phenomenon Withut Britain!', plus a quick-fire quiz, with a few reggae prizes.
Part of BBMM2018 Reggae @ 50 programming. Watch the DRAFT trailer at: www.bit.ly/BritRegDev.
For details or to book International Reggae Day London 2018: www.bitly.com/IRDLDN2018.
To be kept in the loop of BBMM2018 events: www.BBM.eventbrite.com.

* 'Africa Unite...' box set contains:

ONE:
1. No Woman No Cry - Live 7:10
2. Duppy Conqueror - Live at Leeds 5:20
TWO:
1. I Shot The Sheriff - Live at The Roxy 3:53
2. Trenchtown Rock 5:00
THREE:
1. Sun Is Shining 4:35
2. Jamming - Live at The Rainbow 7:07
FOUR:
1. Slogans 4:02
2. The Heathen - Live at The Rainbow 6:48
FIVE:
1. Africa Unite - Will.I.Am Remix 5:12
2. I Shot The Sheriff - Live at The Roxy 6:25
SIX:
1. Stand Up Jamrock - Ashley Beedle Remix 5:53
2. Stir It Up - Live at Leeds 7:06