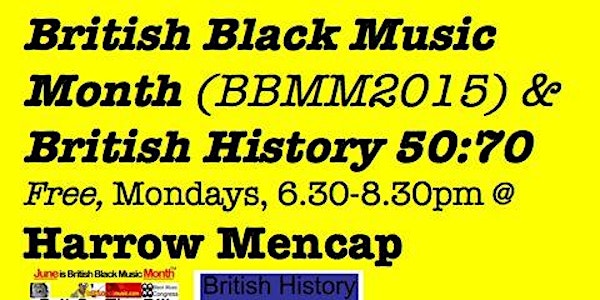 British Black Music Month & British History 50:70 @ Harrow Mencap
Location
Harrow Mencap
1st floor (ring middle buzzer), 3 Jardine House, Harrovian Business Village
Bessborough Road (same side and about 100 yards ftom the M&S/BP petrol station)
Harrow
HA1 3EX
United Kingdom
Description
Free, inter-generational @ Harrow Mencap History Sessions

Nov. 26 2015 Update:
Here is the rest of the 2015 sessions. Please note that there will be book, DVD and card sales on each of these, so come prepared to learn and support!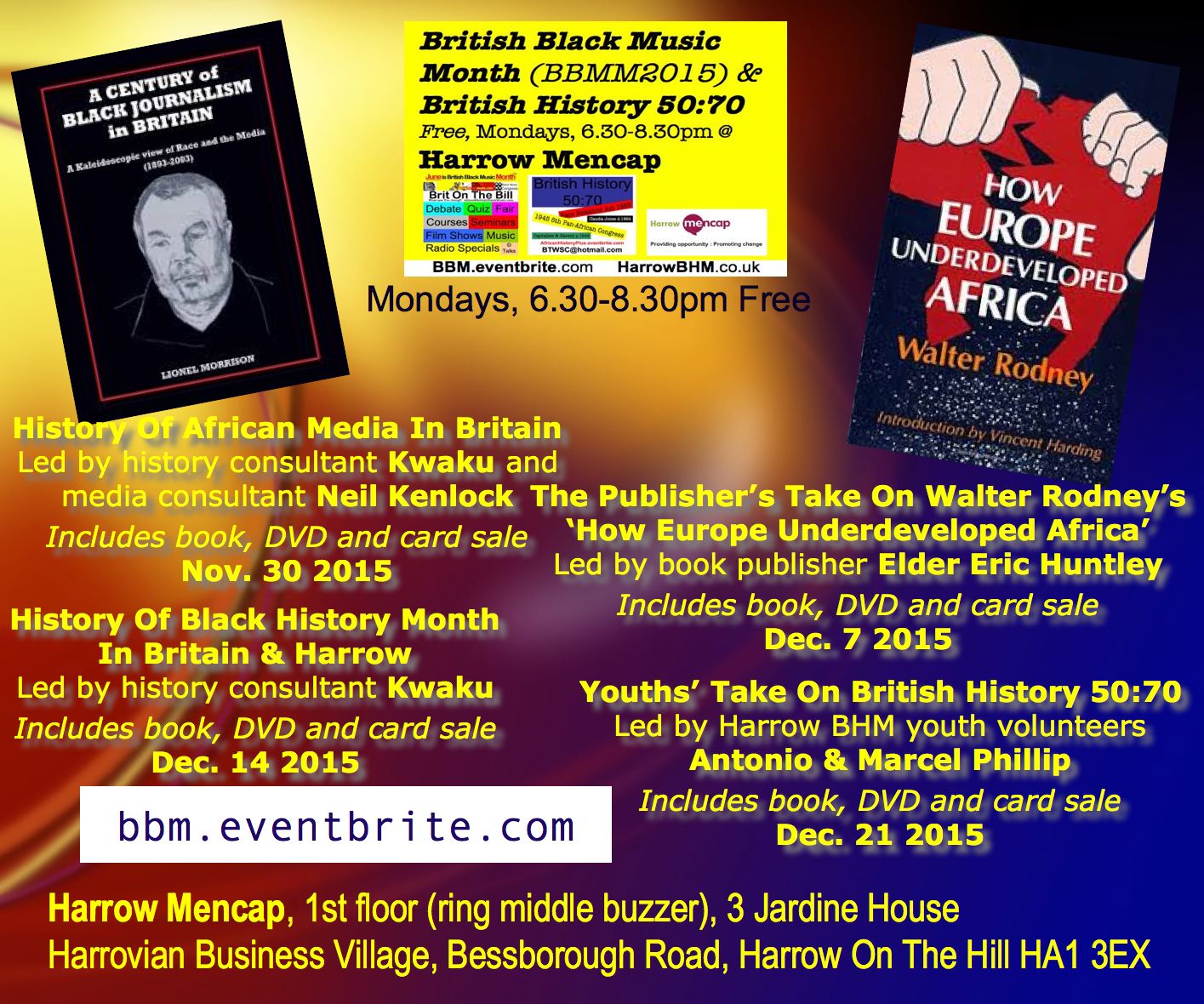 BritishBlackMusic.com/Black Music Congress (BBM/BMC) in association with Akoben Awards and Harrow Mencap will be delivering free, fortnighly Monday, 6.30-8.30pm sessions covering topics relating to British Black Music Month (BBMM2015) and British History 50:70. This year, the themes of these two strands cover diversity, 'race', ethnicity, and equality issues within the music industry, civil rights, British black music history, the 50th anniversary of the 1965 Race Relations Act and death of community & political actvist Claudia Jones, the 70th anniversary of the 1945 Pan-African Congress at Manchester and the publication of Eric William's 'Capitalism & Slavery', and other histories in between these periods.
Music industry and history consultant Kwaku, who's also founder of BBM/BMC, will be leading these sessions, which will where indicated have special guests. All sesions provide Q&A opportunities. Although we aim to end at 8.30pm, mindful that it's a weekday, on certain occasions there may be networking opportunities up to 9pm.
Please note that our events are suitable for youths aged 12 and above. Whilst most bookings are confirmation of attendance, there may be instances where an initial expression of interest is requested after which successful attendees are subsequently informed. Spaces are limited, so please book events that you're certain of attending.
Scroll down for specific details of each event - re-visit for programme updates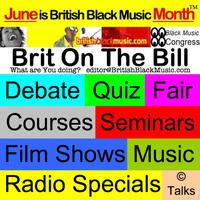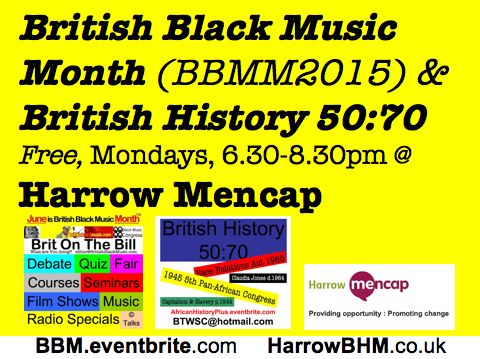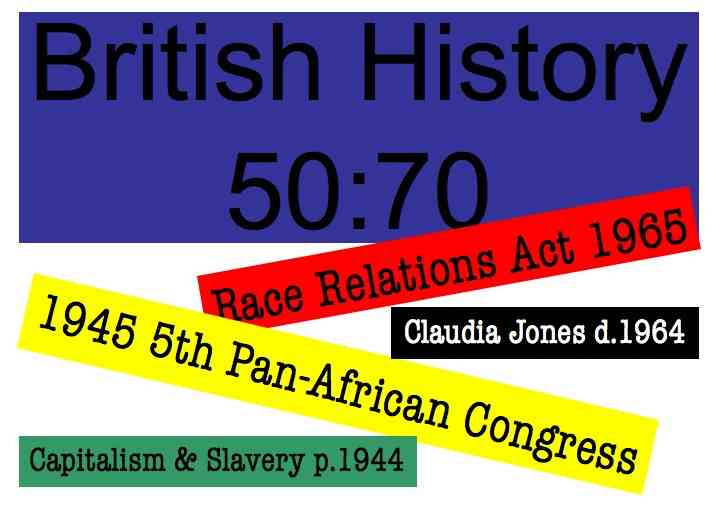 See Harrow Mencap map - let the M&S/BP petrol station byroundabout be your reference point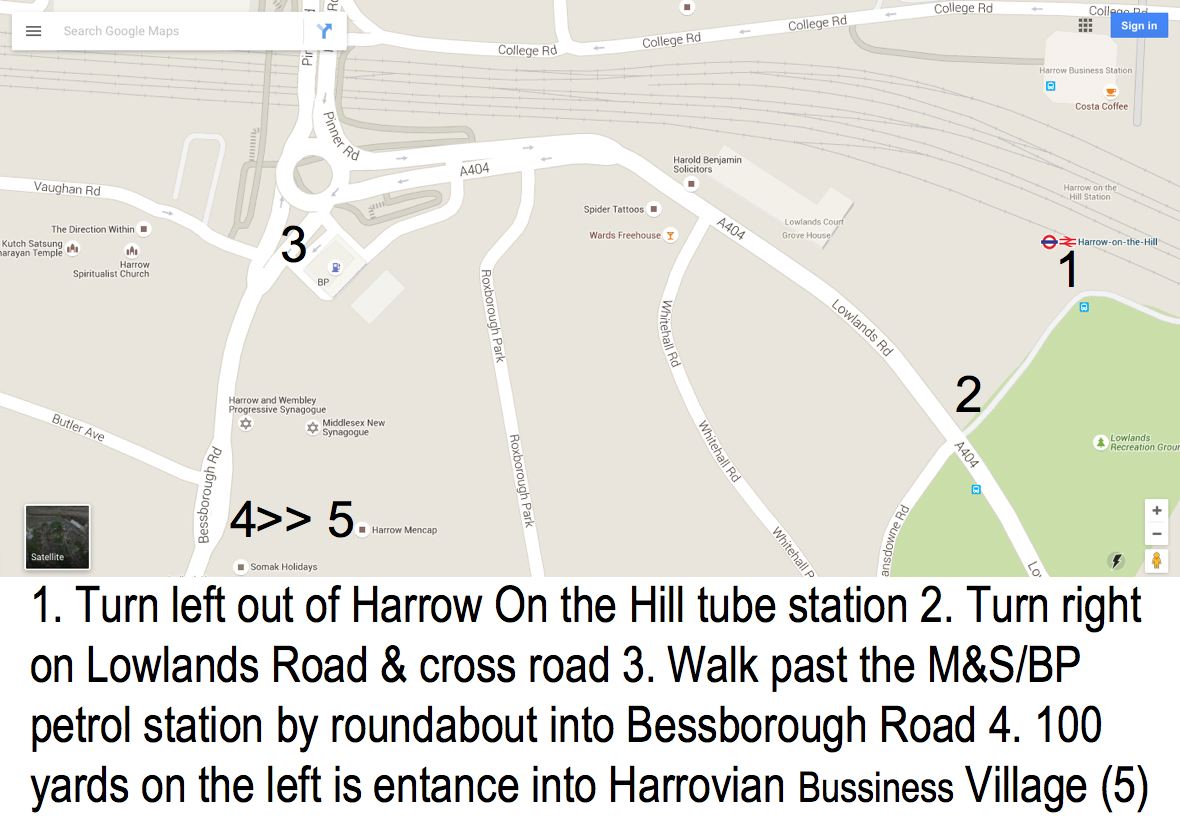 2015 Programme
June 1: 'What Is British Black Music? A 2 Millennia History'
BBMM2015 official opens with this seminar. Music industry & history consultant Kwaku with the aid of an audio-visual presentation, will attempt to explain what British black music is, and provide a 2000 year context.
June 15: Life During World War 2 & The Music Business Of The 1950s/60s With Allan Charles Wilmot
Music industry & history consultant Kwaku will provide a short audio-visual presentation of British black music of the 1950s/60s, followed by a Q&A session with Allan Charles Wilmot, a World War 2 veteran and former member of the Southlanders, who had a glittering career as a vocal group during the 1950s/60s. Mr Wilmot will also be available to sign copies of his new published 'The Memoirs Of Allan Charles Wilmot: WWII Serviceman And Post-War Entertainer' (Liberation Publishers) - it costs £14.99, but attendees can buy a copy for £10 and have the author sign it!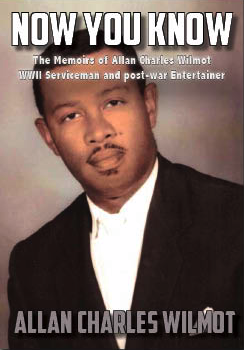 Also see Competitions, as we're offering 1 copy as a BBMM2015 compo prize.
June 29: Moving Forward British Black Music Roundtable & Networking
This event is a consequence of a suggestion made at the ACSUAL's pre-BBMM2015 event 'Diversity And Media: Where Is The 'Black' In British Music?'. This is a roundtable for industryites and enthusiastic domestic black music fans who aim to explore ways of moving forward some of the ideas/issues that came out of said event and BBMM2015/RE:IMI (Race Equality: In Music Industry) launch discussion on 'British Music Gains From Black Music: What Have Africans Gained?', to help build a stronger sector. Book your expression of interest now. Successful attendees will be notified by Thursday June 25.
July 13: 1-6pm: Making Sense Of How The Music Industry Works
If you don't know your MU from your PPL, your PRS from your VPL, or your BPI from your AIM, then this paid-for course is for you! If you want to know more about your options for developing a career and generating an income for yourself through your passion for music - then this course is for you! For more info & to book: bit.ly/MakingSense1

6.30-8.30: How To Make A Living Out Of Music?
This is a free professional development programme, including history of copyright, provided by industry expert David Stopps. For more info & to book your expression of interest: http://bit.ly/makeliving

July 27: 1-6pm: Making Sense Of Music Licensing IV Masterclass
Music industry tutor Kwaku provides an overview of Copyright, whilst veteran music publisher and consultant Ivan Chandler delves into almost anything you need to know about Music Licensing. This is a paid-for workshop. For more info & to book: bit.ly/Licensing4
6.30-8.30pm: CultureTalkClub Session 1: Curious Copyright Stories: Tracking Mbube's The Lion Sleeps Tonight Multi-Millions To Would Pretty Woman Be Parody In UK?
We kick off the first official CTC event with the exclusive screening of award-winning filmmaker François Verster's 'A Lion's Trail', which reveals how Zulu musician Solomon Linda never received a penny for his song 'Mbube', and end with a short clip on the 2 Live Crew's version of the Roy Orbinson's 'Pretty Woman', and ask if this version falls under UK parody exception? For more info or to book, click here.

Aug 10: UK & US Music & Socio-Political Activism & Woody Guthrie
1. Help us compile the Top 20 Favourite British Socio-Political Songs to start off this event. Make your submission(s) at: http://bit.ly/SocPolSongs 2. Followed by Prof Will Kaufman performing & presenting Woody Guthrie: The Long Road to Peekskill* 3. Q&A, including interview with Prof Kaufman. Please note that this programme is likely to finish closer to 9pm!

*The Long Road to Peekskill presents the story of Woody Guthrie's personal transformation from a youthful Oklahoma racist to the ardent anti-racist champion who, along with many others, risked his life holding the line against American fascism during the notorious Peekskill riots of 1949. Conventionally known for his championing of the poor white Dust Bowl migrants, Guthrie also left an extensive body of songs condemning Jim Crow segregation, lynching and race hatred. Most of these songs were never recorded, but they are the legacy of this remarkable journey that eventually brought Guthrie into the fellowship of Lead Belly, Josh White, Sonny Terry, Brownie McGhee and Paul Robeson. The Long Road to Peekskill is both a harrowing and uplifting presentation, showing through the example of Woody Guthrie that racists are not born, but made - and that they can be unmade.

Aug 24: Exploring The African Identity & UN's African Initiatives
First, the screening of Kwaku's guerilla documentary 'The African Or Black Question', which questions what people of African heritage call themselves and awareness of the UN's Internation Year For People Of African Descent initiative, and a Q&A, followed by 'IDPAD 2015-2024 Understanding The UN's Int'l Decade For People Of African Descent', in which two jurist consults Esther Stanford-Xosei & Kofi Mawuli Klu, Co-Vice Chairs of PARCOE (Pan-Afrikan Reparations Coalition in Europe), explain IDPAD and its potential in uplifting the African cause on a local, regional and global level. which features precedes discussion on identity and the UN initiatives. Followed by Q&A with the two contributors. This programme marks the International Day Of African Resistance Against Enslavement, not Slavery Memorial Day!!
Aug 31: African History Reflection Day: Highlighting British History 50:70
For those not attending the Nottinghill Carnival on this Bank Holiday, join us for an interactive session in which Kwaku will introduce the main themes under the British History 50:70 strand, plus some of the key books. Audience expected to contribute themes for discussion by highlighting some of the African British histories that fall within the 50 or 70 years time frame.
Sep 7: British Black Music Hit Singles Quiz
A fun evening for all - whether you're a chart-head, remember Top Of The Pops from the '60s, or have never bought a single - so long as you're fascinated by the 'hit parade'! One can compete as individuals or as a team. The winner gets a fetching and exclusive Guinness Hit Singles T-shirt and is crowned King or Queen Of British Black Music Hits 2015! Winner and runnersup also receive CDs.
Sep 21: My Boy Lollipop: From JA To UK, A Musical History
2014 marks the 50th anniversary of one of the earliest international reggae hits – 'My Boy Lollipop', which reached no. 2 on both the UK and US pop charts. This British produced hit has worked itself into Britain's cultural fabric to the extent that it was one of the songs performed as part of the opening ceremony of the 2012 Olympics. It is the perfect springboard from which to tell, via an audio-visual presentation, the critical historic relationship between Britain and Jamaica, from which fledging importation of Jamaican music into the UK, subsequently created musical styles and businesses which took hold in the UK and also helped fuel music making and businesses in JA. Companies such a Trojan, Pama/Jet Star, Island, and styles such as lovers rock, will be highlighted as some of the significant outcomes of this unique JA-UK relationship. Presented by Kwaku.
Oct 5: The Cecil Gutzmore presentation has been postponed to Nov. 2. We'll be at Harrow Civic Centre, Monday Oct. 5, 6.30-9pm for Harrow History Season 2015/British History 50:70 Launch. Includes fundraising appeal for Queen Mother Moore School. Click here to book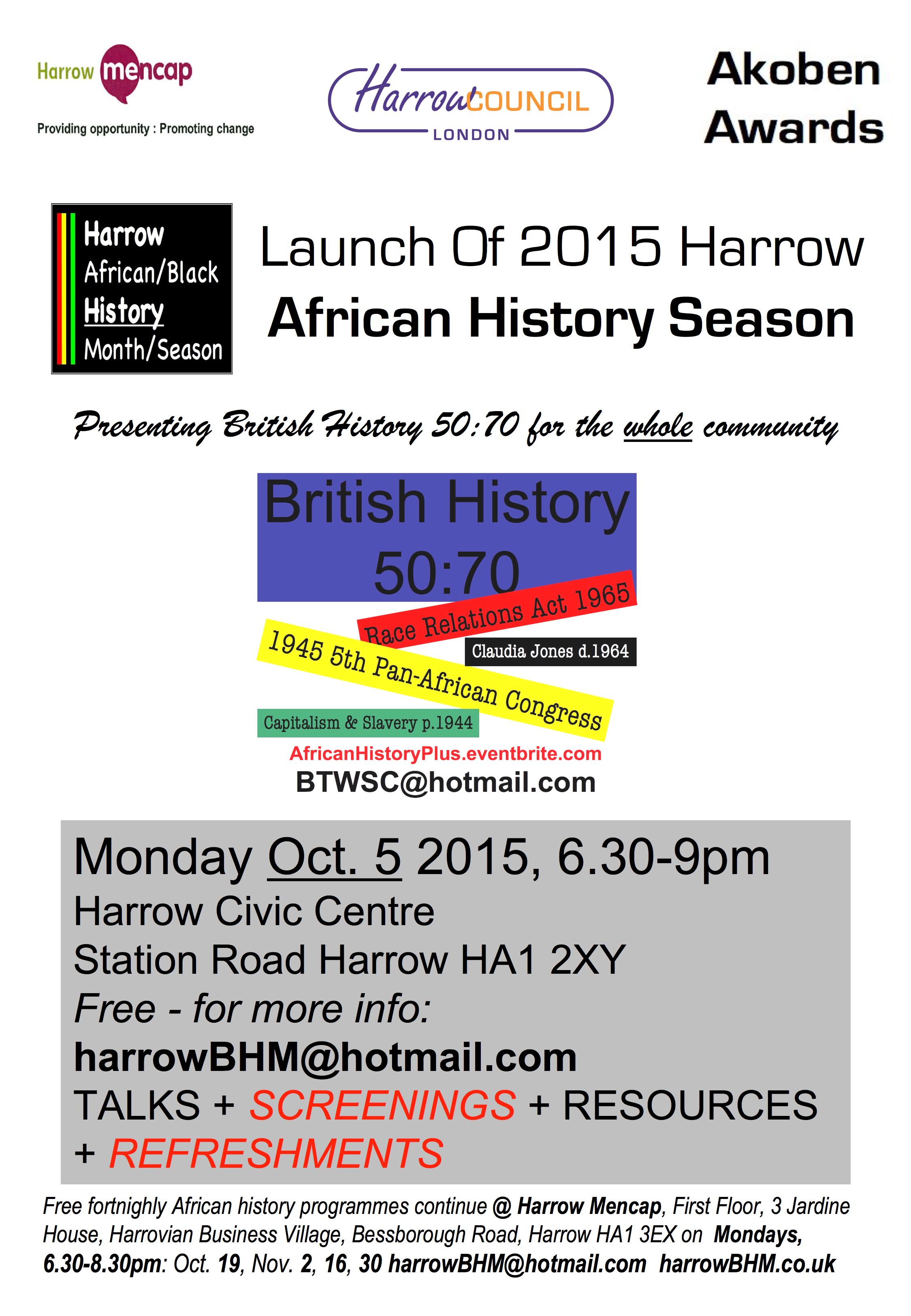 Oct 6: BBMM2015 Extra event: Managing A No. 1 Artist with former Emeli Sande manager Adrian Sykes, whose previous posts include A&R at MCA Records. Click here to book

Oct 19: Taking From Walter Rodney's 'How Europe Underdeveloped Africa'
Presentation and discussion led by barrister and community activist Awula Serwah, with introductory presentation on Walter Rodney by youth volunteers Antonio & Marcel Phillip.

Oct 24 & 28: African Hostories Revisited events: British History 50:70/Is Jesus White? (Clapham Methodist Church Hall, Oct. 24, 5-8pm) and Look... Community Talk/Is Jesus White? (Croydon BME Forum, Oct. 28, 6.30-9pm). Click here to book.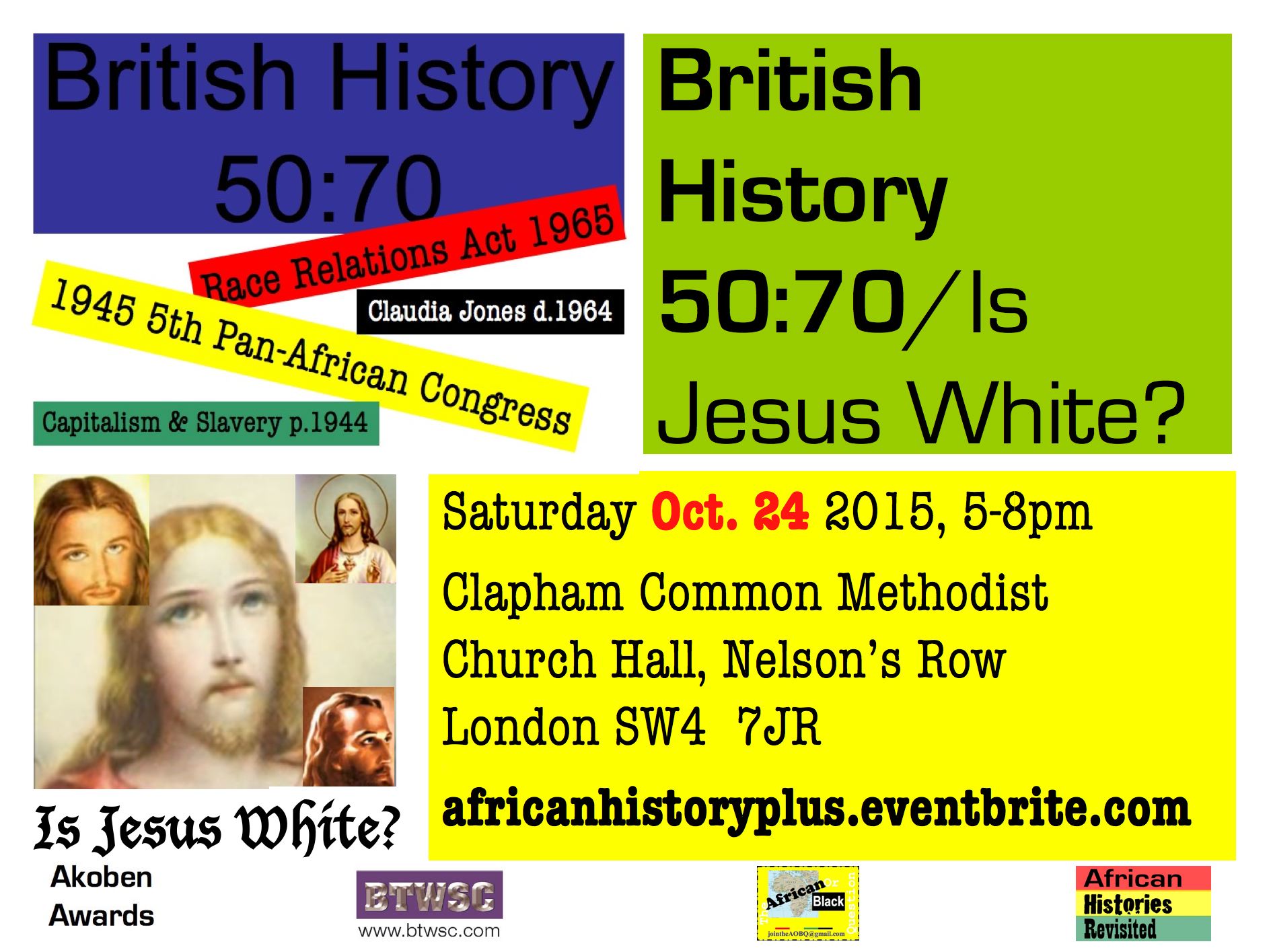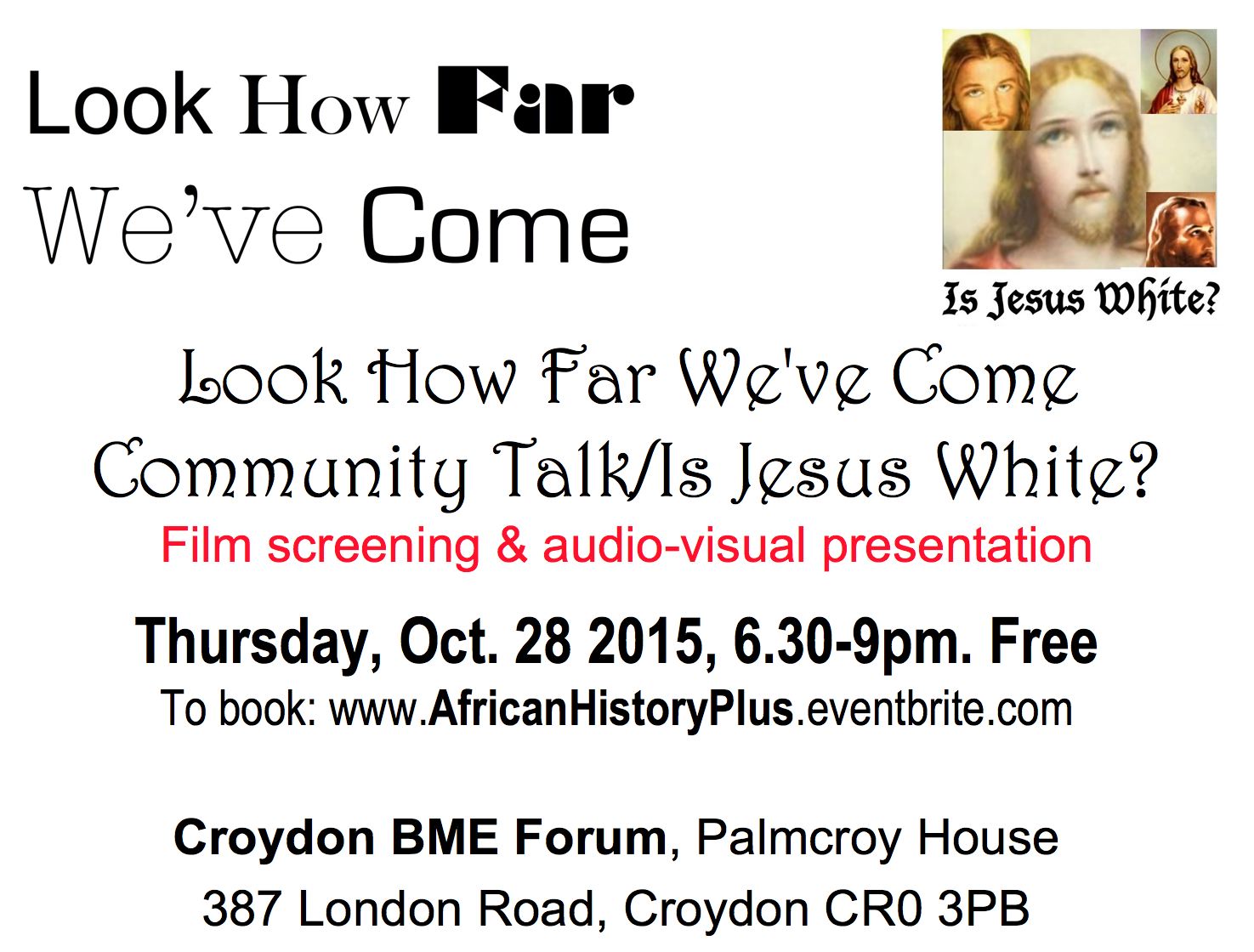 Nov 2: Taking From Eric Williams' 'Capitalism & Slavery'
Presentation and discussion led historian and community activist Cecil Gutzmore.
Nov 16: Africans In Classical Music: From Samuel Coleridge-Taylor To Okiem
Presentation and discussion led by Kwaku.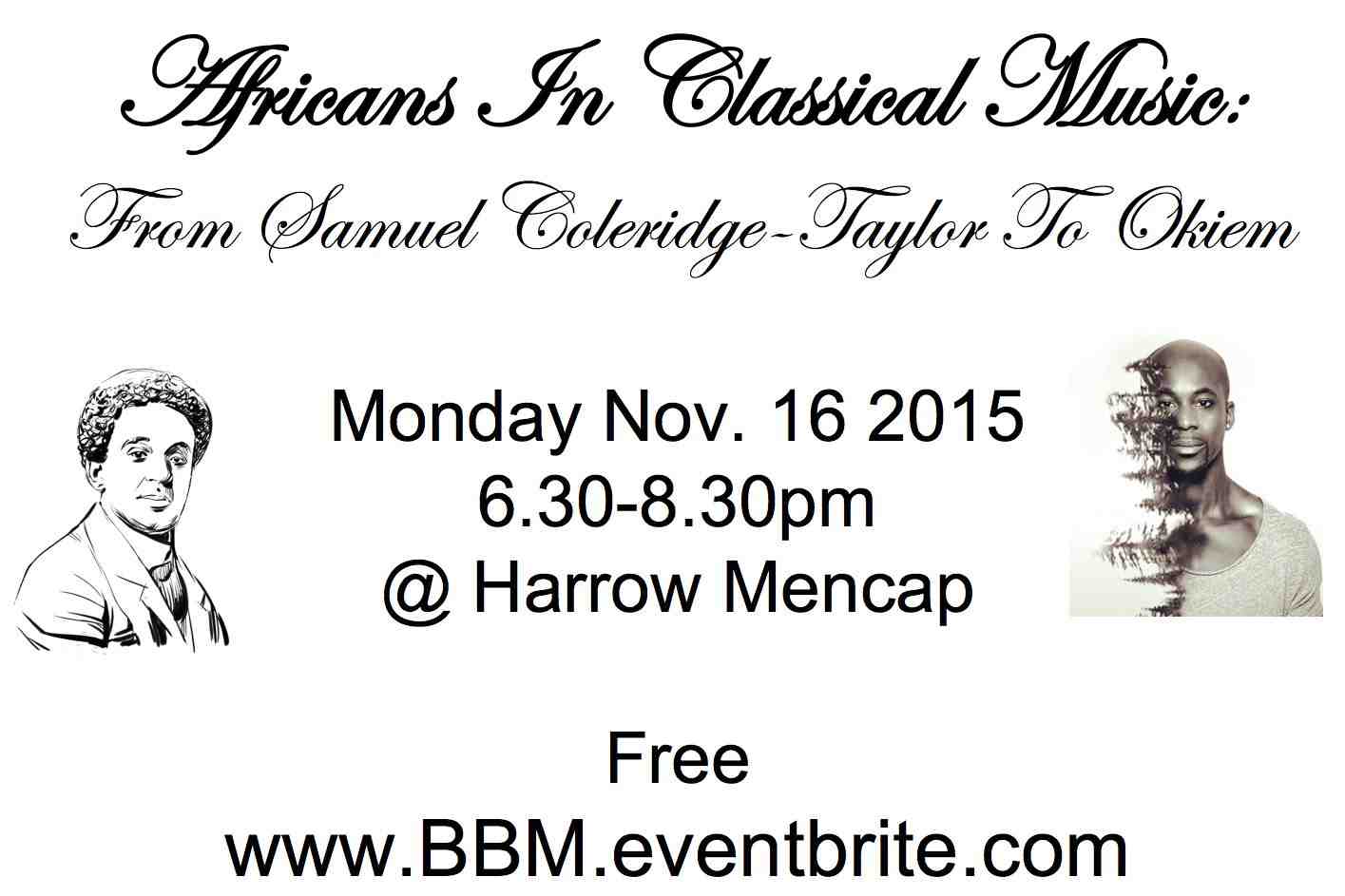 Audio of Kwaku's National Archives 2012 presentation Remembering Samuel Coleridge Taylor: African British musician and pan-Africanist http://bit.ly/SCTNatArc. Please note that this programme is likely to finish closer to 9pm!

Nov. 30: History Of African Media In Britain
Presentation by history consultant Kwaku and Q&A with media consultant Neil Kenlock.
There will be books, DVDs, cards on sale, including 'A Century Of Black Journalism In Britain' by Lionel Morrison. So come prepared to buy! Please note that this programme is likely to finish closer to 9pm!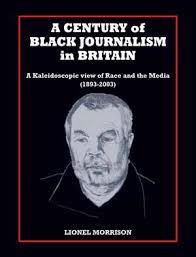 Dec 7: The Publisher's Take On Walter Rodney's 'How Europe Underdeveloped Africa'
Elder Eric Huntley, whose company Bogle L'Ouveture was the original publisher of 'How Europe Underdeveloped Africa', provides a personal reflection.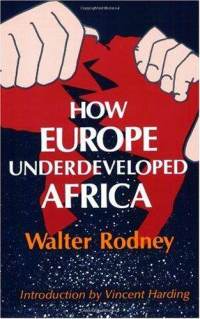 Dec 14: History Of Black History Month In Britain & Harrow
Presentationby history consultant Kwaku, with video contributions by those who steered its passage: Addai Sebo, Ansel Wong, Linda Bellos, Narendra Malkanji and Ken Livingstone.
Dec 21: Youths' Take On British History 50:70
Presentation by Harrow BHM Group youth volunteers Antonio & Marcel Phillip.