Sales Have Ended
Ticket sales have ended
Reminder - See You Soon 1. We are eating alfresco so do bring a coat/jacket/thick jumper just incase the heating and the rum punch are insufficient to keep you warm all evening. [Note: we have plenty of picnic rugs and jackets which you are free to use]. 2. The menu contains nuts, meat and fish which are key components of the dishes so can not be removed. 3.BYO Don't to bring along your own beer and wine. There will be a wide range of non-alcoholic beverages available all evening. 4. Finally - we will be passing out charity envelops during the evening for your voluntary contribution - £ notes only please. 5. One more thing... come prepared to have fun, eat until you burst and even have a bit of bop at the end of evening :)
Sales Have Ended
Ticket sales have ended
Reminder - See You Soon 1. We are eating alfresco so do bring a coat/jacket/thick jumper just incase the heating and the rum punch are insufficient to keep you warm all evening. [Note: we have plenty of picnic rugs and jackets which you are free to use]. 2. The menu contains nuts, meat and fish which are key components of the dishes so can not be removed. 3.BYO Don't to bring along your own beer and wine. There will be a wide range of non-alcoholic beverages available all evening. 4. Finally - we will be passing out charity envelops during the evening for your voluntary contribution - £ notes only please. 5. One more thing... come prepared to have fun, eat until you burst and even have a bit of bop at the end of evening :)
British Caribbean Dining Experience in aid of our favourite charities. 6 courses - English & Caribbean home cooked traditional dishes.
About this event
Full Menu
Welcome drink - Traditional Rum punch
Starter
Mains
Curry Goat
Jerk Chicken
Rice and Peas
Home made coleslaw
Roast potatoes
Coccus Salad
Mac & Cheese Caribbean style
Afters
English Bread pudding
Apple crumble
Custard
Rum & Raisin Ice cream
Finish
Glass of Port
A taste of Leicester - Stilton and Red Leicester Cheese & Biscuits
Back Story
John and Juliette Sibson , married 42 years met in Leicester the city of their birth. John is English and Juliette is Afro-Caribbean the first British born child of Windrush Caribbean parents. This multi-cultural couple are part of a massive multi-generational; multi-cultural family and multi-cultural network of friends.
Their Charity British Caribbean Dinning Experience reflects that as will the music selection for the evening.
Why do this?
Well many reasons but the main ones are:
They wanted to continue to support their favourite charities.
They love to have guests in their home.
They love to cook and share their favourite dishes.
This links their loves together.
How to book
Maximum no. of guest per evening: 8 [must be 18 years +]
Cost: for the meal
Evening for 8 Adults - 70
Time: 6.30pm for 7pm seating
Booking: via Eventbrite
PLUS
During the evening you will be given an charity envelope and encouraged to donate as much paper monies as you can.
BYO
Bring your own alcohol Water & Soft drinks included
DRESS CODE
The meal will be served alfresco in a heated space however we advise that you wear warm clothing.
DIETARY INFORMATION
This meal contains: meat, fish, nuts, wheat and alcohol. Set meal no changes to the menu.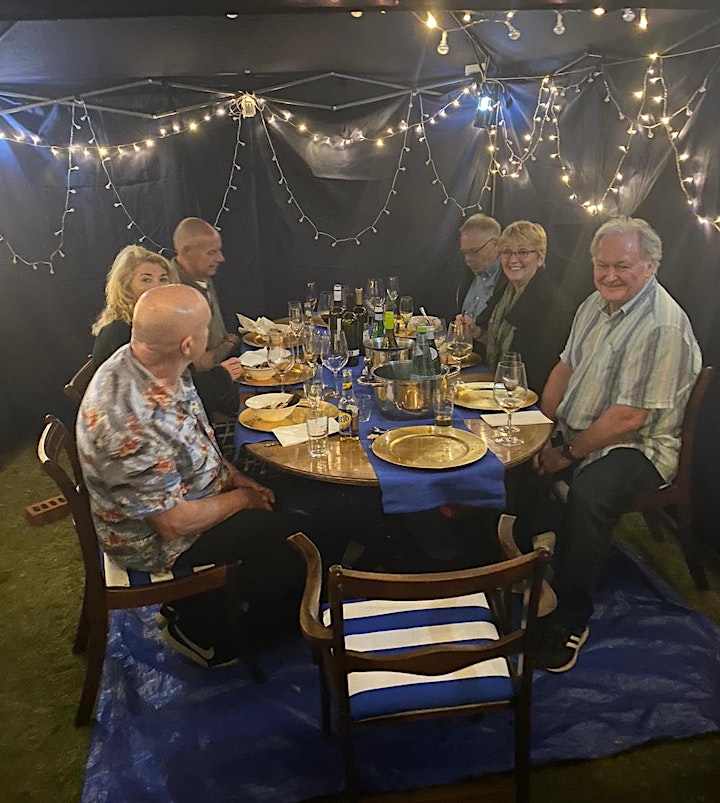 Date and time
Location
Refund policy
Organiser of British Caribbean Dinning Experience for Charity
Juliette Sibson – founder of the Twelve Wise Women movement. I help mid-life professionals who've lost themselves through putting others first to prioritise their own self-care through greater confidence, opportunity and clarity. These "Sandwich" women are spread too thinly between the demands of their careers, partners, ageing parents and/or grow-up children to look after themselves, too. I know what it's like as I spent years being over-helpful whilst battling my belief that I was less important than others.
It was only through the lessons and techniques I discovered on my own journey that I truly felt and understood the transformational power of self-love. It's why I founded Twelve Wise Women. I believe that as women in order to grow and claim our true place in the world, we need to understand and balance ALL aspects of our lives. Professionally I have been coaching, mentoring and training for 15 years plus. I have worked with large financial organisations in the city, top construction companies, leading IT solutions companies and within various public sector institutions. I have also been privileged to coach and mentor individuals who seek support, direction and clarity as they move forward in their life or business. When I'm not supporting others to explore what they want or need, you'll find me indulging my passions for musicals, started by my first-ever cinema trip to see The Sound of Music, and the rhythms of Zumba.