Description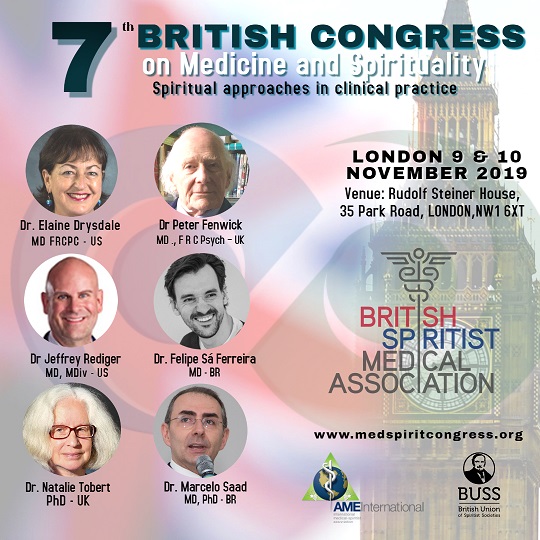 About the Congress


We have the pleasure of inviting you to the 7th British Congress on Medicine and Spirituality. This two-day event in the centre of London, organised by the British Spiritist Medical Association (BSMA), International Spiritist Medical Association (AME International) and the British Union of Spiritist Societies (BUSS), occurs every two years.

Our congress this year will be held on the weekend of 9th and 10th November 2019 at Rudolf Steiner House, in London, UK, with the presence of six prestigious speakers.

The congress is open to the general public, healthcare professionals, mental health workers and therapists. This event brings together a number of respected researchers who consider the impact of spirit and spiritual influence in our daily life and will bring alternative yet complementary ways to deal with and understand ourselves and others as immortal spirits.

The speakers will discuss the paradigm of integrative medicine and the goal to bridge medicine and spirituality, focusing on treatments that champion the body-mind-spirit concept.

This is a unique opportunity to learn and understand valuable insights from respected medical professionals and researchers.

Limited Places, Book Now!
Our previous congresses have been very successful, with all tickets sold very quickly and the venues packed to capacity. Concessionary tickets are available for full-time students, groups and pensioners.
Speakers
Dr Peter Fenwick, MD PhD - UK - "Shining Light on Death"


Dr Natalie Tobert PhD - UK - "War Collateral: Spiritist Approaches to Population Health"


Dr Elaine Drysdale, MD, FRCPC - USA - "The Interface of Psychiatry, Spirituality" and "Near-Death Experiences in Medical Practice"


Dr Jeffrey Rediger, MD, MDiv - USA - "A Medicine of Hope and Possibility"


Dr Marcelo Saad, MD, PhD - BR - "Spiritist Chaplaincy - A Model for Faith Support in Hospitals" and "Kardec-Spiritism and its Interface with Healthcare"


Dr Felipe Sá Ferreira, MD - BR - "Intrauterine Death and Its Spiritual Impact" (Interpretation into English)


Roundtable "Spiritual and Spiritist Complementary Therapies: Ways to Integrate with Medicine"
Programme

SATURDAY, 9th November 2019
Doors open at 9 am
Start time: 10 am
Lunch break: 12:40 pm
Closing session at 6 pm
SUNDAY, 10th November 2019
Doors open at 9:30 am
Start time: 10 am
Lunch break: 12:15 pm
Closing session 5:15 pm


For your convenience, coffee and lunch will be available at the local canteen.
We hope to see you at the 7th British Congress on Medicine and Spirituality.
BSMA - British Spiritist Medical Association

For more information, please visit our website:
www.medspiritcongress.org
Email: office@buss.org.uk