Description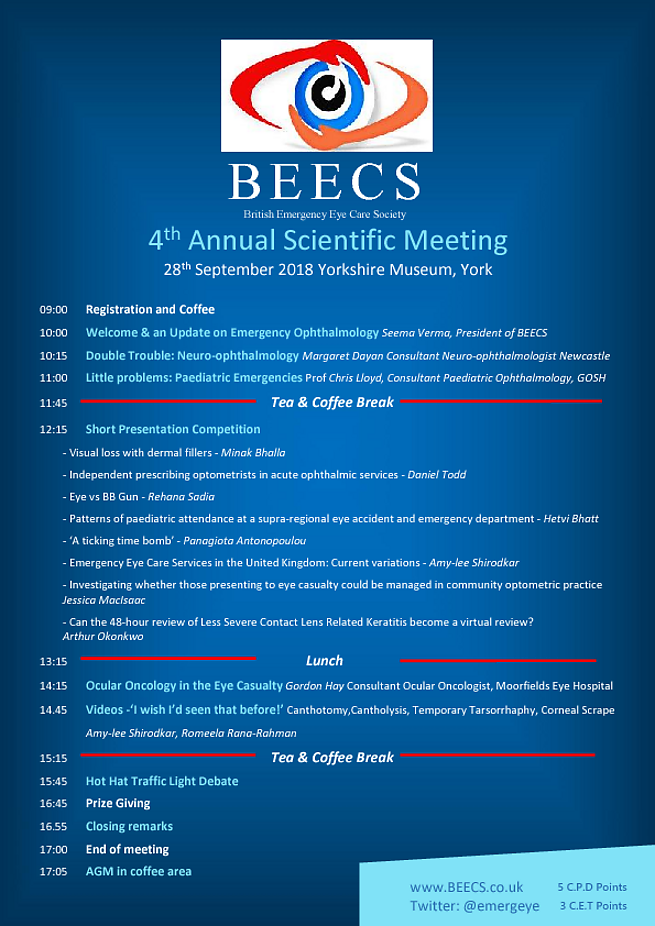 Welcome to the registration page for the BEECS 2018 annual meeting. This is our fourth after our inaugural meeting in 2015.
This year's venue will be the Yorkshire Museum, York, which is a 10-15 minute walk from York Railway Station.
https://www.yorkshiremuseum.org.uk/visitor-information
We have an interesting and entertaining programme for the day including talks on oncology presentations in Eye Casualty, acute diplopia and paediatric emergencies. There will again be the presentation competition and the stimulating interactive "hot hat" debate. For the full programme please visit http://www.beecs.co.uk/default.html
The meeting is recognised for 5 CPD points or 4 CET (including 2 therapeutic) points .
Delegate numbers have grown year on year, so don't delay in enrolling - there are also early bird rates to take advantage of which close on 31/7/18.
Delegates entering the PRESENTATION COMPETITION should also complete their entry form, e-mail it to BEECSpresentationcompetition@gmail.com and provide their registration confirmation by 31/7/18.
The BEECS committee look forward to welcoming you to York.
Notice of cancellation by the delegate must be given by email to the event organiser to qualify for a refund and the following cancellation charges apply:
Cancellation Charges
More than 2 months' notice – full refund given
1 month – 2 months' notice – 50% refund
14 days – 1 months' notice – 25% refund
Less than 14 days' notice – no refund