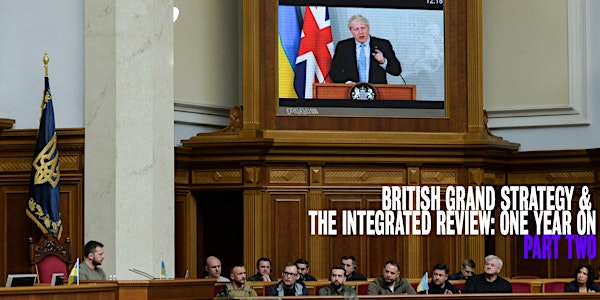 British Grand Strategy and the Integrated Review: One Year On - Part Two
Britain's Integrated Review and the Russia-Ukraine War
About this event
With Britain's Integrated Review having recently passed its twelve-month anniversary, the Centre for Grand Strategy at King's College London plans to host three events examining its successes, failures, and implications.
This panel discussion with Q and A would attempt to offer an initial audit of Britain's response to the Ukraine crisis thus far, using the Integrated Review as the basis for a discussion. To what extent has Britain's response to the Ukraine crisis reflected its intentions as described in the Integrated Review/Defence Command Paper? Have the various reactions by both Western and non-Western nations to the crisis changed the outlook for the 2020s as outlined in the IR? Does the crisis change the prioritisations that were outlined by the IR for Britain in the 2020s?
Speaker Biographies
Prof. Alessio Patalano is Professor of War & Strategy in East Asia, where he specializes in maritime strategy and doctrine, Japanese military history and strategy, East Asian Security, and Italian defence policy. From 2006 to 2015, he was visiting professor in Strategy at the Italian Naval War College (ISMM), Venice. In Japan, Dr Patalano has been a visiting professor at Aoyama Gakuin University and at the National Graduate Institute for Policy Studies (GRIPS), both in Tokyo, and currently is Adjunct Fellow at the Institute of Contemporary Asian Studies, Temple University Japan and Visiting Professor at the Japan Maritime Comman and Staff College. At KCL, Dr. Patalano is the co-Director of the Centre for Grand Strategy's new Indo-Pacific Programme; and Director of the Asian Security and Warfare Research Group, the leading UK forum for research and education on East Asia and the King's Japan Programme. Dr Patalano is also a senior fellow with the Royal United Services Institute and at Policy Exchange.
Dr. Louise Kettle is Assistant Professor in the School of Politics and International Relations at the University of Nottingham, where her research interests include British foreign and security policy, particularly in relation to the Middle East; the relationship between the past and contemporary policy-making (lesson learning) and how history can be useful today. She has also focused on military interventions in the Middle East and how lessons can be learned from these past operations to inform current and future policy. Dr. Kettle is an Associate Fellow at the Royal United Services Institute, a Fellow of the Royal Historical Society, and a committee member of the British International History Group.
Dr. Natasha Kuhrt is a Lecturer in International Peace & Security in the Department of War Studies. After gaining a BA first class hons in Russian & German language and literature followed by an MA in Soviet Studies, at the School of Slavonic and East European Studies (University of London), she spent several years in publishing before obtaining a PhD at UCL on Russian Policy Towards China and Japan. Dr Kuhrt joined King's as a visiting lecturer in the Law School in 2002, before going full time in the Department of War Studies in 2009. In 2011 she established the British International Studies Association Working Group on Russian and Eurasian Security within BISA, and remains co-convenor of this active group with two colleagues at Open University and Glasgow University. Dr Kuhrt is a member of BISA, Chatham House, ISA, ASEN and BASEES
Air Marshal (Ret'd) Edward Stringer CB CBE recently retired from the Royal Air Force after almost four decades of service. Having commissioned in 1982, he saw active service in the Gulf War, Iraq and Afghanistan. He subsequently served as Air Contingent Commander for NATO in Libya; Liaison Officer to the Chairman of the Joint Chiefs of Staff in Washington, D.C.; Assistant Chief of the Air Staff; Assistant Chief of the Defence Staff (Operations); Director General of Joint Force Development, Strategic Command; and Director-General of the Defence Academy. He is a Senior Fellow at Policy Exchange, was Slessor Fellow at the University of Oxford in 2012, and holds an MA International Relations from King's College London, and a BEng Engineering Science from the University of Liverpool.