British History, Black Music, Racism & The Music Industry: 1507-2020
Final version of video covering an epic 500-plus year tour of British black music and Africans' engagement with racism.
About this event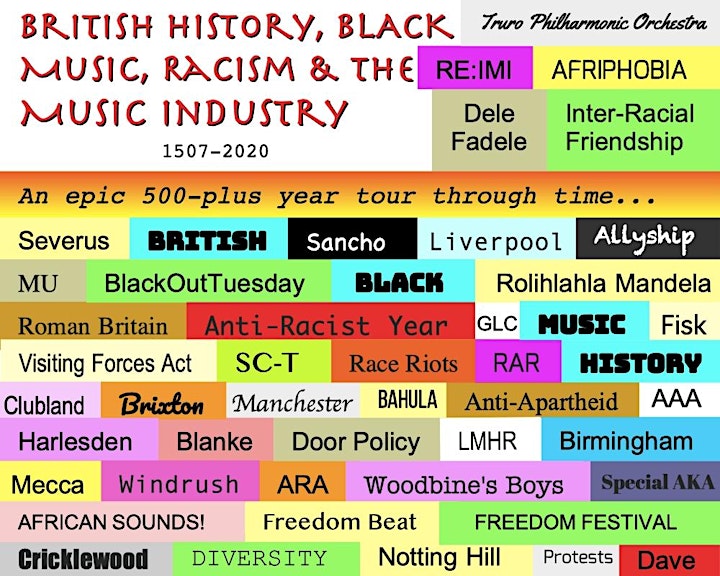 British History, Black Music, Racism & The Music Industry 1507-2020
Sat, 31 Jul 2021 18:00
"Allyship includes understanding the history of the people and their history with racism. Forget the US, get a UK context." RE:IMI (Race Equality: In Music Industry)
UPDATE: At last, the final version of this epic mashup video and a new title name.
This family-friendly Zoom meeting is inclusive and open to anyone - from music fans, musicians, history and cultural studies students and educators, to music industry practitioners - interested in the history of black music and Africans in Britain, and the interaction of racism. This video provides a comprehensive background. Also, the image above touches on some of the areas/topics covered.
Programme
6-8pm video & remarks
8-9pm Q&A/Discussion
Music industry and history consultant Kwaku presents a video-assisted presentation mapping out a complex and surprising 500+ year history of the interaction between black music and African musicians, and racism in Britain. Based mainly on documented facts with anecdotal and assumptive asides, it covers from the wicked consequences, the surprising, the resilience, the conquering, the I-didn't-know-that to the fancy-that, and lots more in between! An unmissable learning forum with space for you to have your say.
This event closes British Black Music Month 2021. Early bird £5 extended to July 23 2021: www.BBM.eventbrite.com
Click here to watch Bob Marley And Eric Clapton 'I Shot The Sheriff (BBM Clashing Beats Mix)', which is NOT featured in the video.
Produced by BBM/BMC (BritishBlackMusic.com/Black Music Congress) in association with BTWSC/African Histories Revisited, RE:IMI (Race Equality: In Music Industry), and TAOBQ (The African Or Black Question).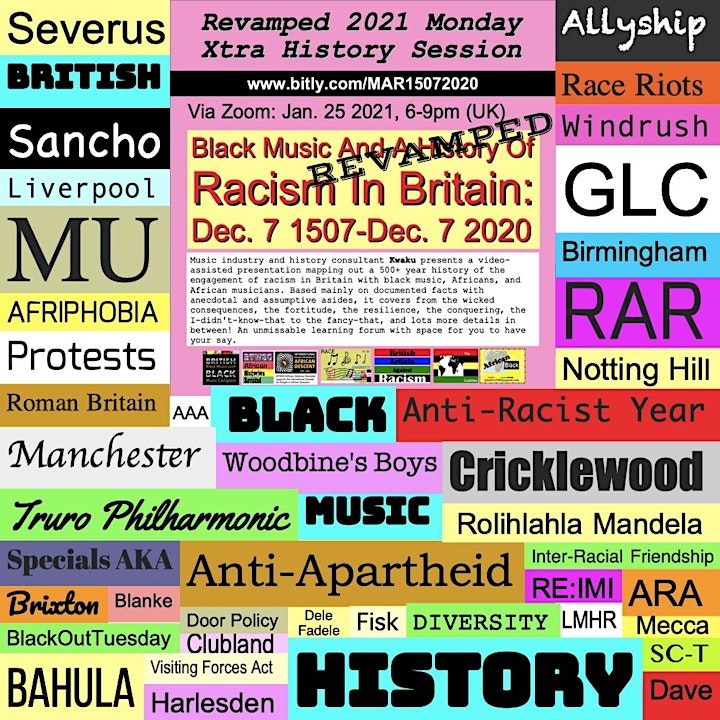 Date and time
Location
Refund policy
Organiser of British History, Black Music, Racism & The Music Industry: 1507-2020
BTWSC is a pan-London voluntary organisation that uses the creative arts to develop potential, raise aspirations, and promote social inclusion. It works with youths, adults and inter-generational audiences. Its core areas of delivery cover music industry, event planning, and African history education and programmes. For more details: btwsc@hotmail.com.
Please note that because of non-attendance, we over-book all free events, so entry and sitting is on a first come, first served basis.
Please note that we photograph and/or film/video our events. Your attendance is taken as implied consent. NO Filming/Video recording events by attendees without prior permission from organisers.